Miramichi Fishing Report for Thursday, September 4, 2014
LAST CHANCE FOR HALL OF FAME BANQUET TICKETS
Atlantic Salmon Museum
Hall of Fame 2014
DOAKTOWN – The Atlantic Salmon Museum in Doaktown, New Brunswick, will host its annual Hall of Fame Awards Banquet on Saturday, September 6th.
The Hall of Fame Awards Banquet is the museum's annual fundraising gala at which members of the salmon fishing and fly tying community are honoured for their contributions to the sport and inducted into our Hall of Fame.
In addition to the dinner, there will be both a silent and live auction taking place.  Items will include exclusive access to prime waters for the 2015 fishing season, various types of rods, reels and other equipment as well as limited edition paintings and artwork.
The inductees to the 2014 Hall of Fame are as follows:
Raymond Wells Woodill of Riverview, NB.  Raymond is a life time member of the Miramichi Salmon Association and a true ambassador for educating people on the importance of hook and release and conservation.  He is being inducted in the Angler category.
Robert Baker of Bathurst, NB. Robert has been the president of the Nepisiguit Salmon Association since it was formed in 1976 and has held monthly meetings in his home for over 35 years. The restocking of salmon to the Nepisiguit River can be largely credited to his efforts and dedication.  He is being inducted in the Conservationist category.
Merlin & Leslie Palmer of Parker's Ridge, NB. Merlin and Leslie have operated and been caretakers for the Burnt Hill Fishing Club since 1957. They embody true "Miramichi hospitality" and have hosted dignitaries from all over the world including US Presidents and the Prime Minister of Australia. They are being inducted in the Operators category.
Doug Underhill of Miramichi, NB.  Doug has authored 12 books, many of which encapsulate the pride, history and enjoyment of the Miramichi.  He is also very well known for his weekly column, the "Miramichi Fishing Report".  He is being inducted in the Outdoor Writer category.
Wavell Price of Priceville, NB.  Wavell, an avid fisherman and flytyer, was well known up and down the River for his many years of guiding.  Having guided for several outfitters including Pond's and Sutter's Lodge, he became head guide for life-long fishing enthusiast, Don Byrne.  He is being inducted posthumously in the Flytyer category.
For more information on the inductees and to reserve your tickets for the dinner, please contact the museum at 506-365-7787 or by email at , or visit our website at www.atlanticsalmonmuseum.com.
[wp_bannerize group="doug1″]
————————————–
Book Launch: 160 years of Salmon Stories
YOU ARE INVITED…
The public is cordially  invited to attend  the  launch of a new book produced by the Central Miramichi Historical Society (in  partnership with the Atlantic Salmon Museum) entitled
160 YEARS OF SALMON STORIES -THE ATLANTIC SALMON   MUSEUM'S HALL OF FAME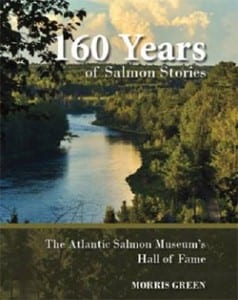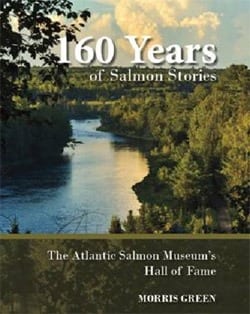 Where: ATLANTIC SALMON MUSEUM, 263  Main Street, Doaktown
When: SATURDAY, SEPTEMBER 6, 2014 – beginning at 1:00 pm
(refreshments and light snacks will be served)
With almost 400 pages of stories, photos and historical information about the Salmon Museum's Hall of Fame inductees, this hard-cover book honors the 128 men and women from the Miramichi Valley and beyond whose lives – and livelihoods – revolved around "the River." It's sure to be something you'll want to keep close by and definitely a book that will make a wonderful gift for someone with "roots" or fond memories of the Miramichi.
Just a sample of those from the Upper Miramichi area who are highlighted in this book include George Amos, Arle Bamford, Vincent Beek, Renate Bullock, Murray and Perley Calhoun, Danny and Emerson Carr, Fred Clowater, Oran & Esther Clowater, Wallace Doak, Geordie Donald, Ernest and Raymond Hovey, Gordon Hurd, Floyd Gaston, the Griff-Inns, Ralph & Phyllis Gilks, Vin Hunter, Ken Jonah, Ernest Long, the Lyons Den, Bert Miner, Frank Munn,  Donald, Tompey and Jack MacKay, Hedleigh McCloskey, Clint and Daisy Norrad, Hedley and Perley O'Donnell, Mavis (MacKay) O'Donnell, Frank Munn, D'Arcy O'Donnell, George Robinson, Cliff Rutledge, Clayton, Harold and Pat Stewart,  Fred and Vince Swazey, and Jack and Wilson Storey.
160 Years' of Salmon Stories will be on sale for $60 with all profits going to the Atlantic Salmon Museum.  Society members will also be available to take orders for additional copies.  Note:  If you have already reserved a copy, now is the time to drop in and pick it up. For more information, please contact any of the following members of the Historical Society:  Valerie O'Donnell (365-7924); Ann Storey (365-4529); Karen Swim (365-1105) or Peggy Green (365-7847).
HOPE TO SEE YOU THERE !
MIRAMICHI – There has been no great change since our last report.  There are a few fresh fish coming in each day, but in no significant numbers, and this is more prevalent on the Main Southwest than on the Northwest.  Water conditions are quite good over all.
Doug White's Tammerack Sports Fly Shop in Juniper said there wasn't much change up here at the headwaters. The water was up a bit but still not where we'd like it. Not much in the way of fishing but a few are still pounding the beat and there are still fish being hooked. At least there is no crowding at the pools, lots of room for everybody. Perhaps we will still have a fair fall run.
Flies of choice: Cascade, GP's, and several other shrimp patterns.
W. W. Doak and Sons in Doaktown said there were a few fish around, including a few fresh fish, but not many.  One camp above Doaktown caught 10 last week, nine of which were salmon.  There were reports of some fish being seen around the Howards area on the weekend.  One angler hooked two salmon on Saturday.  Most anglers who went to the river saw fish, hooked one, or were with others who saw or hooked fish.  That said, there are not a lot of anglers out.  The river levels are good, but creeping down, and a good rain would be welcomed.  Temperatures were good.  Over all it is a bit slow, but considering the time of year, the catching is average.
Flies of choice were Same-Thing-Murrays, Blue Charms, White-tailed Green Machines, and Bombers.  (One camp was catching most on Bombers).
Derek Munn of Ledges Inn in Doaktown and Mountain Channel in the Rapids area said the fishing has been slow the last week or so.  The river is starting to get low in our area. Looks like some rain for Saturday but the last few forecasts that were calling for rain in our area missed us to the south or the north. We are seeing some fish but they're not taking very well. At Mountain Channel the river is at a perfect level and water temperature is good.  There just aren't not many fresh fish coming in.  Looks like cool weather after Sunday so let's hope that will turn things around.
Flies of choice were small #10-#12 wet flies and small bombers in brown & orange and blue & white.
Herb Barry Sr. of Herb's Fly Shop on the Station Road in Blackville said there were very few fish around, with only an odd one being hooked.  He was told one which was caught had sea lice.  Water conditions were very good with the only problem being the lack of fish.
Flies of choice were Orange Blossoms, Orange Blossom Specials, General Practitioners, Hairy Marys and White-tailed Green Machines.
Curtis Miramichi River Outfitting in Blackville said there were reports of a few bright fish on the weekend, but generally there were only a few fish around.  Water conditions were good in terms of height and temperature.  Canoeing conditions were also good.
Flies of choice were General Practitioners, L.T. Specials and Ally's Shrimps on nos. 6 & 8 hooks.
George Routledge of George's Fly Shop at the Mouth of Renous in Quarryville said there was not much to report except there were no fish.  At one time on the weekend, there were eight rods in the water with the result being zilch caught.  A few were seen, but nothing was taking.
Flies of choice were General Practitioners, Ally's Shrimps, L.T. Specials, White-tailed Green Machines, White-tailed Shady Ladies, Butterflies and Black Ghosts.
Jim Laws of Miramichi Hunting and Fishing in Newcastle, Miramichi reported very few fish around and low counts at the barriers, and low numbers of smolt making it out of the river in the spring.  Present water conditions are quite good.
Flies of choice were mostly Fall patterns such as Ally's Shrimps, General Practitioners and Copper Killers along with some Bugs and Bombers
Syd Matchett of Trout Brook Fly Shop on the Northwest Miramichi said angling was slow with only a few fish showing mid week.  A couple had been hooked at both the Depot and Crawford Crown Reserve Stretches, but this was nothing spectacular.  Ken Kingston did hook a fresh grilse last Thursday.  Over all, there were very few anglers and very few fish, and what were there were not interested in taking.  Water conditions were very good.
Flies of choice were Pot-Bellied Pigs, Yellow Butterflies, Shady Ladies, Ally's Shrimps and White-tailed Green Machines.
Debbie Norton of Upper Oxbow Outdoor Adventures on the Little Southwest Miramichi said catches were few and far between, although a novice lady angler did catch a pretty big chub.  Needless to say, there was at least some excitement.  Water conditions were good.
Flies of choice were Copper Killers, Ally's Shrimps, GPs and White-tailed Green Machines.
Again this week, angling is presenting a challenge which makes the rewards , when they do happen, even more enjoyable.  Let's hope with everything a month late this season, that the Fall Run fits into that time-frame so we can get out and "on the water".
Don't forget to show your support for our sponsors, because without them, this column would not be possible.
Check out Deals 4 U in Miramichi for your grocery needs, and good Cuban cigars to celebrate getting back to the rivers. Drop by Mac's Seafood for Miramichi Smoke House Award Winning Smoke Salmon.
ANY FINANCIAL CONTRIBUTIONS TOWARD HELPING WITH THIS COLUMN ARE GREATLY APPRECIATED. Click here to donate now. A SPECIAL THANKS to all who made contributions last season.
If you would like to sponsor this column, give us a call at (506) 352-7668 or email .
[wp_bannerize group="doug2″]
Thought for the Week: "Fishing is a way of rediscovering the true beauty of life."  John Hemingway (grandson of Earnest Hemingway) from an article which appeared in Moncton
Atlantic Salmon Federation News
Tuesday, September 3, 2014
ASF RIVERNOTES – River Projects
~~~~~~~~~~~~~~~~~~~~~~~~~~~~~~~~~~~~~~~~~~~~~~~~
If you know of an innovative project that will improve Atlantic salmon rivers, check out the remarks at the beginning of this week's edition of ASF Rivernotes. On the Miramichi, everyone is hoping for that Fall Run.
http://atlanticsalmonfederation.org/rivernotes/
ASF Research Blog update – Read the latest update from the world of ASF researchers, including dealing with a dam under repair.
http://asf.ca/research-in-the-field.html
Hemingway – Dropping a line for the Atlantic Salmon Journal
~~~~~~~~~~~~~~~~~~~~~~~~~~~~~~~~~~~~~~~~~~~~~~~~
Word of an article in the Autumn ASJ by John Hemingway, grandson of Ernest Hemingway, has created a buzz across the continent. John Hemingway weaves the story of his grandfather with the return of Atlantic salmon to the Seine River, even as it passes through Paris. Read more.
http://asf.ca/hemingway-dropping-a-line-for-maritime-magazine.html
Importance of Rigorous Aquaculture Regs in NS Cannot be Overstated   
~~~~~~~~~~~~~~~~~~~~~~~~~~~~~~~~~~~~~~~~~~~~~~~~
Bill Black looks at Nova Scotia's draft report on aquaculture regulations that is now being reviewed – and soon may provide the basis for government oversight of the industry in Nova Scotia.  Worth reading.
http://asf.ca/importance-of-rigorous-aquaculture-regs-cannot-be-overstate.html
Environmental Lawyers Find Glaring Gaps in Proposed Federal Aquaculture Regulation
~~~~~~~~~~~~~~~~~~~~~~~~~~~~~~~~~~~~~~~~~~~~~~~~
An organization of environmental lawyers says the Federal Government is not fulfilling its obligation to protect wild fish species with its proposed change in regulations – the biggest change since aquaculture began in the 1970s.
http://asf.ca/environmental-lawyers-find-glaring-gaps-in-proposed-aquacul.html
NOAA Supports Penobscot River Habitat Restoration
~~~~~~~~~~~~~~~~~~~~~~~~~~~~~~~~~~~~~~~~~~~~~~~~
The National Oceanic and Atmospheric Restoration has provided $400,000 for habitat restoration associated with the ongoing Penobscot Restoration Project.
http://asf.ca/noaa-gives-400k-grant-for-penobscot-restoration.html
Atlantic Salmon Recolonizing in River in Southern France with Better Stream Passage
~~~~~~~~~~~~~~~~~~~~~~~~~~~~~~~~~~~~~~~~~~~~~~~~
New tributary streams in the upper reaches of the Adour River are being colonized, thanks to improved dam passage, and removal of some dams. This river drains much of the north side of the Pyrenees Mountains that separate France and Spain.
http://asf.ca/salmon-recolonizing-upper-adour-in-france.html
~~~~~~~~~~~~~~~~~~~~~~~~~~~~~~~~~~~~~~~~~~~~~~~~
BARRIER REPORTS: (click to enlarge)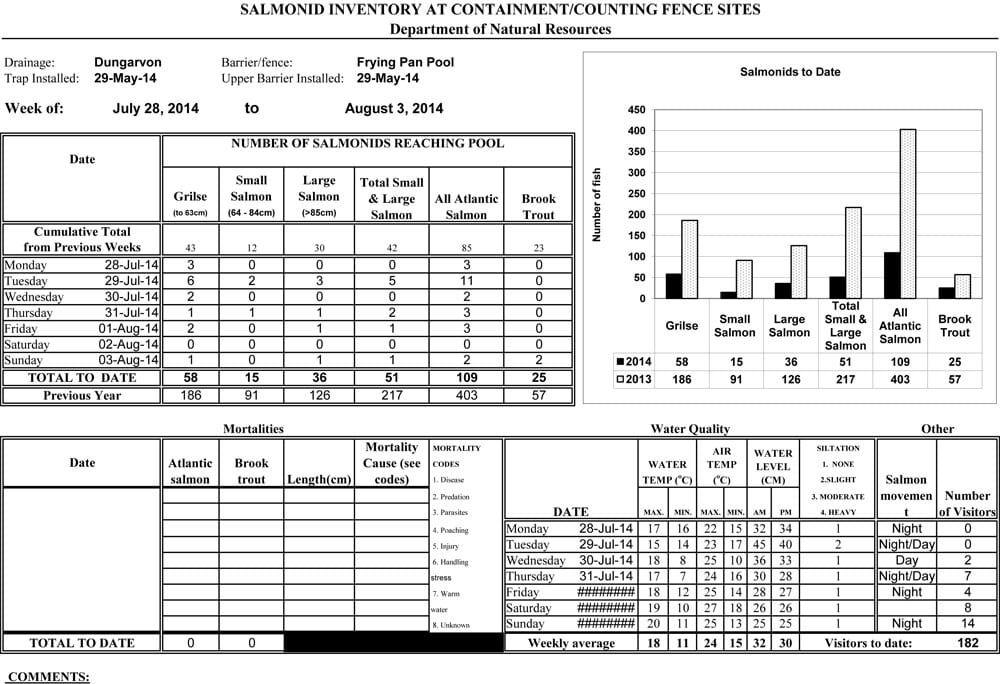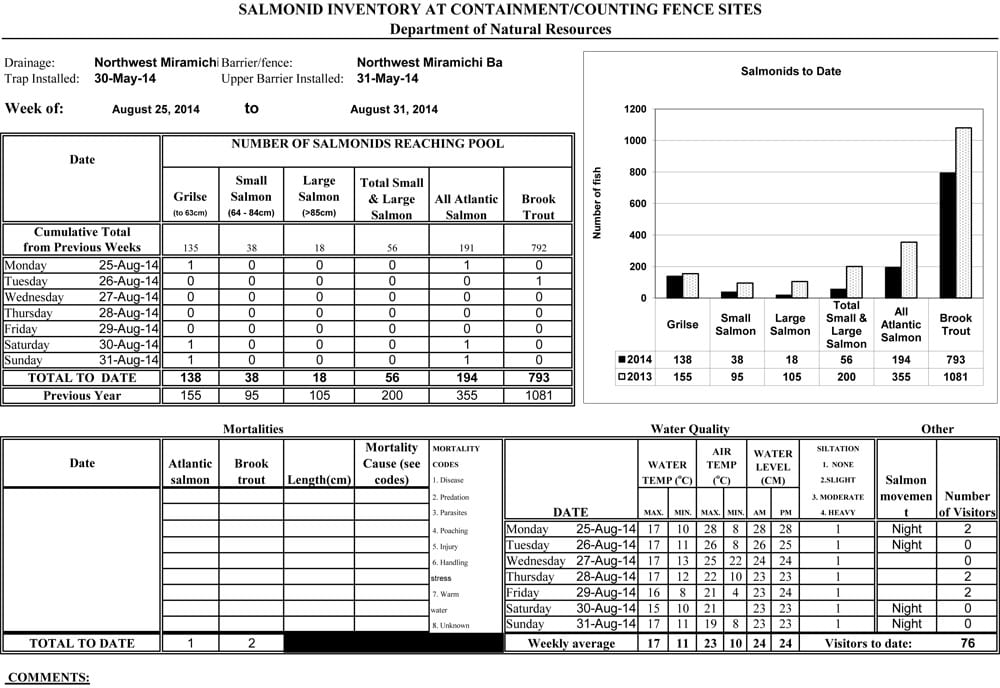 Until next week
TIGHT LINES
DOUG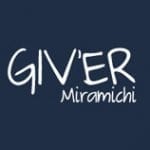 Giv'er Miramichi is about "What's up, what's new, what's happening". We are focused on building people up, supporting one another and celebrating our successes.