Mac's Seafood Celebrates Successful First Year in Miramichi
Wow, it's hard to believe that a year has passed already! When Mac's Seafood Market first opened its doors at 1730 Water Street nobody could have imagined what incredible energy they would bring to our community. This new shop in the Historic Chatham downtown not only had a very successful first year in business, but they also went above and beyond with their involvement in the community.
From bringing the Pirates of Halifax to the river; supporting the Youth House; setting up a Silent Santa campaign to provide gifts for local children; sponsoring the Mac's Seafood Midget AAA Twins baseball team; sponsoring Timberwolves hockey, the Irish Festival; and the Schizophrenia Society; to their involvement in fundraisers for the hospital, Hospice Miramichi, and the Rotary Club—just to mention a few—Mac's Seafood has truly outdone themselves!
With all of this community effort plus being open seven days a week bringing a quality of product that is second to none on the river, the Miramichi region is lucky Mac's Seafood chose this location to Giv'er!
To Don Mac and his crew—Scott, Debby, Adam, Jan, Ryan and Kathleen—at Mac's Seafood Market we want to send a big thank you for making Miramichi your home! Congratulations on your One Year Anniversary and we look forward to many more successful years to come!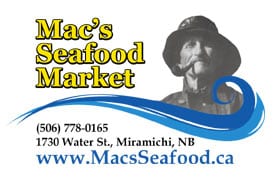 Everyone is welcome to join the Mac's crew at their first year Anniversary Celebrations on Saturday, October 18th. The party kicks off with Family Day at the market from 11 am to 3 pm! Enjoy free hot dogs, fish sticks and haddock on a bun for the kids! The celebration continues at Mirawood Cafe, 65 King Street, with a Kitchen Party from 4 to 8 pm.
Beginning at 6 pm sample some of Mac's quality products as Lori and the Mirawood staff serve up appetizers of clams in a half shell or shrimp cocktail and entrees of cod fish cakes with beans and chow; 6 ounce pan seared Salmon with vanilla cream sauce, choice of potato and fresh vegetables; and seafood linguine featuring haddock, shrimp, scallops, crab, and clams in half shell. Live entertainment will follow at 9 pm on the Wing side of the Mirawood Cafe.
We invite all Mac's friends and customers to join them in celebrating their first milestone on the river. Mac's will also be marking the occasion all month long during October with daily in-store specials. For more information visit their website at www.MacsSeafood.ca and why not stop by their Facebook page and leave a message of congratulations!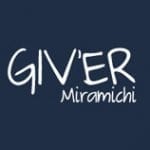 Giv'er Miramichi is about "What's up, what's new, what's happening". We are focused on building people up, supporting one another and celebrating our successes.