New Edition of GG Nominated Novel Released
Lion's Head Press released a new edition of New Brunswick author Raymond Fraser's novel, The Bannonbridge Musicians. 
Raymond Fraser's relentlessly funny third novel tells the story of a group of young Maritimers forever dreaming of "goin' down the road" and making it big in Toronto. Their drinking bouts, their womanizing and their adventuring in small-town New Brunswick somehow get in the way of their ambitions. Outrageous and unforgivingly accurate, The Bannonbridge Musicians was runner-up for the Governor General's Award for Fiction in 1978 (the winner was Alice Munro's Lives of Girls and Women).
Distributed  by Ingram Book Services the novel can be purchased at a wide range of book stores and online from Amazon. Locally, it can be purchased at Saltwater Sounds on Water Street in Chatham. This is the definitive edition of the book, revised and edited by the author.
Raymond Fraser is the author of 12 books of fiction, three of non-fiction, and six collections of poetry. Five of his books (including The Bannonbridge Musicians) are listed in Atlantic Canada's 100 Greatest Books. In 2009, he received the Lieutenant-Governor's Award for High Achievement in the Literary Arts. In 201,2 he was appointed to the Order of New Brunswick for his contributions to literature and culture in the province. Originally from Chatham, NB, Raymond now lives in Fredericton. For more information visit raymondfraser.blogspot.ca.
"The Bannonbridge Musicians is outrageous, relentlessly funny, and unforgivingly accurate." BRIAN JEFFREY STREET, Editio Books Online
"It's a book of soul and spirit. Its characters are real, vibrant, enjoyable and maddening." STEPHEN PATRICK CLARE & TREVOR J. ADAMS, Atlantic Canada's 100 Greatest Books
"A rollicking story, well told." WILLIAM FRENCH, Globe & Mail
"It's well-written, it's touching, it's full of life, and it's funny." ANDRE VIGNEAULT, CBC Radio
"Above all the book is ALIVE. This in the final analysis is the best test of any work of art. It moves and vibrates with all the dynamic energy of the mighty Miramichi River, that great river that flows through the colourful country of the lives of the novel's characters." DAVE BUTLER, Miramichi Press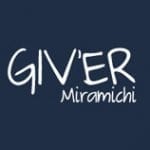 Giv'er Miramichi is about "What's up, what's new, what's happening". We are focused on building people up, supporting one another and celebrating our successes.