Miramichi Fishing Report for Thursday, October 16, 2014
Another angling season is in the books except for a handful of exceptions. The Bartibog, Tabusintac and Burnt Church Rivers remain open until October 29.
For the most part, angling was poor with a few spurts of fish here and there until the Fall when decent numbers of fish came into the system giving anglers a positive finish.  Over all, numbers of fish returning were down compared to recent years.  The majority of returning fish were salmon.
This past Saturday I had the privilege of angling with April Vokey and crew, and Serge Collin on the Cains under the watchful eye of guide Gary Colford who is one of the best!   Check out Vokey's website at Flygal. Vokey landed a grilse while Collin landed a nice 21-pound salmon and lost a couple of others.
[wp_bannerize group="doug1″]
W. W. Doak and Sons in Doaktown said fine weather gave an enjoyable finish to the season.  Water levels were getting down, but there were good numbers of fish being seen, although many anglers were having trouble getting them to take.  However, one angler did land a 41-inch salmon and several others were reported on the 20-pound range.  Over all there were more salmon than grilse.  Fall angling was probably the best with the fish late coming in.
Flies of choice were General Practitioners, Ally's Shrimps and other shrimp patterns such as Tippets and Cascades.
Curtis Miramichi River Outfitting in Blackville said anglers were getting a few fish, although there were good numbers being seen, but they were reluctant to take a fly.  Most of the fish being caught and seen were salmon.  Conditions were great for canoeing.
Flies of choice were General Practitioners, Preachers, Same-Thing-Murrays, and the odd Mickey Finn w3hich did produce a 30-pound salmon.
George Routledge of George's Fly Shop at the Mouth of Renous in Quarryville the biggest catch of the week there was a 25 plus pounder.  But it was a Striped Bass.  Only an odd fish was being hooked, but they were seeing lots.  The water was high and cold.
Flies of choice were a mixture of Fall Patterns.
Jim Laws of Miramichi Hunting and Fishing in Newcastle, Miramichi reported a slight increase in the number of salmon being seen, but they were not taking well.  Water conditions were good to finish the season.
Flies of choice were a variety of traditional Fall patterns.
Syd Matchett of Trout Brook Fly Shop on the Northwest Miramichi said the last weekend of the season was fairly good with several fish being hooked at Wayerton and Black's Pools.  Water conditions were good.  Over all, Syd said this was one of the poorest seasons he's seen.  He was hoping for a big improvement next season.
Flies of choice were Copper Killers, Shady Ladies and a variety of small dark patterns such as Undertakers and Bear Hairs.
So with only a few remaining spots open there some anglers will still be out and  "on the water".
Next week the final trap numbers should be available.  I'll try to have an overview along with some hints for storing equipment for next season.
Don't forget to show your support for our sponsors, because without them, this column would not be possible.
Check out Deals 4 U in Miramichi for your grocery needs, and good Cuban cigars to celebrate getting back to the rivers. Drop by Mac's Seafood for Miramichi Smoke House Award Winning Smoke Salmon.
ANY FINANCIAL CONTRIBUTIONS TOWARD HELPING WITH THIS COLUMN ARE GREATLY APPRECIATED. Click here to donate now. A SPECIAL THANKS to all who made contributions last season.
If you would like to sponsor this column, give us a call at (506) 352-7668 or email .
[wp_bannerize group="doug2″]
Thought for the Week: "Many of us probably would be better fishermen if we did not spend so much time watching and waiting for the world to become perfect."  Norman Maclean from A River Runs Through It
Dungarvon and Northwest Barriers – Click to enlarge
E-MAIL: from Daniel Porter
Hi Doug, the right way to finish the season… started the morning with a 10 pound salmon and that was great, a few minutes later I landed a 15 pounder and that was even better! And right before lunch! Landed this massive male, a solid 20 pounder, my guide Carl Hallihan skillfully netted him and we took a quick snap and gently released him, also shown below, note the tail as the big fella makes his way back to his native element…..a glorious day, that's the only way I know how to say it! So beautiful and three wonderful salmon to finish off the season….
Couldn't be more thankful to live in this wonderful province.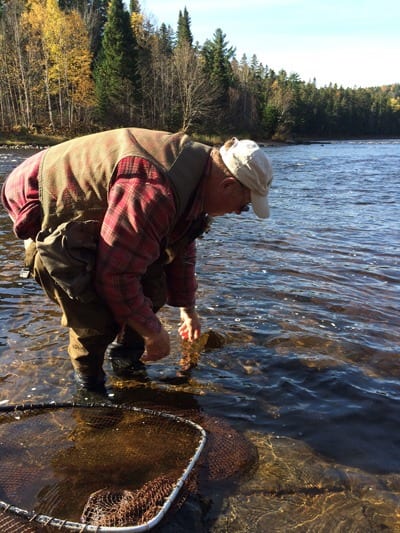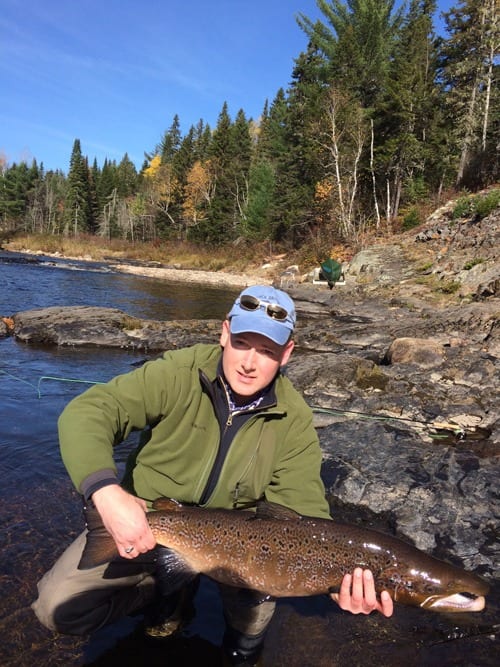 Until next week
TIGHT LINES
DOUG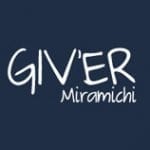 Giv'er Miramichi is about "What's up, what's new, what's happening". We are focused on building people up, supporting one another and celebrating our successes.