Miramichi Fishing Report for Thursday, October 2, 2014
A bit of a positive report this week.  There are still fresh fish coming into the system each day, although numbers have dropped back again.  There is an average of combined salmon and grilse of about 10 a day at Millerton and less at Cassilis.  These combined with the dark fish that have been here a while are at least keeping anglers interested with their jumping, splashing and rolling, although not many are taking.
Another positive is the changing of Fall colours and generally cooler days making it just nice to be outside on the water.
A third positive is that it is "Blast & Cast" time with woodcock and grouse season upon us.
[wp_bannerize group="doug1″]
W. W. Doak and Sons in Doaktown said was an increase of fresh fish from the Mouth of the Cains down on the Main Southwest.  Anglers were seeing good numbers, but they were not taking well.  The Sutter Lodge in Doaktown reported a 30-pound salmon.  Other camps were picking up decent numbers of fish.  There were good numbers of fish reported on the lower part of the Cains.  Water conditions were getting low, but temperatures were generally good, but the sooner we get a good rain the better.
Flies of choice were Ally's Shrimps, Same-Thing-Murrays, Cascade Shrimps, Marabous and White-tailed Green Machines.
Herb Barry Sr. of Herb's Fly Shop on the Station Road in Blackville said some fresh fish around, and both these and the older fish were showing and rolling, but there were not a lot of takers.  The water was quite low, but a good temperature.  However, a good rain was needed.
Flies of choice were Orange Blossoms, Orange Blossom Specials, Ally's Shrimps and Tippet Shrimps.
Curtis Miramichi River Outfitting in Blackville said there were good numbers of fish around, but they were not taking well, with only a few being caught.  The water was low, but cool.
Flies of choice were Undertakers, Blue Charms, Wouf Woufs, and Green Slimes.
George Routledge of George's Fly Shop at the Mouth of Renous in Quarryville was back in the hospital, but gave me reports of what he was hearing.  There were fish around, but they were not taking well.  Generally there were three or four hooked a day, but they were more in the Main Southwest than going up the Renous.  However, this is probably the best it has been all year, so we will go with the positive.  The water was low, but a good temperature.
Flies of choice were a variety of traditional Fall patterns.
Jim Laws of Miramichi Hunting and Fishing in Newcastle, Miramichi reported a few more bright fish coming into the system and anglers were at least seeing more, although they were difficult to persuade to take a fly.  The water was low, but cool.
The third Striped Bass retention period was pretty much a bust in the Miramichi area as the fish do not return until October is decently under way.  Perhaps DFO will make note of this in scheduling for next year.  It was hoped that there would be an extension to the end of October, but it was not to be.
Flies of choice were traditional Fall patterns.
Syd Matchett of Trout Brook Fly Shop on the Northwest Miramichi said some of the better pools had good fishing on Sunday.  The water was low, but cool.  Most were seeing good numbers, but getting them to take was a challenge.
Flies of choice were Ally's Shrimps, Undertakers, Shady Ladies and White-tailed Green Machines on small no. 8 & 10 hooks.
Debbie Norton of Upper Oxbow Outdoor Adventures on the Little Southwest Miramichi said they had a good week of angling and were seeing good numbers.  Those "blessed" were even catching.  Jeff Hall of Ontario landed 2 grilse and a salmon in two days.  Rina Chase of Groton, New Hampshire caught two grilse and was even nice enough to allow her husband Lou to catch a salmon.  There was even a decent trout hooked.  The water was low and cool.
Flies of choice were White-tailed Green Machines, Muddlers and Will Taylor Specials.
So with Fall colours hitting their stride, cooler days, and Grouse season starting, get out and "on the water" for some "Blast & Cast".
Don't forget to show your support for our sponsors, because without them, this column would not be possible.
Check out Deals 4 U in Miramichi for your grocery needs, and good Cuban cigars to celebrate getting back to the rivers. Drop by Mac's Seafood for Miramichi Smoke House Award Winning Smoke Salmon.
ANY FINANCIAL CONTRIBUTIONS TOWARD HELPING WITH THIS COLUMN ARE GREATLY APPRECIATED. Click here to donate now. A SPECIAL THANKS to all who made contributions last season.
If you would like to sponsor this column, give us a call at (506) 352-7668 or email .
[wp_bannerize group="doug2″]
Thought for the Week: "Never throw a long line when a short one will serve your purpose."  Richard Penn
Atlantic Salmon Federation News
Thursday, September 25, 2014
ASF Rivernotes – Angler with a Broken Rib
~~~~~~~~~~~~~~~~~~~~~~~~~~~~~~~~~~~~~~~~~~~~~~~~
Many are passionate about Atlantic salmon, but some go beyond that. The latest from Atlantic salmon rivers.
http://atlanticsalmonfederation.org/rivernotes/
Wild Salmon Survival Linked to Climate Summit
~~~~~~~~~~~~~~~~~~~~~~~~~~~~~~~~~~~~~~~~~~~~~~~~
Changes in ocean temperatures, overheating of streams and many other stresses are impacting wild Atlantic Salmon runs. What happens at events like the UN Climate Summit in NY affect salmon around the North Atlantic.
http://asf.ca/wild-salmon-survival-linked-to-salmon-summit.html
Sea Lice Detrimental to Wild Salmon       
~~~~~~~~~~~~~~~~~~~~~~~~~~~~~~~~~~~~~~~~~~~~~~~~
A major scientific review of 300 studies on the effects of sea lice has shown they are definitely a problem for Atlantic salmon conservation, and that salmon farms act as a breeding ground for sea lice due to high fish densities.
http://asf.ca/sea-lice-detrimental-to-wild-atlantic-salmon.html
NB Premier Designate Gives Fracking Moratorium Priority
~~~~~~~~~~~~~~~~~~~~~~~~~~~~~~~~~~~~~~~~~~~~~~~~
This week's election has resulted in a change of government in New Brunswick, and the Premier Designate is talking about following through with a moratorium on fracking. NS and NL have already done so.
http://asf.ca/nb-premier-designate-gives-fracking-moratorium-priority.html
ASF "In the Water" Live Release Photo Contest
~~~~~~~~~~~~~~~~~~~~~~~~~~~~~~~~~~~~~~~~~~~~~~~~
Viewers have sent great entries, but please send more! There is a nice prize, and the opportunity to share those special moments. Key is that the salmon must be in the water.
http://asf.ca/asf-live-release-photo-contast.html
Live Release Video now available with Norwegian subtitles
~~~~~~~~~~~~~~~~~~~~~~~~~~~~~~~~~~~~~~~~~~~~~~~~
The much acclaimed Live Release video, produced by ASF and FQSA with assistance from the Quebec Government, is now available with Norwegian text, thanks to Norske Lakseelver's initiative to increase conservation of Atlantic salmon in that country. Check it out.
http://asf.ca/live-release-video-with-norwegian-subtitles.html
SALMONID INVENTORY AT CONTAINMENT/COUNTING FENCE SITES
Department of Natural Resources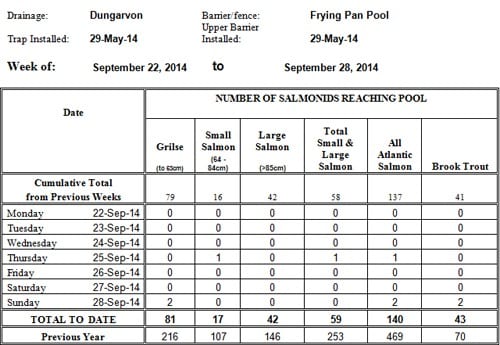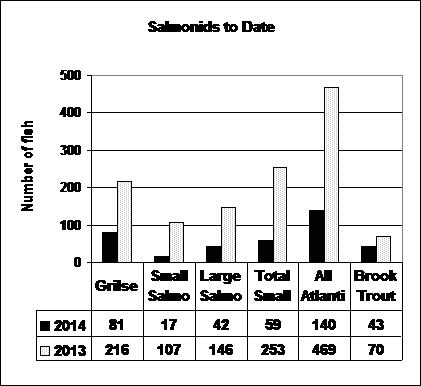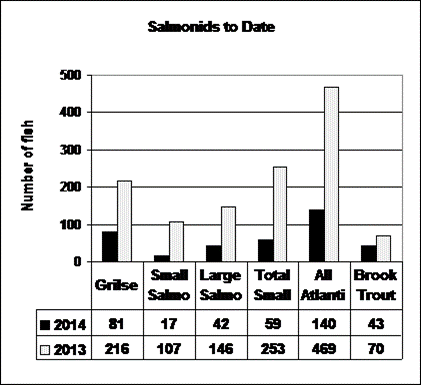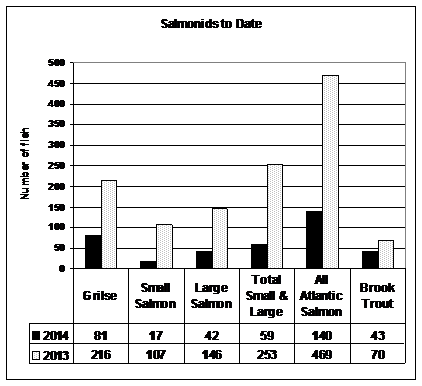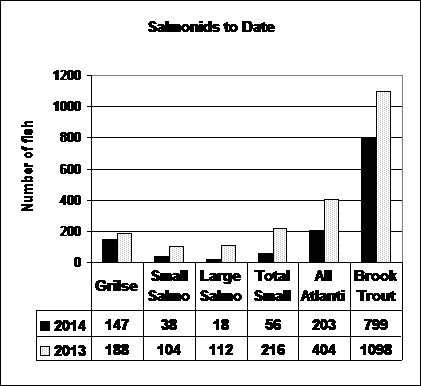 Until next week
TIGHT LINES
DOUG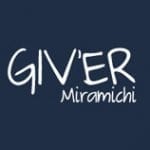 Giv'er Miramichi is about "What's up, what's new, what's happening". We are focused on building people up, supporting one another and celebrating our successes.