Third Annual Miramichi Wellness/Holistic Fair
Come and discover ways of healing the Body, Mind, Spirit and Soul at the third annual Miramichi Wellness/Holistic Fair. This year the fair will be a two day event, Saturday and Sunday, October 18th and 19th from 10 am to 5 pm each day at Carrefour Beausoleil, 300 Beaverbrook Road. Approximately 30 booths are expected with various wellness and holistic healers and vendors.
Admission is $5 for adults for one day, and $8 for both days and children aged 12 and under get in for free. A portion of the proceeds will be donated to the Miramichi SPCA, and they will be onsite with a booth to answer questions. Plenty of free parking is available but please bring cash as there will be no ATM on site. There will be food and beverages for sale at the fair such as sandwiches, dry fruit and nut mix, fruits and vegetables.
Stress reduction, therapeutic music, life coaching, intuitive readings, spiritual tools such as books, stones and crystal, essential oils, angel therapy, nutrition, and holistic healing are just some of the information that will be available for anyone who wants to discover different ways of healing the body, the mind, the spirit and the soul.
Organizer Joanne Maillet started the Wellness/Holistic Fair in Miramichi which has been expanded to two days this year. After attending the Riverview Holistic Fair in Moncton and speaking with many of the vendors, she was inspired to start our own in Miramichi. Joanne is a La Trame® healer, an energy treatment that uses 16 specific hand positions to realign and bring harmony to the body's initial master plan. She is also a Past Life Regression (PLR) Hypno-therapist. PLR is a way to let go of the energies from a past life that have followed us to this life.
Special presentations which are free to the public will be held on both days. The presentations kick off at 10:45 am on Saturday with "Thriving as a Sensitive Soul" by EagleSpirit, a Contemporary Shaman from Moncton. At 11:40 am learn "How Aromatherapy Can Change Your Life" from New Moon Essentials, followed by "Writing from the Heart" with Kathy Mercure, storyteller, at 12:10 pm.
At 2:25 pm The Emotional Fitness® presentation "Find Your Own Voice" will provide an experiental learning opportunity for individuals to achieve healthier relationships with self and others. It has been shown that the crucial communication skill of listening is the one that is the most valued and the least understood and used when dealing with people under emotional stress. By the end of the presentation, participants will have a set of tools to practice within their personal lives and work settings.
Saturday's presentations finish off at 3:20 pm with Angel Therapy Practitioner, Kim Doucette of Kimspirational speaking about "Angels and Guides".
Sunday starts off with an encore presentation by EagleSpirit at 10:45. Also visit her booth and you can get your personal Heart Note and find out what your heart really needs you to know right now. At 12:35 Joanne Maillet speaks about Labyrinths and Past Life Regressions and how they are used as healing tools. The day ends with Kim Doucette of Kimspirational and a presentation on Past Lives.
While attending the third annual Miramichi Wellness/ Holistic Fair everyone is invited to walk the 50 foot Labyrinth that is permanently marked in the exterior skating rink at Carrefour Beausoleil. There will also be a Portable Labyrinth installed in the same hall as the booths. It will be free of charge for anyone who wishes to 'Journey Within'. Labyrinths are useful for active meditations and to take time out from our busy lives.
For more information about the Third Annual Wellness/ Holistic Fair contact Joanne Maillet at or join the Facebook event page.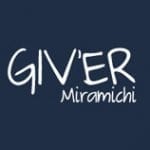 Giv'er Miramichi is about "What's up, what's new, what's happening". We are focused on building people up, supporting one another and celebrating our successes.