Miramichi Fishing Report for Thursday, October 9, 2014
The advice given to any Endeavour is usually "to finish strong".  After a dismal season throughout most of the summer, the Fall season is shining brightly in comparison.  Anglers are seeing reasonable amounts of fish and catching has certainly improved over the last couple of weeks, both with fresh and darker fish.  So we'll be happy "to finish strong".
[wp_bannerize group="doug1″]
W. W. Doak and Sons in Doaktown said the river had come up about 15 inches after this week's rain, with more in the forecast the last couple of days.  By Wednesday, the water had dropped off nicely and fish were moving up.  There was a good mix of fresh and older fish with more salmon than grilse.  People were reporting fish in the lower Cains and in the Doaktown area.  One camp in the vicinity said they had their best week of the season last week and were optimistic about the coming week as well.  With the water up a bit, fish were on the move and as a result not as many were being seen.  There were some nice salmon weighing in in the high teens and low 20-pound range.
Flies of choice were Ally's Shrimps, General Practitioners, Same-Thing-Murrays, Copper Killers, L. T. Specials, Cascade Shrimps and White-tailed Green Machines on nos. 4 & 6 hooks.  There generally was a movement away from the small and dark flies used in recent weeks.
Derek Munn of Ledges Inn in Doaktown and Mountain Channel in the Rapids area said they received a nice raise of water Tuesday when it came up close to 18 inches in the Doaktown area.  It had dropped about 6-8 inches overnight into Wednesday before more rain came. The water is at a great level and temperature, there are fish around but not in big numbers.  They hooked 7 fish Wednesday and rolled some others. Mountain Channel saw about a 2-foot raise but they were still seeing lots of fish Tuesday evening but they were shy to take a fly.
Flies of choice were shrimp patters, bombers and smurfs.
Herb Barry Sr. of Herb's Fly Shop on the Station Road in Blackville said anglers were getting some fish and seeing lots.  The water had come up about a foot with the recent rain.  Most of the fish, both fresh and dark were salmon with some a good size and others in the 10-12 pound range.
Flies of choice were Red Squirrel Tails with orange butts, Orange Blossoms, Orange Blossom Specials and Ally's Shrimps,
Curtis Miramichi River Outfitting in Blackville said there were lots of fish around and anglers were catching some, but they were not taking well.  There were some salmon in the 20-pound range.  The water had raised about 1 ½ to 2 feet.  This along with the full moon tides should continue to bring in more fresh fish.
Flies of choice were small and dark such as Undertakers, with jungle cock, Green-butt Bear Hairs, Shady Ladies, Wouf Woufs, LT Specials, None –of your Businesses, Copper Killers and White-tailed Green Machines.
George Routledge of George's Fly Shop at the Mouth of Renous in Quarryville said Monday had been very poor, but the three days before that were excellent with an average of eight caught a day.  Most catches were salmon with only a few grilse.  There was a 1 ½ to 2 feet raise of water.  George was predicting more good fishing through the long weekend.
Flies of choice were Ally's Shrimps, General Practitioners, LT Specials, Copper Killers and Chief Needabahs.
Jim Laws of Miramichi Hunting and Fishing in Newcastle, Miramichi reported a bit of a Fall run with anglers seeing good numbers, but only a few being caught.  Water conditions were reasonable in terms of height, and a good temperature.  Most of the locals have packed it in for the season and have switched to the hunting mode.
Flies of choice were Ally's Shrimps, LT Specials and General Practitioners.
Syd Matchett of Trout Brook Fly Shop on the Northwest Miramichi said he had aught a salmon this week.  Another pair of anglers had caught two grilse and a salmon between them, and another pool reported five fish caught…  Generally there were seeing fish, but they were not taking well.  The water was a bit low, but cool.
Flies of choice were Ally's Shrimps, Undertakers, Shady Ladies and White-tailed Green Machines on nos. 8 & 10 hooks.
Debbie Norton of Upper Oxbow Outdoor Adventures on the Little Southwest Miramichi said they were seeing good numbers of fish and catching some.  Howie Gould landed a salmon Sunday while Jeff Hall lost one.  Gary Tanner hooked a salmon Monday.  The water level and temperature were great and the Fall colours were really beginning to hit their peak.  Coming around the corner in their jet-boat they barely missed hitting an indignant beaver which gave them a good splash for disturbing him.
Flies of choice were Yellow and Green Marabous.
So, combine a little "Blast 'n Cast" while enjoying the great Fall colours while out and "on the water".
Don't forget to show your support for our sponsors, because without them, this column would not be possible.
Check out Deals 4 U in Miramichi for your grocery needs, and good Cuban cigars to celebrate getting back to the rivers. Drop by Mac's Seafood for Miramichi Smoke House Award Winning Smoke Salmon.
ANY FINANCIAL CONTRIBUTIONS TOWARD HELPING WITH THIS COLUMN ARE GREATLY APPRECIATED. Click here to donate now. A SPECIAL THANKS to all who made contributions last season.
If you would like to sponsor this column, give us a call at (506) 352-7668 or email .
[wp_bannerize group="doug2″]
Thought for the Week: "Hatchery fish have the same colours, but they always seem muted like bad reproductions of great art."  Bill Barich -This Sporting Life
 
Atlantic Salmon Federation News
Friday, Oct. 3, 2014
Rivernotes – End of Season in Quebec, Update from Miramichi & NS
~~~~~~~~~~~~~~~~~~~~~~~~~~~~~~~~~~~~~~~~~~~~~~~~
Statistics are flowing in for many of the Quebec rivers, while on the Miramichi there are interesting reports, and in Nova Scotia encouraging news on the Margaree.
http://atlanticsalmonfederation.org/rivernotes/
ASF Research Blog Update – Satellite Tags near Greenland
~~~~~~~~~~~~~~~~~~~~~~~~~~~~~~~~~~~~~~~~~~~~~~~~
ASF Biologist Graham Chafe gives exciting updates on the "pop up" salmon tags that have been streaming data to satellites. Plus autumn fieldwork and data retrieval continues.
http://asf.ca/research-in-the-field.html
PEI Senator Nearly Drowned by Norwegian Aquaculture Experience   
~~~~~~~~~~~~~~~~~~~~~~~~~~~~~~~~~~~~~~~~~~~~~~~~
Canadian senators visiting a salmon farm in Norway got more than they bargained for. Read on:
http://asf.ca/canadian-senator-nearly-drowns-on-norwegian-salmon-farm.html
ISA Suspected at Norwegian Farm Site
~~~~~~~~~~~~~~~~~~~~~~~~~~~~~~~~~~~~~~~~~~~~~~~~
Another suspected case of the virulent form of ISA has been reported in Norway.
http://asf.ca/isa-suspected-at-norwegian-salmon-farm.html
Malcolm Windsor to Give Buckland Lecture in Edinburgh, London, Dublin
~~~~~~~~~~~~~~~~~~~~~~~~~~~~~~~~~~~~~~~~~~~~~~~~
Malcolm Windsor was Secretary of the North Atlantic Salmon Conservation Organization (NASCO) for decades. He will be giving this special lecture entitled "Species Without Borders". More details, and background on the Buckland Lectures at:
http://asf.ca/malcolm-windsor-to-give-buckland-lectures.html
E-MAIL:
Hey Doug, I took my good friend Andrew Henry who is a member of the Fredericton Fire Dept. out to Camp Moose Call with me on Wednesday evening, the fish were rolling and to our good fortune, taking! Specifically,  #10 black bugs tied up very tiny, almost a low water version of a #10, very small. The salmon were hitting these flies very aggressively. Andrew managed two salmon, a grilse and this lovely hen which I tailed for him and gently released. I feel strongly that this salmon was a fall salmon, not one that had been in the river a great deal of time as she had some lovely bright color to her. I was encouraged by seeing this relatively fresh fish as most of what I had been fishing over all season were fish that had been in the system for quite a long time…. P.S have a look at our new logo I've designed for Moose Call, this  will be expanded upon in due time, below is a quick snap of the base image….the members all agree it captures the spirit of the new camp nicely! Here's hoping things continue to improve as the season winds down….
All my best, Daniel Porter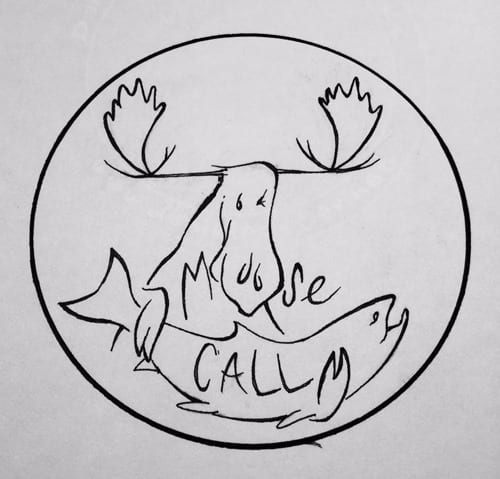 ————————————————————
Hey Doug,
Little video I made from this fishing season so far….Upsalquitch and Miramichi.
https://www.youtube.com/watch?v=kpcMoq-hVdY
Sean Dolan
————————————————————
SALMONID INVENTORY AT CONTAINMENT/COUNTING FENCE SITES
Department of Natural Resources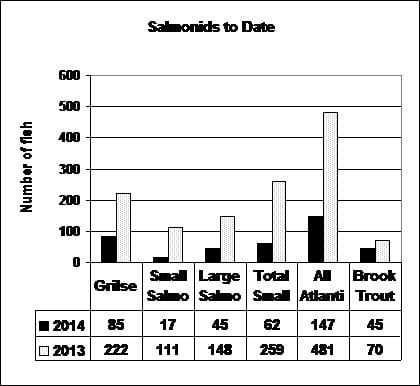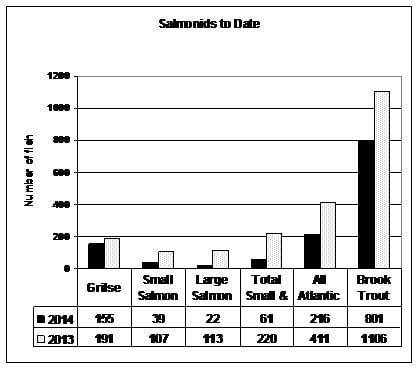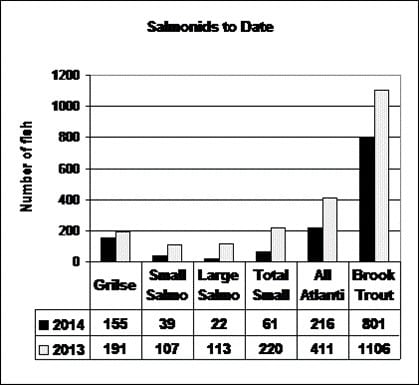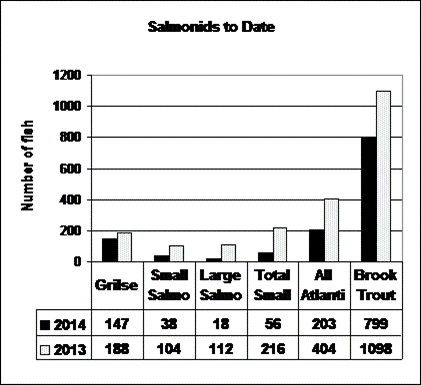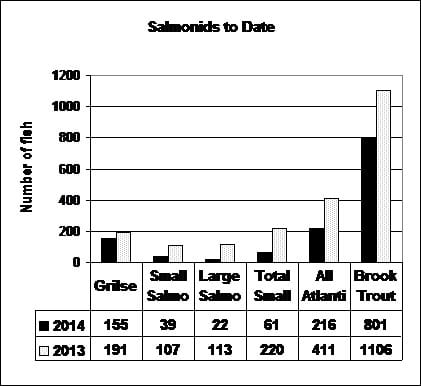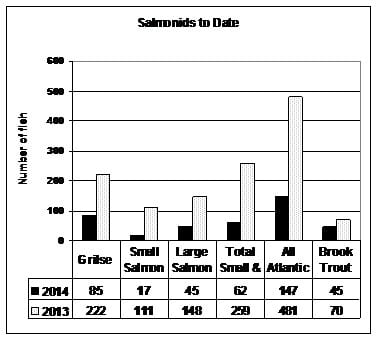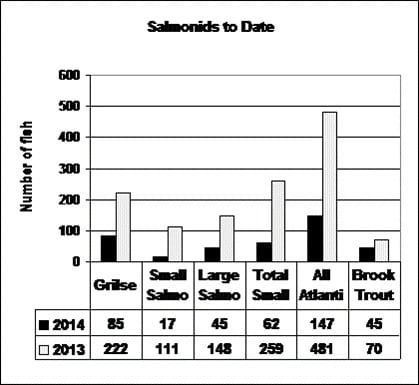 Until next week
TIGHT LINES
DOUG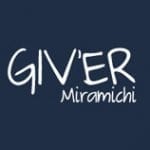 Giv'er Miramichi is about "What's up, what's new, what's happening". We are focused on building people up, supporting one another and celebrating our successes.