Decor Trends: Cushions, Quilts, and Keeping Cozy
by Lauren Hare
The time has come, snow has fallen and now we need to bundle up in attempt to stay warm and cozy through the winter. I'd like to point out a few trends when it comes to Bedding. Lets start from the bottom—the sheets.
Layering from the Bottom
Thread count is not the only way to judge whether sheets are soft. Generally, the higher the thread count the softer the sheets, however some manufacturers combine two short fibres into one which adds to the total thread count but does not add the softness. Long Egyptian fibres provide a smoother and silkier feel. Overall, touching the sheets is ultimately the best way to figure out which ones are for you.
Once you've established the type of sheets that work for you it's time to move on to the fun stuff: Duvet covers, Comforters, Quilts and Throws. This is where we see the most change in trends as well as seasonal changes. It's always a good idea to invest in at least one great set of bedding to use during the summer and then another for the winter months. Quality custom bedding is a great investment for those who don't wish to replace bedding every other year.
Bedding Trends – Neutrals, Whites, Fibres, and Dressing it Up!
With the coming of winter we are seeing a shift towards simpler colouring, natural fabrics and the return of quilts and knit blankets. Consider these tips when choosing your winter bedding:
Neutrals – Mixing neutrals adds layers and textures without being overwhelmed with patterns or colours. Plus, it's easier to coordinate neutrals when changing the decor and accessories in your bedroom
Whites – You can't go wrong with white! Try all-over-white to create the calm and relaxing "hotel" look. Add a pop of colour with a beautiful quilt or a fur texture throw.
Materials
Organic and natural-fibre linens have grown in popularity through recent years. For example, natural wool is everywhere in recent bedding trends. To easily add this popular trend to your space go with a wool cushion or throw blanket.
Accessories
Add colour with smaller throw-cushions. Lately we've been seeing lots of eclectic combinations of cushions finding their place on otherwise simple bedding to add all kinds of personality. Try pulling a few colours from a piece of art or other accessory in your bedroom and using that colour to choose your new cushions.
On cool winter nights what could feel better than warming up with a soft throw blanket, a luxurious duvet, or a traditional quilt? The perfect bedding will make you want to get under the covers, relax and drift serenely off to sleep. That sounds pretty good to me!
Lauren Hare was born and raised in the Miramichi. She trained and completed her degree in Interior Design at the Centre for Arts and Technology in Fredericton.
After taking six months to explore and become inspired by Europe, she has recently returned home and joined the team at Renaud's BrandSource where she is excited to use her skills and training to help beautify any space! To schedule a consultation give her a call at: 773-9408 or email . Like Lauren's Facebook Page for more photos and tips.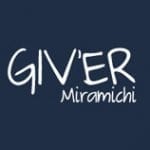 Giv'er Miramichi is about "What's up, what's new, what's happening". We are focused on building people up, supporting one another and celebrating our successes.