In November Bernie Colepaugh of the Miramichi Folklore Park in Renous shared a photo of an old item and asked if anyone knew what it was. We received a few responses. Some thought it was a back scratcher while others thought it might be some kind of comb for horses or sheep's wool. Did any of you get it right?
"This is a tool for helping pick up feed bags," Bernie explains. "You would grab the top of the bag where it was sewed closed and use this to stick into the burlap at the bottom. Basically, a pulp hook for feed bags. If you only had one or two bags, you wouldn't care, but if you were unloading a boxcar …"
Four readers answered correctly! Good job Paul Collins, lochlomand22, Phil Cann and Anne Lewis-Matchett!
Bernie has now sent us another photo … Do you know what this is?
If you think you know we invite you to email your best guess to
Include "This Old Thing" in the subject line. We'll publish the correct answer from Bernie in the next print issue of the Giv'er Miramichi magazine and let you know if you were right! Like us on Facebook or follow us on Twitter @mightymiramichi so you won't miss when we publish the correct answer on our website next month.
Good luck everyone!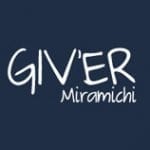 Giv'er Miramichi is about "What's up, what's new, what's happening". We are focused on building people up, supporting one another and celebrating our successes.