Hanging Artwork in your Home
by Lauren Hare
When it comes to buying art it's easy to be inspired by colours, texture, and the beauty of the piece that you fall in love with, but, even the most beautiful piece of art can look just plain bad if hung incorrectly. This is something I've seen way too often, so here are a few simple guidelines to ensure that your artwork looks great in your home!
1. Height – A general rule to follow is to hang the centre of the artwork or picture-grouping at eye level. Sometimes this isn't easy to determine because "eye-level" isn't a standard height — or is it? According to ergonomic data the average standing eye level is 58-60 inches. This is the height that is used to hang art in galleries. Dining rooms are a bit of an exception to this rule. Since we are mostly sitting down in our dining rooms its a good idea to lower the art a little.
2. Location – Consider the furniture! When hanging art over a table or counter leave approximately 10″ to 12″ between the bottom of the picture and the top of the furniture. This is to make room for decorative features like lamps or vases that will be displayed on the table surface. If you're hanging pictures above a sofa, make sure to leave at least 4" but no more than an 8″ between the sofa and art, otherwise the eye will focus on the negative space instead of the art, and no one wants that!
3. Art Grouping – When hanging a gallery wall, the simplest trick is to first lay the pictures out on the floor so they can be arranged and rearranged without creating a bunch of holes in your wall. A good idea is to use a large paper underneath the pictures so they can be traced as a template. Once you've found the perfect layout make sure the pictures are spaced evenly apart. Then transfer the template to the wall so you can visualize the end result. When choosing the height of the gallery wall consider the unit as a whole and follow the eye level rule.
Artwork is an important aesthetic element in any space. It can add colour, texture, depth, vibrancy and even effect emotion. Don't worry about everything being perfect. Artwork is meant to be enjoyed, so the most important rule of all is to have fun and to love and enjoy your art!
Lauren Hare was born and raised in the Miramichi. She trained and completed her degree in Interior Design at the Centre for Arts and Technology in Fredericton. After taking six months to explore and become inspired by Europe, she has recently returned home and joined the team at Renaud's BrandSource where she is excited to use her skills and training to help beautify any space! To schedule a consultation give her a call at: 773-9408 or email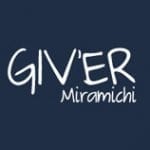 Giv'er Miramichi is about "What's up, what's new, what's happening". We are focused on building people up, supporting one another and celebrating our successes.