Recent Search for This Old Thing
Last month Bernie Colepaugh of the Miramichi Folklore Park in Renous shared a photo of an old item and asked if anyone knew what it was. We received a few responses. Some thought it was a bed warmer, that you put coal inside them, but most people thought it was a set of headlights for an early model car or truck. Did any of you get it right?
"These are headlights from the last stagecoach to run from Chatham to Loggieville," Bernie explains. "I was told that it was the last horse-drawn stagecoach. It's been suggested that the lights were probably powered by a generator attached to one of the wheels."
No readers answered correctly! Although many of you said headlights, nearly everyone said for a car or truck, rather than a stagecoach or even a horse drawn vehicle. The closest to the correct answer was Wynn Curtis who simply answered, "Driving lamps."
This month Bernie sent another photo … Do you know what this is? If you think you know we invite you to email your best guess to Include "This Old Thing" in the subject line. Next issue we'll publish the correct answer from Bernie and let you know if you were right!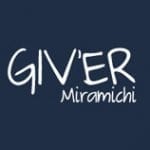 Giv'er Miramichi is about "What's up, what's new, what's happening". We are focused on building people up, supporting one another and celebrating our successes.