Miramichi Fishing Report for Thursday, April 30, 2015
Suffice it to say it has been a miserable spring, if we can even call it that yet. The ice has left most rivers, but still lingers along shore-lines and to put it bluntly, the weather has been awful with almost steady rain with snow mixed in at times. Some would say "great weather for ducks", but I'm not so sure I didn't see even a few of those wearing overcoats!
Someone was quoted saying "here we have eight months of winter and four months of poor skating!"
Two new seasons start on the Miramichi drainage tomorrow. May 1 is the beginning of trout season, except for lakes and ponds which legally open May 15. It is also the beginning of stripped bass season, although it is hook and release only until May 11.
[wp_bannerize group="doug1″]
W. W. Doak and Sons in Doaktown said the water was high and a bit dirty, but there were good numbers of fish being caught. There were a couple in the 41 & 42 inch range. One lady fishing from shore picked up a 39-inch salmon in her first ever salmon fishing trip. There seemed to be a good mix of salmon and grilse.
Flies of choice were Renous Specials, Christmas Trees, Black Ghosts, Golden Eagles and Mickey Finns.
Derek Munn of Ledges Inn in Doaktown and Mountain Channel in the Rapids area said angling was pretty good. They had six guests for three days and most were close to limiting out each day. The weather was terrible, but fishing was good in spite of it. Most ice in the river had gone, but there was still shore ice to contend with. Their catches were about a 60-40 percent in favour of salmon. They caught on 40-incher and a few in the mid 30s.
Flies of choice were mostly Marabous such as the Black Marabou and the Blue Rabbit-strip, along with the regular Black Ghost, and even a few large orange General Practitioners.
Herb Barry Sr. of Herb's Fly Shop on the Station Road in Blackville said anglers were catching quite a few on Saturday and Sunday, with nearly all salmon. With the bad weather, there was no flood of anglers out. The ice in the river had pretty well gone except for the odd brook letting go. There was still shore ice, but the high water this week should soon take care of that.
Flies of choice were Christmas Trees, Silver Smelts and the Elmer (Orange).
Curtis Miramichi River Outfitting in Blackville said Saturday produced very good fishing with many limiting out. The water then came up to go along with terrible weather Monday. However, fishing improved Tuesday and Wednesday, but it wasn't as good as Saturday. They predicted good fishing for the weekend. There seemed to be more salmon than grilse. On Saturday May 9 they are sponsoring a fly-casting School. Cost is $95, and there are a few spots left. Contact them at (506) 843-2481.
Flies of choice were Black Slimes, Black Ghosts and a few Green Slimes.
George Routledge of George's Fly Shop at the Mouth of Renous in Quarryville said the Blackville area was fishing well on the weekend, but there was basically no one out there, not even on the shore. The smelts were in as far as the Quarryville Bridge, based upon the number of sea gulls around. There were a few boats out Tuesday and Wednesday. The shore ice still had to go before shore anglers could reasonably toss a line.
Flies of choice were not available from George as he does not sell streamer flies. He leaves that business to the two local stores.
Jim Laws of Miramichi Hunting and Fishing in Newcastle, Miramichi reported hearing of only a few fish caught. The majority of the reports were further up river. The river there was free of ice, but high and dirty.
Flies of choice were Black Ghosts, Blue Smelts, Renous Specials, Golden Eagles and Mickey Finns.
Syd Matchett of Trout Brook Fly Shop on the Northwest Miramichi said there was very little fishing n the Northwest as the ice was still moving through and had jammed up at the Four Man Lodge, although it was open below that. Most sports were moving to the Main Southwest. There was still a lot of shore ice around, but the high water should almost clean that up by the weekend.
Flies of choice were Golden Eagles, American Smelts, Black Ghosts, Renous Specials and Mickey Finns.
Debbie Norton of Upper Oxbow Outdoor Adventures on the Little Southwest Miramichi said the ice was still in in places along the LSW. The river was open in front of the lodge, but was jammed at Oxbow. A worker for Debbie said that the ice was still in at the Red Bank Bridge on Wednesday on the Little Southwest side, but had moved on the Northwest side. They felt that the ice should clear by the weekend. Sports were catching some on the Main River/.
Flies of choice were Black Ghosts, Golden Eagles and Renous Specials.
Dave Ingersoll captured by camera the annual spring "Shag-Races" as the cormorants group on ice flows and float down river.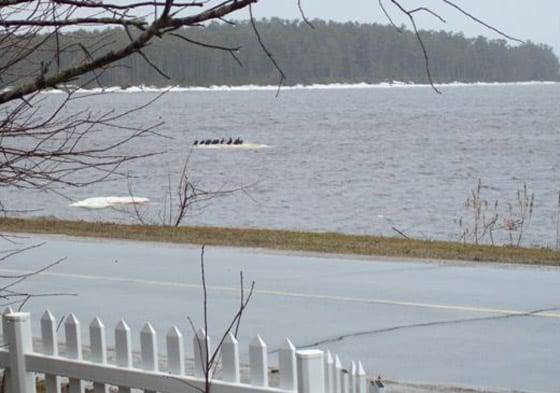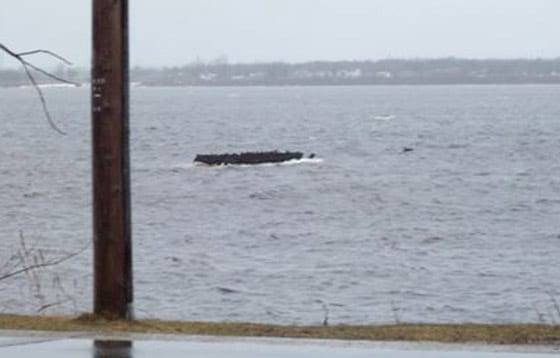 Mother Nature can be mischievous at times, and play a dirty trip or two on us. Check out these two photos by Sarah Ross taken on Monday April 27 of the ice tossed up on the Burnt Church Wharf.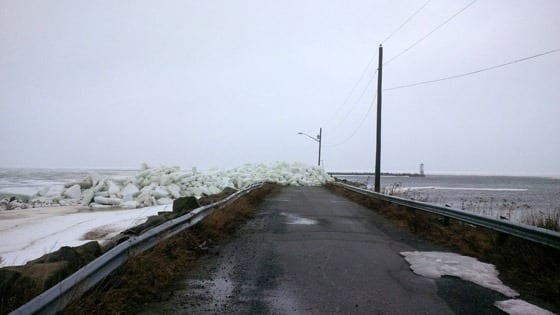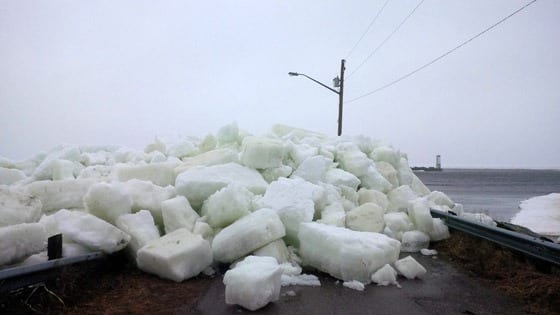 Check out the e-mail below for an interesting story with photos of "matching-The-Hatch".
Don't forget to show your support for our sponsors, because without them, this column would not be possible.
Check out Deals 4 U in Miramichi for your grocery needs, and good Cuban cigars to celebrate getting back to the rivers and the Stanley Cup playoffs. Drop by Mac's Seafood for great savings on seafood products from the Atlantic region and abroad, deli meats and so much more!
ANY FINANCIAL CONTRIBUTIONS TOWARD HELPING WITH THIS COLUMN ARE GREATLY APPRECIATED. Click here to donate now. A SPECIAL THANKS to all who made contributions last season.
If you would like to sponsor this column, give us a call at (506) 352-7668 or email .
[wp_bannerize group="doug2″]
Thought for the Week: "…of all the liars among mankind, the fisherman is the most trustworthy." ~William Sherwood Fox, Silken Lines and Silver Hooks, 1954
CONDOLENCES: Our thoughts and prayers go out to the family and friends of John Hawkes who passed away this past week after a heroic battle with ALS. John always had a second Christmas Tree decorated with only fishing related ornaments.
This year for the first time, the City of Miramichi is sponsoring what they hope will be an annual striped bass event: The Miramichi Striper Cup.
Miramichi Striper Cup – May 29-31, 2015
Miramichi, New Brunswick, Canada
(506) 623-2062 /
The Miramichi Striper Cup will take place on May 29th-31st, 2015. This "catch and release" striped bass tournament is expected to attract a broad demographic of fishing enthusiasts due to our three main divisions of competition. Our Team/boat division will allow up to four (4) team members to compete for a $5,000.00 cash prize in this two (2) day competitive division. Each team will be allow to weigh two (2) fish per day for a total of four (4) over the two days.
Our Individual/shore division is expected to be our biggest draw with participants competing for some great prizes in a "greatest length" style two day competition. All participants will be required to photo document their catch and submissions will be posted on our website and social media sites.
Leaderboard style updates will be provided via social media and our websites to keep followers interested and enthusiasts visiting our sites to get the latest updates. Our Youth Division (16 years and under) will provide the future of the recreation fishing industry with an opportunity to experience the spirit of competition but will also form our target market in years to come by providing a premium event and experience at no cost to the youth participant.
We invite you to explore our site dedicated to the Miramichi Striper Cup and encourage you to contact us if you have any questions or concerns. http://www.miramichistripercup.ca/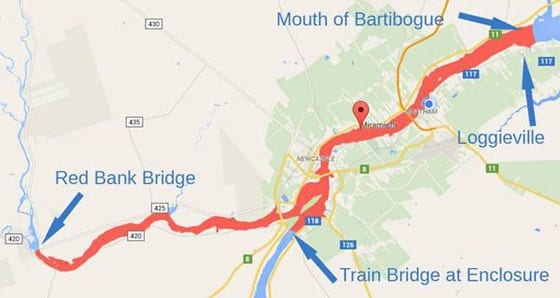 So as "spring" unfolds, if we can even call it that, make plans to get out and "on the water".
E-MAIL: Hey Doug,
Myself and my buddy Charles decided to finally wet a line on Sunday after keeping an eye on the ice and water conditions.
On the early drive to Boiestown there were some sunny breaks in the clouds which created a massive Golden Eagle hatch.  We drove through about 5 or 6 of these hatches and my truck was covered with them, and smeared all over my windshield.
We both had fly boxes filled with flies from the Miramichi smelt to the Renous special, which makes it hard to decide what fly to tie on first.  So based on some fishing knowledge we knew we had to "match the hatch".  Once we hit the river and tied on a couple Golden Eagles it was just like stealin' out there!  Even had a grilse take it off the surface when stripping line off reel to cast.
Bright Day = Golden Eagle
Dark Day = Golden Eagle
Everyday = Golden Eagle
Cheers,
Sean Dolan
Attached are a few pictures.  Golden Eagle hatch on my truck, and some nice "slink" Miramichi salmon!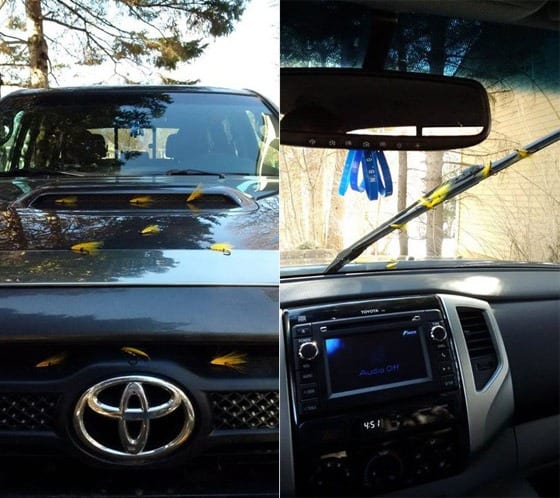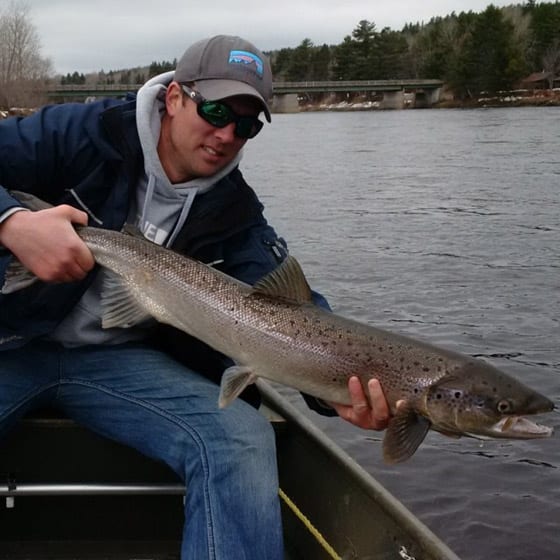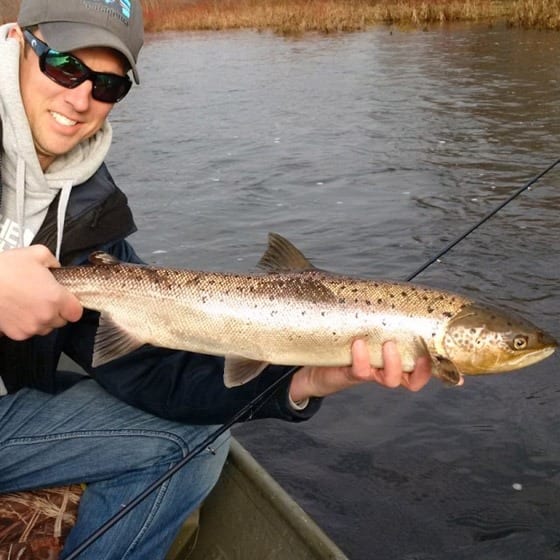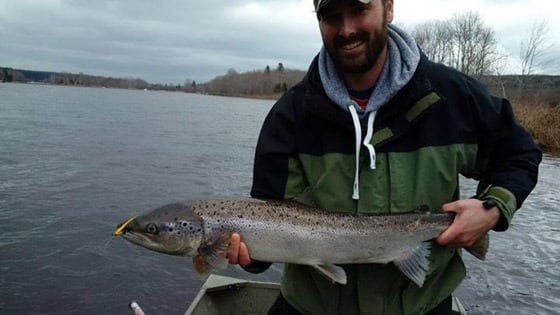 —————————————————————————-
Atlantic Salmon Federation News
Friday, Apr. 24, 2015
ASF Rivernotes Gives Updates on Salmon Angling Regulations
~~~~~~~~~~~~~~~~~~~~~~~~~~~~~~~~~~~~~~~~~~~~~~~~
As winter fades, ASF Rivernotes talks about the new Atlantic salmon regulations in NB, NS and PEI, and updates conditions on the salmon rivers.
http://atlanticsalmonfederation.org/rivernotes/
ASF Research Blog – The preparations for field season on the salmon rivers are now intense. Check out the latest updates from ASF's Research staff.
http://asf.ca/research-in-the-field.html
ASF Welcomes New Biologist and New Director of New Brunswick Programs
~~~~~~~~~~~~~~~~~~~~~~~~~~~~~~~~~~~~~~~~~~~~~~~~
Jason Daniels and Nathan Wilbur have backgrounds that will assist in ASF's programs for Atlantic salmon restoration. They join as both field and planning activities are ramping up.
http://asf.ca/asf-welcomes-new-biologist-and-nb-program-director.html
Ministerial Advisory Committee Meeting in St. John's, NL
~~~~~~~~~~~~~~~~~~~~~~~~~~~~~~~~~~~~~~~~~~~~~~~~
This special committee that includes ASF's President Bill Taylor as Vice Chair was gathering information in Newfoundland yesterday. The Committee's Chair took the opportunity to explain some of the issues of concern.
http://asf.ca/wild-salmon-facing-upstream-battle.html
Nova Scotia Announces New Approach to Salmon Farm Licensing Decisions
~~~~~~~~~~~~~~~~~~~~~~~~~~~~~~~~~~~~~~~~~~~~~~~~
The province announced a new procedure for determining whether salmon farm licenses would be granted.
http://asf.ca/ns-seeks-more-transparent-aquaculture-licensing.html
Cooke Aquaculture Cleans Up Salmon Cage Debris
~~~~~~~~~~~~~~~~~~~~~~~~~~~~~~~~~~~~~~~~~~~~~~~~
Pieces of aquaculture cages have raised concerns among lobster fishermen in St. Mary's Bay in southwest Nova Scotia. The aquaculture company involved will clean up the pieces of cages causing problems.
http://asf.ca/cooke-cleaning-up-salmon-cage-debris-in-st-mary-s-bay.html
Salmon Poacher from Conche, NL Given Jail Time
~~~~~~~~~~~~~~~~~~~~~~~~~~~~~~~~~~~~~~~~~~~~~~~~
A salmon poacher from Conche, on the Northern Peninsula was given a two month sentence – and other restrictions. Read more.
http://asf.ca/salmon-poacher-from-conche-two-months-behind-bars.html
—————————————————————–
Until next week
TIGHT LINES
DOUG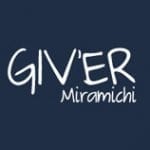 Giv'er Miramichi is about "What's up, what's new, what's happening". We are focused on building people up, supporting one another and celebrating our successes.