Film-Maker Selim Ozcan Back on the River
By Sandra Bunting
After 26 years of travelling through more than 180 countries, Selim Ozcan has decided to stop for awhile in order to start writing and to organise his films. He also wants to create a Canadian-based charity in order to consolidate and structure his humanitarian projects. He will make his plans public for the first time at the First Annual Miramichi Film Festival organised by the Miramichi Multicultural Association and NBCC held at NBCC, Saturday, May 16 where he will present his documentaries, starting at 2:15 PM with a Q & A afterwards. Miramichi has an opportunity to learn from his travels, his unique outlook on the world and his programs.
His appearance in Miramichi is "so fitting" he says. "It is like coming full circle." Selim Ozcan was born in the Chatham area of Miramichi in 1968. "Growing up in beautiful Miramichi," he says, "I was always in the woods and that prepared me for survival anywhere." He was awarded a degree in Commerce from St. Mary's, Halifax, and in 1988 went back-backing through Europe. In 1990 he went to Japan to study BA in Asian Studies, especially Asian Art, and in 1991 he went through, Burma, Nepal, Thailand and Hong Kong and ended up in India, where he lived for just under a year. His experiences there changed his life forever. He realised that he wanted to try to see the entire world as his home; the wonderful diversity of it and the people that live in it. Selim was strongly influenced by Mother Theresa. An encounter with her set him on a path and gave him the idea of service to others. In meeting people he wanted to study their cultures, religion, customs and way of life in order to really be able to walk in their shoes and understand how they look at life and their existence in it. Selim subsequently obtained a Masters degree in International Business and International Affairs Loyola Marymount University, a prestigious Jesuit college in Los Angeles.
During his travels Selim made long treks through the jungles of South East Asia and explored the Amazon of South America. He climbed Mount Kilimanjaro on his 40th birthday and there, at a height of 6000 metres on the 'roof of Africa', he had an epiphany. He stayed in ashrams and temples all throughout Asia and embraced 8 different religions. In Africa he spent time living with the Masai, Hamar, Karo and other tribes in order to learn their ways. He was even fortunate to get close to wildlife in their natural habitat; for example the silver back gorillas in Uganda and baboons in the Abyssinian Abyss. He was chased by rhinos and hippos and was up close to baby leopards.
"By living with people, you start seeing the problems in daily life. We, coming from the west, are able to empower those less fortunate and find a solution," he says. Selim's goal now is to build a bridge from Canada to the third world countries. Selim has already been involved establishing medical clinics, hospital projects and has promoted health education. His first humanitarian work was to fill his back pack with medical supplies and to disperse them when needed during his travels.
Many of the people he encountered were repressed because of poverty or corruption. "Most people want the basics of life -food, water, shelter education," he says. "Because of the internet, humanity now has the possibility to unite." Skype is a big thing. He prepays internet cafes to enable people to communicate. Technology has been a game changer for the world and for what he wants to do. To that end he is also working with technology companies in Silicon Valley, California, to explore what technology can do to enhance his projects.
"There are whole populations," he says, "ready for a spark but time is of the essence. Most people have had enough and this attitude leads to activism. We are in a volatile environment." Selim goes so far as to say the world is cracking; nature is more and more unstable and many leaders are greedy. Geopolitical strife leads to terrorism. How are we going to fix things? "Unity through diversity gives way to understanding and tolerance for each other," says Selim, "and that leads to collective cooperation in a common goal to create a better world for tomorrow."
Education projects feature large in his plans. Education can change attitudes and create the leaders of the future. With that in mind, Selim is creating a Canadian-based NGO, a charity, a humanitarian organization to activate his 5 pillars: Scholarships, Clean water, Agriculture, Health, Sustainable Business and the provision of supplies such as clothing, food and computers. For his education project, Selim started supporting elementary and middle schools by giving scholarships to private high schools. In 2011 he travelled in 35 countries (averaging three cities per country and five schools per city) in search of the candidates to whom he could award scholarships. Those students were provided with tuition, airfare and accommodation to study in Warsaw, Poland. A group of his friends had bought a defunct university ranked 150 in the country. In just five years it has climbed to being ranked 6th and it educates 6000 international students.
That's why he has established offices around the world, one of the largest in Kenya, but others in Nepal, Uganda, Malawi, Ghana and Niger, Cambodia and Thailand with a personal network of 14,000 he met on his travels. "Most people talk first and then do something. I decided to do the opposite." Selim has already initiated some of these projects but plans to expand. Through Selim's documentaries such as Shaping the Future of Africa at the Miramichi film festival, you can meet some of the interesting remote tribes –accessible only by a long trek in and out -and be introduced to the main projects.
Selim praises Canada's contribution to developing countries. He says in poor high mountain villages he found the inhabitants giving him gifts of food made from flour provided by our country. There was another instance of scales provided by Canada at the gates of Mount Kilimanjaro so that the packs carried by Sherpas would not exceed more than 20 kilos. "I was heartened. We don't hear of this in Canada."
Selim has been present in many environments he describes as "beyond dangerous". To mention a few, he snuck into Burma and saw his friend killed and was in Syria a few months before the war started. He lost his fear soon into his travels. Instead Selim has fallen back on trust where ever he goes. "For me it is a natural process just to continue at the mercy of strangers. I quickly understood the kindness of people." He sees ethnic, religious, demographic and geographic diversity as a gift to humanity. He no longer sees different racial or colour differences.
It is a wonderful thing to know one's true purpose. Freedom means a lot to Selim. "By embracing freedom", he says, "you get time." Selim believes he can make a huge impact on how people view the world we live in, and to teach them that they can make a difference. He believes in destiny. "I was built for this," he said, "it is the best way of using the life I was given."
To learn more, come to the First Annual Miramichi International Film Festival at NBCC, 80 University Ave. (main building, big theatre) at 2:15 May 16 or connect to his website http://www.truemyeyes.com/
Program First Annual Miramichi International Film Festival
May 16, 2015 Theatre, Main Building, NBCC, 80 University, Miramichi
12 – 2 PM Short animation films aimed for middle school/high school students and the young at heart. Curated by NBCCs Mike Cuttela. Intro by NBCC's Andrew Frost.
2-2:15 Break
2:15- 5:00 Documentaries by Selim Ozcan who will be on hand to introduce his work and available for Q Q nd A after.
Films:
Trekking the Simien Mountains (Ethiopia) 30 minutes–Climbing dizzying heights in search of the Gelada Baboons and an invitation to a traditional coffee ceremony in a mountain village
Shaping the Future of Africa: True Education (Kenya, on Somali border) 60 minutes – how scholarships to poor orphans makes a difference in their lives
Karo Tribe Village Tour (Ethiopia) 17 minutes Introduction to the Karo tribe and their villages and highlighting their problems finding clean drinking water
Rituals of the Hamar Tribe (Ethiopia) 12 minutes The famous bull jumping rite of passage ceremony of the Hamar tribe. Warning that some scenes may contain nudity or ritualistic violence
5 – 5:15 Break
5:15 – 7 PM Steve Woods
Steve Woods has worked in film since 1988, first in animation then live action. Recently he has concentrated on making dance films, KEEPING TIME, his most recent is his sixth dance film. He also produces film mostly animations. Steve has also held many workshops, notably in the Middle East where he made the dance film ETERNAL in Palestine, and the pixilation short SALMA'S SCARF in Damascus Syria. Steve has curated for a number of Irish and international film festivals and is a founding member of the Galway Film Fleadh and the Screen Directors Guild of Ireland. He also teaches Experimental Animation at the National Film School in IADT, Ireland.
Steve's Intro (4:30)
Ireland 1849 (11:20) –Shot as a film might look had it been invented in the 1840s, a time of famine and revolution in Ireland
Twas terrible Hard Work (5:14) Steve Woods producer –miners in South Tipperary, Ireland describe their work – clay model animation
The Polish Language (8:12) Steve Woods producer, Orla McHardy animation graphics, based on a poem by Alice Lyons
Dutch Darkness (4:47) Exposure of Holland's dark colonial past
The Trial of Solomon (4:47) An Armenian survivor seeks out the man responsible for the murder of his family
Salma's Scarf (2:51) Experimentation in pixilation –A blue scarf comes alive bringing a young couple together
Keeping Time (10:42) Masai warriors transported to sacred Celtic sites where the veils between past and present time dissolve
Eternal (7:46) Two strangers enter a village where people are in mourning. They teach them to move in unison and resist their oppressors. Meanwhile an icon painter protects their culture.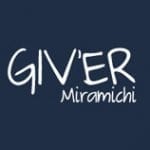 Giv'er Miramichi is about "What's up, what's new, what's happening". We are focused on building people up, supporting one another and celebrating our successes.