Lebanese Dance Troupe from Montreal in Miramichi Friday
By Sandra Bunting
The Lebanese Layalina troupe based out of Montreal is made up of dancers who are passionate about oriental dance. The 12 member group promises an exotic and high energy show from possible dancing with sword to belly dancing.
In Lebanese culture the Dabke folkloric dance is still a strong tradition. The Dabke is passed down from generation to generation and is performed in almost every Lebanese household. It has been made livelier and more joyful over the years and is usually performed or danced at weddings, special occasions, and family gatherings.
The dance was originally created as a working method. Many of the homes in Lebanon had flat roofs made of tree branches covered with mud. Therefore, when the weather changed the mud would crack and the roofs would have to be fixed. To do this the Lebanese would hold hands, form a line, and start stomping their feet while walking on the roof so that the mud would adjust. When the mud started to crack the owner of the house would call to the neighbours to have them help with the roof. Then all of the neighbours and family members would get on the roof and start stomping to adjust the mud. Improvised singing was added to keep the men working in the cold weather warm because singing stimulated their blood pressure to produce more energy while working in the cold.
The performance in St. Mary's Parish Hall at 360 Newcastle Boulevard on Friday May 22nd at 6 pm promises to be an unforgettable evening with Abdo Mazloum and his incredible dancers – a treat of colourful costumes, exotic music and fabulous dance.
Also on the program are talks on the Lebanese in the Atlantic provinces by David Cadogan and Barry MacKenzie on the history of Lebanese families in Miramichi, which started arriving here in the late 18th century. A photo montage of these families has been prepared by Charles Asoyuf. Tasting plates of Lebanese food will be served as well as coffee and tea.
Tickets are $10 and are available at Town Hill Jewellers in Newcastle or at the Water Street Art Gallery in Chatham or at the Miramichi Multicultural Centre across from the Rodd Hotel.
For more information: Phone Sandra at 773-5272.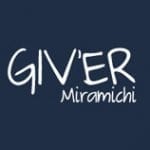 Giv'er Miramichi is about "What's up, what's new, what's happening". We are focused on building people up, supporting one another and celebrating our successes.