Coastal Shore Guides Annual Meeting & Awards
The Coastal Shore Area – NB Council Girl Guides of Canada held their annual meeting on Sunday May 31st at the Miramichi Valley Bible Camp and Conference Centre in Derby Junction.
Part of the event recognized leaders for their role in the success of the Girl Guides in the Coastal Shore Area.
Guide leaders receiving long-time service awards were Pam Cook (5 year Pin), Stephanie Duffy (5 Year pin), Nathalie Flann (5 Year pin), Leah Allard (15 year Pin), Debbie Connell (20 Year Pin), Marilyn Briggs (20 year pin), Kelly O'Toole (25 Year pin), Barb MacNaughton (30 year pin) and Donna Chaisson (31 year pin).
Ranger MacKenzie Russell received her Bronze award, while Rangers Chloe Girouard, Emily Donovan and Tameka Stewart each accepted the Chief Commissioner's and Commonwealth Gold awards.
Receiving their Unit Guider Appreciation Pins for New Unit Guiders in their first year of service were Shelly Pleadwell of 1st Blackville Guides, Sam MacDonald and Katie Stewart of 1st Millbank Guides, Morgan McLeod and Kayla Doucet of 1st Gretna Green Sparks, and Sarah Power of 1st Newcastle Guides.
Special guests for the event were Ruth Lindsay (Provincial Commissioner), Dora Carruthers (Area Commissioner), Nicky Jardine (Area Commissioner) and Susan Hanley (Area Commissioner).
View more photos of the event in the Mighty Miramichi photo gallery.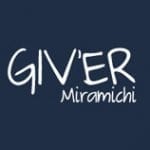 Giv'er Miramichi is about "What's up, what's new, what's happening". We are focused on building people up, supporting one another and celebrating our successes.