Submit Your Best Summer Recipe!
Summer is finally coming to the Mighty Miramichi! And that means it's time for cool treats, backyard BBQs, pool parties, picnics, hiking and camping trips! To celebrate the season, Giv'er Miramichi wants to hear from you! Make your favourite summer dish, snap some great shots, and then send the recipe and photos to us! We'll pick the best recipes to publish in upcoming issues this summer! Submit recipes and photos by email to , include "Summer Recipe" in the subject line. The deadline for recipe submissions for our July issue is Wednesday, June 10th.
Have you tried this recipe from our May 2015 issue yet?
Slow Cooker Taco Chili
Serves 6
Ingredients:
1 cup 250 ml Frozen vegetables, spaghetti mix
1½ cups 375 ml Black beans, drained and rinsed
1 cup 250 ml Tomato sauce
3 cups 750 ml Tomatoes, canned, diced, no added salt
2 tbsp 30 ml Cumin
2 tbsp 30 ml Chili powder
2 cloves Garlic, minced ½ tsp
2 ml Crushed red pepper flakes
1 tbsp 15 ml Jalapeno, seeded and minced
½ tsp 2 ml Sugar
1½ tsp 7 ml Lime juice
⅓ cup 75 ml Sour cream, fat free
2 tbsp 30 ml Cilantro, chopped
Directions:
Place all ingredients, except the lime juice, sour cream and cilantro, in a crock pot. Cook on low for 4 to 6 hours or according to directions from manufacturer.
Mix lime juice and sour cream. Place a dollop of sour cream/lime mixture on top of each serving.
Garnish with cilantro.
Nutrition Information per Serving:
Calories 131
Fat 1 gram
Carbohydrate 26 grams
Fibre 8 grams
Protein 7 grams
Sodium 543 milligrams
Tip: Try this meatless taco chili for a twist on your traditional recipe. No crockpot? Put in a covered casserole dish and bake in the oven at 325˚ F for two hours.
Source: Sobeys Dietitians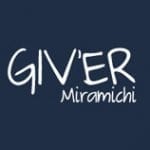 Giv'er Miramichi is about "What's up, what's new, what's happening". We are focused on building people up, supporting one another and celebrating our successes.