Beaubears to mark Parks Day with Famed Election Re-enactment
Two hundred fifty years ago, William Davidson was granted 100 000 acres on the Miramichi River, and would succeed in establishing the first English-speaking settlement in the region. Today he is remembered fondly as among our founding citizens. On July 18, as part of the national celebration of Canada's Parks Day, the Friends of Beaubears Island have decided to commemorate this defining moment in our history by re-creating the Davidson enterprise on the Island in the midst of his famous election campaign of 1785.
The Barbara Ann will be cruising all day providing an hourly ferry service to Beaubears Island between noon and 4pm, carrying you and yours into a time when the sound of axe, auger, and file were heard plainly among the pines. Visit Davidson's indomitable wife Sarah (played by Heidi Girouard), hear the Loyalist opposition of High Sheriff Benjamin Marston (played by Brandon Manuel), and watch Davidson match wits with the forthright Charlotte Taylor (played by Lauren Sturgeon). From there, hear the words of the Scottish pioneer himself (played by Ryan Van Buskirk), as he attempts to establish a fishery and ship mast business on the River. Hear the story of his early shipbuilding endeavours and the perils he faced during the American Revolution. As your encounter goes on, meet his protégé, James Fraser (played by Tyler Kingston), entrepreneur and founder of the largest business establishment in New Brunswick, on the Island. A cavalcade of characters, from all walks of life will bring Miramichi's early history to life on July 18.
As a special added event, and in conjunction with Parks Canada, NB trails and Canoe Kayak NB, Friends of Beaubears Island will inaugurate its 3km hiking trail network at 2pm on the 18th. With the help of its partners, FOB has restored a historic trail along the Island's south side, which meets the central Island trail opposite Wilson's Point. A reception will follow under the gazeebo in Bicentennial Park
For more information on this, and other upcoming events and programs, call 622-8526 or visit beaubearsisland.ca.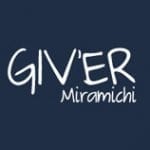 Giv'er Miramichi is about "What's up, what's new, what's happening". We are focused on building people up, supporting one another and celebrating our successes.