Discover the Tabusintac Estuary
Sand dunes, nature trails, beaches, bird watching – just a few of the many things to discover in Tabusintac.
The Tabusintac Estuary is a spectacular natural landscape of wild and pristine beauty.
Sheltered from the Gulf of St. Lawrence by 15 kilometres of sandy barrier beach, the estuary is home to some of northeast New Brunswick's most fragile residents.
An Important Bird Area and one of only two Ramsar Wetlands of International Importance in New Brunswick, Tabusintac is a critical site in the migration of a variety of birds, particularly waterfowl.
A Ramsar Site is a wetland that has been designated as internationally important under the Convention on Wetlands (Ramsar, 1971). The barrier beach provides habitat for the internationally endangered piping plover. The beach system, considered as a tern "core colony" of importance due to high reproductive success rates, supports the second largest nesting colony in New Brunswick. The Nature Conservancy of Canada (NCC) owns 1,117 acres of sensitive ecological land and wishes to obtain additional properties that will help continue their success in maintaining the diversity and ecological richness of Tabusintac.
Tabusintac Beach Clean-up hosted by the Nature Conservancy of Canada (NCC)
Date: August 6, 2015 – 1pm to 4pm
Location: End of Covedell Rd, with a walk out to the beach area.
Learn about the conservation work being done in this internationally important area for birds as you help NCC remove garbage from the beaches that could threaten wildlife if they eat it or get entangled in it. NCC has protected over 1,000 acres of beaches, wetlands and forests in Tabusintac, in order to protect habitat for the large numbers of waterfowl, Common Terns and the endangered Piping Plover that are found in the area. To participate contact Jennifer White,
Visit the Tabusintac Marina and Interpretive Centre located in the heart of the village. Learn about the life of the river and the rich history of birding and decoy carving. Climb to the top of the replica lighthouse for a beautiful view of the river or enjoy a picnic lunch.The centre has antique hand-carved duck decoys and souvenirs. Open July and August. Contact info: or tel: 506-779-9280.
The Tabusintac Rest area is just off the hwy after you cross the Tabusintac River and offers a picnic area with a great view of Robertson Island. There are walking trails to explore, a natural spring, and many opportunities for viewing birds and wildlife.
Enjoy a few of the many photos by April Vye, taken as she explores the Tabusintac Estuary. Click to enlarge any of the images below.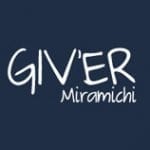 Giv'er Miramichi is about "What's up, what's new, what's happening". We are focused on building people up, supporting one another and celebrating our successes.