When Miramichiers head for the beach on a hot summer day, chances are they'll end up at Escuminac Beach & Family Campground.
For campers, spacious semi-serviced (water and electric) sites are available, as well as tenting sites. Day beach passes are available to non-campers. Beach hours are 10 am – 8 pm, and there is a canteen on site, change rooms, hot showers, playground, picnic tables, and plenty of relaxation.
Lighthouse Walking Trail: The 14 km trail starts at the Escuminac Beach and Family Park and runs east along the shore of the south bank of Miramichi Bay out to the Escuminac Point lighthouse returning on an old unpaved roadway back to the park. Besides getting a great view of Miramichi Bay, the Escuminac Point Lighthouse, and the peat cliffs, the walk often features a variety of sea birds, trunks of trees thousands of years old, and a number of osprey nests, and from time to time a variety of wildlife.
If you're lucky you'll get the chance to meet and have a chat with Monica, Joe or Mary, who welcome everyone as if they are family. Be sure to ask Monica about the whale bones and other interesting things she's found while walking along the beach.
Click to enlarge any of the photos below.
Events
Saturday July 25th
20th Annual Pig Roast
Entry Fee $5/person (non-campers)
6 pm: Supper, $12/plate
9 pm: Dance, Music and Karaoke
(must be 19 & older or accompanied by an adult)
Reserve your campsite today!
Tel: 506-228-4532

www.escuminacbeach.com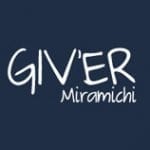 Giv'er Miramichi is about "What's up, what's new, what's happening". We are focused on building people up, supporting one another and celebrating our successes.