Restored Walking Trails on Beaubears Island
Friends of Beaubears Island is pleased to announce the opening of the Restored Walking Trails on the island.
Beaubears Island is located at the meeting point of the Northwest and Southwest Miramichi Rivers. The island is most famous for being a summer camp and meeting place for the Mi'kmaq over 3000 years ago, an Acadian refugee camp during the Deportation in 1755, as well as a major shipbuilding centre throughout the 19th century.
Furthermore, in conjunction with Parks Canada, NB trails and Canoe Kayak NB, Friends of Beaubears Island is doubling the size of its hiking network to include a three-kilometre path on the south (Nelson) side of the island. This trail encompasses the remnants of old structures during the shipbuilding industry's glory days and a scenic route with various plants and animals.
Although the dominant tree is White Pine, the area contains over 300 vascular plant groups including rare species such as the Hooded Arrowhead, American Germander and Cloud Sedge. In addition, there are 34 species of birds containing a pair of Bald Eagles and numerous other animals such as the red fox, porcupine and wolf spider. Not only is this an opportunity to be active, but also an occasion to bask in the beauty of one of Canada's National Historic Sites.
Passes for this newest experience are available for purchase at the Beaubears Island Interpretive Centre in the form of season passes and 10-trip punch passes. In regards to transportation to the island, a ferry service is offered on a daily basis, as well on the evenings of July 19th, 20th, 26th, and 27th and August 4th, 5th, 10th, 11th, 16th, 17th, 24th, and 25th from the Beaubears Island Interpretive Centre.
The official opening of the restored walking trail will be on July 18th, at 2 pm, as part of Canada's Parks Day. For additional information regarding the Restored Walking Trail and other activities, please contact the Beaubears Island Interpretive Centre at 622-8526 or email .
Click to enlarge any of the Beaubears Island photos below.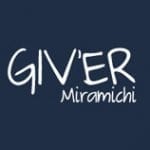 Giv'er Miramichi is about "What's up, what's new, what's happening". We are focused on building people up, supporting one another and celebrating our successes.