Book Review: Lunenburg by Keith Baker
Lunenburg (2015, Vagrant Press) is a Canadian reprint of a UK novel previously released in 2000. It is a detective/mystery novel which originally begins in 1970 outside Lunenburg, but ends in Halifax in the year 2000. Keith Baker is a UK novelist and has written three other thrillers published by Headline in the UK.  I recently reviewed another thriller (I am not keen on that term, but that's what the publishers prefer to call them), What Kills Good Men by David Hood. It was a novel set in 1899 Halifax and concerned a police Inspector trying to solve a murder. Lunenburg is similar in that it involves a policewoman trying to solve two recent murders, both connected (as it turns out) to the 1970 murder. But no more spoilers now!
Synopsis
The main protagonist of the story is Annie Welles, an officer with the Halifax Regional Police's Robbery and Violent Crimes Unit. Annie is a single mother of two boys, the custody of which she lost in the divorce agreement. She loves Halifax and would not want to live anywhere else. She is not exactly "tough" but she is resolute enough in her professional career and will often follow her hunches. Against the backdrop of these two murders is the planned Royal visit of Prince William to Lunenburg to launch the new Bluenose III (a totally fictitious ship and event). John Taggart, a UK journalist, is assigned to cover the event, but then the murders occur, and he is asked look into them and their possible impact on the Royal visit. Taggart's problems follow him across the ocean, as the paper he is working for is soon taken over, and his contract is then terminated whilst he is in Canada. He also has an ancestral connection to Nova Scotia, and soon finds himself in a foreign country without a job and embroiled in the investigation.
A Great Read
I read the bulk of this book on a slow evening shift at work, which worked out well for me because I find any book (fiction or non-fiction) with a plenitude of names to remember difficult to follow. I just can't put down this kind of book, then pick it up a day or two later and recall the complete story and who is who. Lunenburg is no exception. There are the names of the various members of the Halifax and Lunenburg police force involved in the case to remember, several suspects, the deceased victims as well as the people from Taggart's past. I almost needed a scorecard to keep track. Nevertheless, the book is well-written, and I liked the way the first few chapters are mere threads that eventually weave themselves into a cohesive story replete with a few interesting twists and turns. In his acknowledgements in the back of the book, Mr. Baker thanks the public affairs person for the Halifax Regional Police for information which helped him to create a fictional, but credible representation of a working police unit. He was most successful in this, as well as in describing the various locations in and around Halifax and Lunenburg. At one point, Annie acts as a tour guide for Taggart, showing him all the highlights of Halifax which adds a touch of realism to the narrative.
One quibble I have with the book is in the prologue where it mentions a young man wearing a Toronto Blue Jays baseball cap. In 1970? The Jays didn't even field a team until 1977. Since the author lives in the UK, he could be excused, I suppose, but the error should have been caught before this reprint was released.
Also, like any modern thriller there is the requisite coarse language and gratuitous sex scenes, but most of that occurs in the initial chapters and does not persist throughout the book thankfully. I also appreciated that there was not a lot of technology employed in the solving of the crimes. So many TV shows today rely heavily on technology to solve the crimes, but Lunenburg is a low-tech, small town, good police work type of story.
I would also like to add that Nimbus Publishing (Vagrant Press is one of their imprints) has done an excellent job with the reprint. The cover graphics are eye-catching: black and white image of a fishing boat docked next to a small house in the bay with ominous clouds above and "LUNENBURG" in raised blood-red letters under the author's name. At 432 pages and about 5 X 8 inches in size, this is a good, solid paperback. The text is fairly large, which is OK by me, and if they used a font that was a few points smaller, the page count would be somewhat less, but harder on these old eyes.
In conclusion, I don't think anyone would be disappointed by reading Lunenburg. If you like detective/mystery thrillers, and especially ones that take place here in Canada, then you will enjoy this book. Recommended for fans of the 'thriller' genre.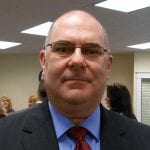 While not a New Brunswicker by birth, James M. Fisher has lived in Miramichi for over seven years and feels quite at home there. James is an ardent reader whose aim is to highlight New Brunswick authors and publishers, as well as cover subjects of interest to New Brunswickers in particular and Maritimers in general. For more visit his website or like his page on Facebook.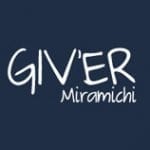 Giv'er Miramichi is about "What's up, what's new, what's happening". We are focused on building people up, supporting one another and celebrating our successes.