Raising Money for Leprosy
One day I was watching TV and a commercial came on showing children with leprosy. I said to my mom, "I hate these commercials because they are so sad and I can't do anything to help them."
My mom said, "Why not?"
"Well," I said, "I am only 12 years old and they live so far away." She then suggested that I could probably come up with something if I thought about it.
So I thought about it … for about a month. Then I came up with the idea for a dance to raise money. I worked on what I needed before asking the Principal for permission to use the Open Area at the school. When I finally went to meet him a friend came with me and we explained the plan and he agreed to let us do it. I got some more of my friends involved (Aisha, Robyen, Maddy and Emileigh) and we had meetings to figure things out. We went class to class explaining the dance and why we were raising money and we put up posters.
The dance was for grades three to five and six to eight with a $3 entry fee and we also sold drinks. We made $550! The school collected the money for me and sent it to the Leprosy Mission Canada.
I would like to thank Paula Davidson for her help with the music and Tim Gratton for his help with set-up and Principal Rodney Buggie for letting me use the school Open Area, and also thanks to all those who chaperoned the dance.
I think if a kid wants to do something, my advice is even if you think you can't, just go ahead and do it one way or another. Think about it and you'll figure out how to do it.
Deanna will be going into grade eight in the fall at Blackville High School. In her spare time she volunteers at the Blackville Food Bank and enjoys drawing, making jewellery and watching scary movies.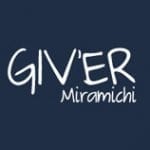 Giv'er Miramichi is about "What's up, what's new, what's happening". We are focused on building people up, supporting one another and celebrating our successes.