Decorator Tips for Mixing and Matching Wood Tones
It's easy to buy a full dining room, bedroom, or living room set of furniture in all matching wood tones. However, to create a unique design in your home that isn't too "matchy" it may be a good idea to start mixing different wood styles and tones in your space. Here are some tips to follow for a polished look when mixing and matching wood tones.
1. Use an Area Rug
You've found a piece of furniture that you must have but it just doesn't match your flooring. Don't worry, this is no problem at all! Just add a coordinating area rug that will soften the transition between the flooring and the legs of the furniture. You could also add a rug that picks up on the different colours of wood in your space to visually tie the whole thing together.
2. Create a Focal Point
Having only one piece of furniture in your room with a contrasting wood tone is not necessarily a bad thing. This could create a wonderful focal point in your space. For example in a dining room with matching table and chairs, a sideboard in a contrasting wood tone can easily become the focal point of the space. Try adding a brightly coloured piece of art above it for even more of an impact!
3. Look at the Undertones
Each and every colour of wood has an undertone. It can be warm reds and yellows or cool blues. This is important to note when attempting to coordinate different toned woods in one space. Red undertones will work best with other pieces that have the same undertone. Connecting the undertones will help make your decision easier.
4. Add a Touch of Rustic Styling
To create an intentionally eclectic look, just add rustic wood. It works well in picking up multiple different tones and adds a relaxed natural feel to just about any space.
Don't ever stress about precisely matching all the wooden pieces in your room, it's usually unnecessary to achieve a great look. Just have fun and choose the pieces that speak to you and reflect your personality the most!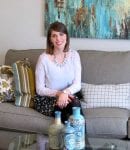 Lauren Walls was born and raised in Miramichi. She completed her degree in Interior Design at the Centre for Arts and Technology in Fredericton. She took six months off to explore an become inspired by Europe and has returned home to join the team at Renaud's BrandSource. Lauren enjoys using her skills and training to beautify any space. For a consultation call her at 773-9408 or email .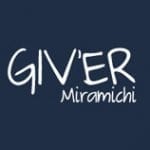 Giv'er Miramichi is about "What's up, what's new, what's happening". We are focused on building people up, supporting one another and celebrating our successes.