STU Inducts Father J. Arthur Scott to Sports Wall of Fame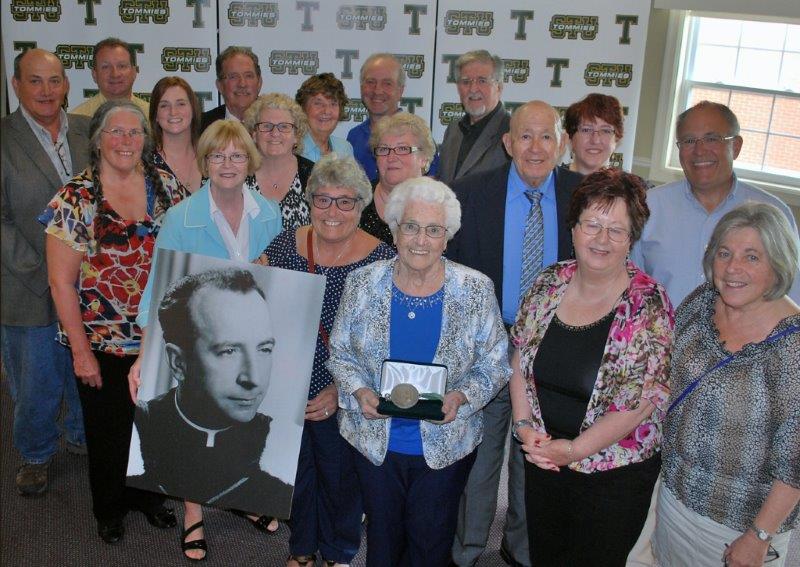 Five Tommie greats that included Miramichi's own Father Scott, and a medal-winning men's basketball team joined the St. Thomas University Sports Wall of Fame at a special ceremony on June 20th in Fredericton.
"Gordie Wheaton, Callum MacPhee, Crystal Cernivz (MacFarlane), Bob Mabie, Father J. Arthur Scott and the men's basketball team from 2003-04 represent the Tommie ideals of dedication, talent and achievement," said Michael Eagles, St. Thomas University's Athletics Director.
The formal unveiling ceremony, with the plaques and medals, happened at an official Wall of Fame luncheon at the Forest Hill Conference Centre.
The university established the Sports Wall of Fame in order to recognize individuals and teams who made a significant contribution to athletics and who enhanced the reputation of the institution. Inductees can be athletes, builders (coaches, managers, athletic staff or administrators) or teams.
Father J. Arthur Scott was recognized as a Builder (1939-1949). Father Scott was a student at St. Thomas College before joining the teaching staff in 1939. At that time, organized sports were almost non-existent, but he soon became known as the promoter and coach for all St. Thomas athletes. Throughout his 10 years at the college, Father Scott coached hockey, rugby, basketball, baseball, and started the first women's basketball team. In 1948, it became apparent there was a need for a full-time athletic director, but Father Scott continued to be involved in sports as an assistant coach, manager and promoter.
At the presentation his nephew, Malcolm Scott MacAfee, spoke on the family's behalf. Below is that speech.
On behalf the Scott family, I would like to thank St. Thomas University for bestowing this honour on Father Scott. It is a great privilege for me to present a brief introduction to this great student, athlete, scholar, coach and priest. I would also like to congratulate the other recipients today on their induction to the Wall of Fame.
Reverend James Arthur Scott was born in Lower Newcastle on July 6, 1911 to parents James Scott and Annie (Doyle) Scott. He was one of 10 children living off the family farm in Lower Newcastle. Mrs. Stella (Scotty) Kennah has joined us here today to celebrate this event. Aunt Stella is the last surviving member of the 10 family members.
James Scott was a commercial fisherman carrying on the fishing tradition of his father, who had immigrated to New Brunswick from Banffshire, Scotland in the early 1800's. The fishing was supplemented by the produce of the family farm … vegetables, potatoes, eggs and the raising of cattle for both milk production and a source of protein. The whole family participated in the maintenance of this farm in a very difficult terrain.
The Scott family were devout Catholics and although hardship existed, they managed to send Father Scott to St. Thomas Academy for high school and later on to St. Thomas College to receive his degree. During his school years he participated in every sport played at the school — rugby, hockey, and basketball. By all accounts he was a fiercely competitive athlete enjoying some of the more aggressive aspects of sports. His academic credentials were well recognized by his results in high school, college, the seminary, and finally his education in Rome where he received his PhD in Theology. He was ordained to the priesthood on July 6th, 1935 just prior to receiving his doctorate.
To quote from his colleague Phonse Campbell:
"Returning home to St. Thomas College, he entered into his work as a priest and teacher with a devotion and energy, and a vigour of mind that was exemplary to the point of the heroic. He became, as it were, all things to all his students; he taught them philosophy and French and Latin and chemistry in class; he directed their plays and coached their sports; he gave spiritual guidance and sometimes liked to talk to them like a Dutch uncle.
He coached sports in much the same fashion as he played them. He coached everything from rugby to basketball, but there was nothing really like hockey. He played a strong part in the organization of sports as well, always searching for the highest level of competition available for his charges. As if he wasn't doing enough around the College, he also had a stint at coaching a local intermediate hockey team. This search for the highest competition did not always have the immediate desired outcome, but through their strong determination, they were able to be competitive in all sports they played."
I am honoured to be asked by Mike Eagles on the recommendations of our family, or so the story goes, to make this small contribution to the day on behalf of the Scott family.
My memories of the man are very vague, being remembrances of a young boy; I was only eight years old when he died. We would load up the station wagon in Oromocto for our trips back home to the Miramichi. After what seemed like a three-day trip, only four hours really, we arrived in Lower Newcastle. It seemed like there was always a crowd there and everyone was glad to see us. Father Scott would show up at some point and in good humour. I remember him speaking with a very low voice and he seemed like a very big man dressed in black. Even at that time you could tell the great respect that his siblings held for him. The only other thing I remember was his ability to get people together in a common cause; he couldn't stand a group being together doing nothing. He would organize outings to the pond to cast for fish or sometimes just to walk on the beach together, marvelling at the wonders around us. My mother shared this characteristic and I think I may suffer from it as well. He introduced me to fly fishing, or an attempt at it, at the age of seven, and I have been learning about it ever since.
If I were going to have to depend on my own experiences with Father Scott, this little presentation would be over now, without my really touching on our topic of today, the St. Thomas Sports Wall of Fame. So I enlisted the assistance of two persons who knew him well …as an educator, mentor, coach and friend. They are Harry Murdoch and John McAloon. I enjoyed very much talking to them about Father Scott. They both recounted a story showing that Father Scott was an unending promoter of St. Thomas and the Miramichi. It is titled: God, Father Scott, a flat tire and a side of beef. The story goes like this:
In the summer of 1944, Father Scott and his mother were travelling from their home in Lower Newcastle to Tracadie. Going through Tabusintac they had a flat tire. This happened right in front of the home of Sandy Gratton. Mr. Gratton saw Father Scott starting to change the tire and he came out of his house and told Father his son would change the tire and for him and his mother to come into the house to have a cup of tea. The son was 17 years old and had graduated from high school that year. While having their tea, Father Scott enquired about their son and asked if he planned to go to college. He was informed by the parents, that they could not afford it. It so happened, that very day Mr. Gratton had slaughtered a cow and Father Scott had spotted it on the way into the house. What happened next was that Father Scott said that he would see that the first years tuition and board for their son would be looked after in exchange for a side of beef. When the son was finished changing the tire and returned to the house he was informed that he was going to St. Thomas in September.
Well, that son continued his four years at St. Thomas and graduated with honours in 1949. He entered the seminary and was ordained a priest. Father Bob Gratton ministered for over 40 years in the Bathurst and Saint John Dioceses.
This would account for God's intervention. John put a note on the end of the story saying that Father Scott may have been a little bit closer to the action, suggesting that he flattened the tire to ensure the meeting.
John also spoke about the coaching he received from Father Scott. He had high expectations for the players and the team. He wanted to play the toughest teams because he thought it was the only way to improve. John related one story that involved the college hockey team travelling by jitney and train from Newcastle to Fredericton, stopping at every train station along the way, a four-hour trip. They were to play UNB on an outdoor rink adjacent to College Field. The team arrived to play and UNB seemed to be taking their time getting the game started. When Father Scott enquired what the hold up was, he was informed that UNB was waiting till the rest of the St. Thomas team arrived having counted only nine skaters. Father Scott informed UNB that nine players were all they had, due to injuries and what not. UNB did not want to go forward but after some frank discussion they agreed to play the game. The two defence men had a very busy night, with one of the forwards filling in for them every once in a while. John said they did very well for a time but as fatigue set in they fell behind and ended up losing the game 6-4.
John did not remember eating after the game; they probably did not eat anything. He mentioned afterwards that the reason they did not bring more players was that they could only afford tickets for the nine who came. But they learned a valuable lesson that day; their team had the talent to succeed against the best team around if they took the chance to play them. They spent that night on the rectory floor of St. Dunstan's Church and travelled home to the Miramichi the next day.
Father Scott's faith also travelled with the hockey team on another road trip; this time to PEI to play St. Dunstan's University. Having no dependable weather forecasts the team sometimes left, driving into storms not knowing the severity of what was to come. This time there were a number of cars that left Chatham but they only made it as far as St. Margaret's, a distance of about 16 miles, before becoming storm-stayed. They were invited to stay with a couple of families named Flynn. Strangely enough, one of the Flynn families they stayed with was the family of my spouse. Once again they had to put up with difficult sleeping arrangements, but they found the food spectacular and left a couple of days later to play the game. Father Scott had faith that the good Lord, good luck and the support of the community would carry them through most hardships.
Harry spoke up to say that he had never known Father Scott as an athlete; getting all the exercise he needed walking to and fro from Millbank on a daily basis, and peeling pit props on the weekends. Some winter days Father Scott would stop on the ice road to offer Harry a drive on his daily crusade to Millbank, while Father was on his way to visit Grammy Scott in Lower Newcastle.
As a teacher he would warn all new students that they should be aware that, "If you and I are going to tangle, YOU are going to come out second." Harry said that his warning was much worse that his punishment though. Harry also told me he always pictures Father Scott wearing his soutane covered in chalk … and always with a positive attitude.
These were wonderful stories to hear as both Harry and John held Father Scott in the highest regard, as a priest, teacher, coach and friend.
Although Father Scott became the Vice Rector of the College, he never searched for recognition. He believed this was meant for the students on their journey through life.
Father Scott died suddenly on June 26, 1956 at the age of 45, leaving a huge gap in our family, on the Miramichi and at St. Thomas. I will refer again to the words of his colleague Phonse Campbell while speaking about Father Scott's gifts shortly after his death. I quote:
"But the greatest of all his gifts, it has always seemed to me, was a magnificent fortifying of the heart of the youth, with his hope and faith and courage: so it is fitting, no doubt, that death came because his heart gave out on him, for he had given it all away in his service to the young he so cherished."
As children we heard may times the poem Be the best of whatever you are and I believe the last two lines of this poem sum up Father Scott's attitude toward life:
It isn't by size that you win or you fail
Be the best of whatever you are.
Thank you.
Photo Note:
Back Row L to R: Tim MacAfee (Mary Eileen Scott MacAfee), Tony Forward (Donna McGinnis – Leona Scott McGinnis), Malcolm MacAfee (Mary Eileen), Carmel McStone (Leona), Gerard McGinnis (Leona), Art McGinnis (Leona)
Middle Row: Judy Anne Breen (Mary Eileen), Sara Brideau (Kathy Scott – Billy Scott), Janice Walsh (Billy Scott), Lorraine Savoie (Billy Scott), Cletus Kennah (Husband of Stella), Nicole Basque (Paulette Robichaud – Leona), Scott Kennah (Stella)
Bottom Row: Nancy MacAfee (Malcolm MacAfee – Mary Eileen), Mary-Ellen Kennah (Stella), Julia Stella Ann Scott Kennah, Paulette Robichaud (Leona), Evelyn Mason (Leona)
Photo: Father J. Arthur Scott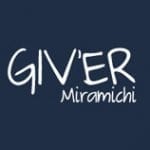 Giv'er Miramichi is about "What's up, what's new, what's happening". We are focused on building people up, supporting one another and celebrating our successes.