Kids Fly for Free on Saturday
The Canadian Owners and Pilots Association (COPA) Miramichi Flight 39 are hosting a COPA for Kids event this Saturday, September 12th, at the Miramichi Airport in Chatham. Kids can experience a flight with a qualified pilot free of charge from 10 am until 3 pm.
Everyone is invited to come out and enjoy a COPA 39 breakfast for only $7 from 8 am to noon. Come and join us! For more information about this local COPA event contact Len Kennedy at 622-1015 or Donnie Stephens at 773-6694. To get to the COPA 39 Clubhouse you will find the entrance on General Manson Way (west end of Retirement Miramichi) close to the LaFarge cement plant (you will see the COPA sign). Turn right after the gate and go about half a mile to the COPA Clubhouse.
COPA is a Canadian non-profit Association representing some 18,000 pilots, aircraft owners and aviation enthusiasts across all the provinces and territories of Canada. Members are of every age group, including many airline and commercial pilots, engineers and business people. They fly all types of aircraft, including "amateur-built" (a category of aircraft designated by Transport Canada, built by individual craftsmen instead of on a factory assembly line).
The 16,000 aircraft belonging to COPA members represent more than half of all the 31,000 aircraft in Canada and can be seen at every airport in Canada. COPA "Flights" are groups of COPA members from a particular town, city or area, organized into a named Flight which is democratically elected and which follows the rules, principles and objectives of the national COPA organization. Each COPA Flight is provided insurance coverage so that they may carry on a variety of aviation events on a regular basis, including COPA For Kids introductory flights. There are approximately 150 Flights located across Canada.
For more information visit www.copanational.org or www.copaforkids.org.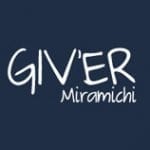 Giv'er Miramichi is about "What's up, what's new, what's happening". We are focused on building people up, supporting one another and celebrating our successes.