Betty Caron's Family Memories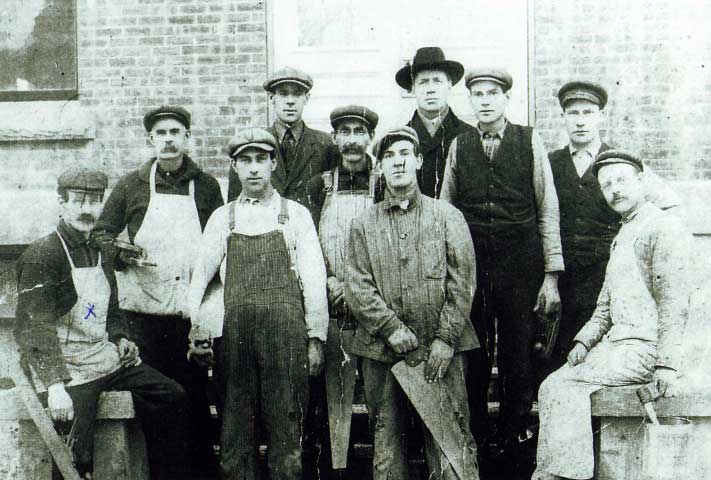 Betty Caron enjoys Giv'er Miramichi magazine, reading articles about like-minded people, the photo submissions, and the positive nature of the magazine. She was inspired to share her photos and memories for our readers to enjoy.
Pictured Above: The builders of the Methodist Church Sunday School in Chatham which is currently the Chatham Legion. Back Row: Unknown, Tate, Tom McEwen, Bob Betts, Rev. Fulton, Joe Dickison. Front Row: Poppa Robert MacDonald, Frank Foley, unknown, Ira Kitchen.
My father, William H. Merritt, was born in Swanmore England July 18th, 1894. His parents moved the family to Chatham, NB, Canada when he and his twin brother Walter were 15 years old.
During World War I he served in the Royal Canadian Army, 4th Pioneer Battalion and fought at Vimy Ridge, France. He was wounded at Paschendale and lived the rest of his life with shrapnel in his head as it was too close to his brain to remove.
He worked hard all his life, raising a large family and was an excellent gardener. Each year he would place a vegetable display at the Miramichi Agricultural Exhibition. The year he won for his display he had 49 different vegetables on the table, all of which he grew himself. My brother Jimmy helped him a lot with this project.
After the war he married my mother, Laura Elspeth MacDonald, born in Black River Bridge. I remember Mom cooking suppers on the old wood stove and checking the roast beef. She worked hard raising seven kids including her youngest brother. Like everyone else we would get our groceries at Loggie's Grocery Store, running a tab and paying it off at the end of the month. They had hardware, "boot 'n shoe", material, clothing, pretty much anything you needed. Flour came in big cotton bags and we used the bags to make pants — "flour bag pants" we called them.
My mother was a Methodist and her father, Robert McDonald was involved with building the Methodist Church Sunday School in Chatham (see photo). This building was later used by the Chatham Legion until present day.
My dad died in July 1980, he is still missed so very much. I have written a letter asking the City to consider naming a street after my father. It would be a great way to honour his memory.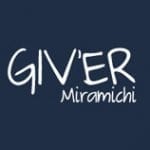 Giv'er Miramichi is about "What's up, what's new, what's happening". We are focused on building people up, supporting one another and celebrating our successes.