My Life Changing Trip to India
My incredible two week journey began when I was one of 25 students selected from across Canada and the USA to participate in the 2015 Me to We trip to India, sponsored by PotashCorp. I had applied for the trip as soon as I heard about it. The opportunity to learn about agriculture and food security, while getting the chance to volunteer in a rural Indian community was something I'd only dreamed of ever doing; I was so immensely interested I had no choice but to apply.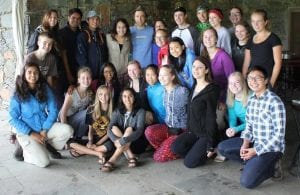 When I received the call a few months later stating I was selected, it seemed so surreal. After getting over the shock, the only thing I could feel was honour. Out of the hundreds of applicants, they chose me. They saw my passion toward helping others, and understood my desire to learn from the locals and to hear their stories.
There was a lot of preparation — I had to get a lot of paperwork figured out, along with multiple immunizations, and certain equipment. For example, I couldn't take a suitcase, I had to bring a hiking backpack, and there was a dress code, meaning I had to purchase a lot of new clothing deemed appropriate for the Indian culture. Mentally, there was really no way to prepare for what I was going to see and experience. All I could do was go over there with an open mind, expecting to be pushed out of my comfort zone as I was immersed in a culture so different from my own.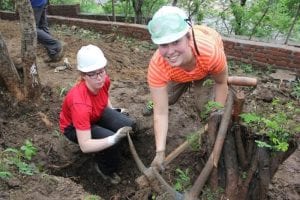 When July 20th arrived, I travelled over 30 hours from Moncton to Toronto to Brussels to New Delhi to Udaipur and finally to our accommodations in Kumbhalgarh! Arriving there, I was instantly immersed in the new culture as I was driven through the chaotic streets of India. They were filled with crazy drivers, women carrying water and crops on their heads, and plenty of cows wandering free; not to mention the view — the stunning mountain range scattered with farmers' fields that stretched on for miles took my breath away.
Although it was monsoon season and it rained quite a bit, it didn't stop us from enjoying the Indian culture with Bollywood dancing, eating traditional meals, taking Hindi lessons, getting henna tattoos, shopping and bargaining in the local markets, and getting my very own custom made Indian saris.
We acted as tourists and visited some landmarks in India, including the Kumbhalgarh Fort, birthplace of King Pratak and home of the second longest wall in the world after the Great Wall of China. We also visited Udaipur City Palace, home to this day of the Royal Indian family. As if that wasn't enough, I was lucky enough to wake up every morning to chai tea and yoga while overlooking a beautiful canyon that stretched around the facility where I lived during my stay.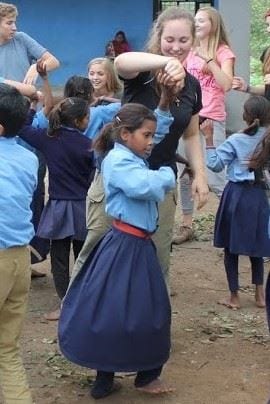 Almost as beautiful as the view, was the warmth and joy on the children's faces. We would head to the community of Kalthana to work on building a wall for a vegetable garden at the local elementary school, and being greeted with the student's games and laughter was always the highlight of my day. They showed me what true happiness looked like, and it wasn't in the shape of how many likes your selfie got, or your new iPhone. It was the genuine love of their lives and everything that was a part of them. Back home, we're taught about everything the people here don't have, but it has taken me meeting and playing with these children to see everything they do have. They may not have a lot, and they may be living in poverty, but these people are definitely not poor.
There were also plenty of learning opportunities on this Me to We trip. We visited wells deepened by Free the Children to learn about the difference an extra 30 feet can make, I carried water on my head with the local women and discussed what their everyday lives entailed, and I met some local farmers and learned about the struggles they face and the difference Free the Children has made in their lives! This whole experience has been very eye opening, that's for sure.
A huge highlight of this trip was having the chance to meet Craig Kielburger, the founder of Free the Children. As a 16 year old, hearing his story about how at 12 years old he was able to make a difference in the world was really inspiring to me. It proves that age really is just a number and that as long as you have the passion and determination to make a change, you can. The best part was getting to talk with him about anything from the amount of rain, to the uselessness of SPF 110 sunscreen during monsoon season and realizing that this guy isn't a superhero. He's just a normal guy who wanted to improve the lives of people around the world.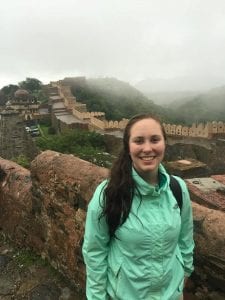 When I think of the other participants I met on this trip, that's what I see them as — normal people who want to improve the lives of others. They were all such amazing people and I'm glad to say I've made some lifelong friendships. Together, we had lots of laughs and learned so much! And between the friendships created, experiences had, and memories made, it really was a life-changing trip.
I could go on forever about my experience in India, but I think what's more important is informing others as to why I went on this trip, and continue to try to make a difference back here. I've returned home with a completely different perspective on life, and trying to explain to others why, is difficult. Seeing first-hand the way people in India lead their lives and comparing it to back here has made me realize just how much we take for granted. I think the hard part is knowing that not everyone sees that as clearly as I do, and trying to make them understand is a challenge. After meeting the participants on this trip, it's nice to know there are people out there who want to make a difference — who want to help out both in these developing countries and back home — and they need to know that there are so many opportunities out there for them; they just have to find them and go for it!
India was life changing for me, but it was only my first step down a long road towards change. Now it's time for me to take that next step — to take action and be the change in the lives of others, and that's exactly what I'm going to do.
Danielle Davies celebrated her 16th Birthday in India. She is currently in Grade 11 at Miramichi Valley High School where she maintains an A+ average and plays Rugby and Softball. She was a Boomerang Leader for 2015 and also tutors Math students both within school and privately. Danielle enjoys listening to and playing music (Piano and Guitar), Kayaking, Canoeing , Drama, and Travelling. Her volunteer activities include Church (Hand Bell Choir, Served at Church Suppers) and the High School Rotary Club where she does fundraising for local community services such as the local Food Bank, SPCA, Women's Shelter. and more. Danielle has also been working part-time at Tim Horton's since 2014.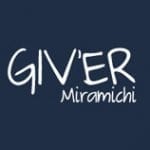 Giv'er Miramichi is about "What's up, what's new, what's happening". We are focused on building people up, supporting one another and celebrating our successes.