Brenda Daigle is a Caring Canadian
by Andrew McGilligan
Originally published in the New Brunswick Union
A special Canadian flag sits in a cabinet in the family room of Brenda Daigle's house.
Neatly folded, it will come out of its resting place this fall as it makes its way throughout the Miramichi community from several schools to its final destination – a permanent display at the Royal Canadian Legion Branch #3.
The story of how it came to be in the northern New Brunswick town involves Camp Phoenix in Kabul, Afghanistan, a Governor General's Caring Canadian Award and more than 9,800 kilometres of travel.
And it all started with a shoebox.
Brenda's son, Leading Seaman Christopher Hennebury, was a member of the Canadian Armed Forces – specifically the Canadian Navy – and was on deployment in the Gulf of Aden in 2009. Chris now is a veteran after serving for 10 years and has recently changed career paths.
"I have been sending parcels to him since he joined the forces," said Brenda, an instructor at NBCC Miramichi.
While having a conversation via Skype, Christopher thanked her for the treats on behalf of himself and his shipmates.
"He gently suggested that maybe I could send 12 of everything the next time, so that everyone in his unit could also have treats," she said.
He told her many of the members didn't receive care packages.
"It was at that moment I decide I was going to connect with my community to see if others might be interested in sending gifts from home to those serving overseas," said Daigle, a member of the NBCC Education – Instructional bargaining group with the New Brunswick Union.
With the help of her colleague Cathy Hughes, they set a goal of getting enough items through community donations to create 100 shoe boxes. The support came pouring in and the pair spread and separated the items across the NBCC gymnasium floor. From there, volunteers came in and began creating the boxes, each one containing treats and letters of support from Miramichi residents.
The group achieved its goal and more as the final tally was 150 shoeboxes destined for members of the Canadian Forces serving overseas.
Surpassing expectations became a recurring theme as the endeavour grew larger and larger each year. The campaign has been sending the gifts for the past eight years with more than 1,200 shipped in total. Those willing to help has grown from a Miramichi-centric effort to province-wide participants.
"I've had parcels delivered to me from other parts of the province including Fredericton, Saint Andrews, Moncton and the surrounding areas of Miramichi," said Daigle. "People want to show how much they too support our Canadian military members."
While the number of volunteers has swelled throughout the years, Daigle credits a core group being integral to the campaign's success.
"NBCC alumni members Linda Matchett and Sharon Best always come and often bring helpers," she said. "My dear friend and Canadian military veteran Reg Pollock comes every year. It is a given for my family members (daughter Laura Hennebury, parents John and Elaine Dickson, husband Mario Daigle) to also help."
The group also prepares the boxes with military precision. Community members create their own shoe box and include a letter of support and a holiday card. A team inspects each box to make sure all suggested items are included. If something's missing, the team adds it, the box is sealed, placed in bubble wrap and then covered in parcel wrap.
As for the contents, the shoe boxes contain everything from lip balm to DVDs.
"A typical shoe box would include medicated lip balm, medicated foot powder, sunscreen, Werther's candy, M & Ms, Canadian magazines, gum, deck of cards, card games, puzzle books, power bars, beef jerky, peanut butter, Wet-Ones, Hand sanitizer, pens, notepads, expandable water bottles, ear plugs, microwaveable popcorn, DVDs, homemade fudge, and a letter from the one preparing the shoe box inside of a card," said Daigle.
"We used to add Tim Hortons cards, but Tim's isn't always available, so instead I ask that each box include $5. I take all of the money and buy Tim products to send in one big parcel. The men and women serving always love receiving Tim Hortons coffee, tea and hot chocolate."
For their part, the soldiers have continually expressed their gratitude to Daigle and her team.
"My eyes well up with tears and I can't help but get emotional when I think of all the heartfelt responses I have received over the past eight years from recipients from all over Canada," she said.
The Canadian government has taken notice as Daigle was recently awarded with a Governor General's Caring Canadian Award which recognizes individuals who volunteer to help others and build a more caring nation.
Perhaps the most impactful gift she's received is the flag currently residing in her family room.
In the summer of 2014, Daigle was presented with the final Canadian flag to fly over Camp Phoenix in Kabul, Afghanistan. It was presented by the Canadian Ambassador to Afghanistan Deborah Lyons and Sgt. Martin Veilleux, a soldier who had received a shoe box. While Daigle has received letters, emails and postcards from armed forces members, Veilleux was the first she met face-to-face.
As for the flag, she says it carries a special meaning.
"It represents those who fought in the 12-year mission in Afghanistan and came home," she said. "It also represents our fallen and wounded soldiers. I do not take the responsibility of being the recipient of this memorial flag lightly."
As for the campaign, she's not sure how long it will continue.
"Every year the contact person for each deployment always says in their final message that they hope I will continue to show such support with the shoe box campaign, so I don't know how I could ever really stop."
SHOE BOXES: We ask that you wrap a shoe box and the lid separately, so a team of helpers (usually NBCC students – THANK YOU, THANK YOU) can inspect the items for security measures – meaning, even wrapped, inspectors can still open the box to see what's inside. All shoe boxes must be wrapped prior to dropping off at the college (NBCC). Deadline is November 6th at NBCC Main Campus. The Red Friday community picture will then be taped on the outside of the already wrapped shoe boxes.
A letter received by a student in Dr. Losier Middle School who sent a shoebox to a soldier:
Dear Tori
I cannot even begin to tell you how excited I was when I received your box of goodies and card! It was full of awesome stuff and I'm happy I was able to open it on Christmas morning. You made my day that much better and I hope you enjoy this as well. I hope your holidays were fun!
Happy New Years
A Grateful Soldier
Visit the Mighty Miramichi Photo Gallery for more pictures from the Shoe Box Campaign.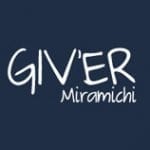 Giv'er Miramichi is about "What's up, what's new, what's happening". We are focused on building people up, supporting one another and celebrating our successes.