ATLANTIC SALMON MUSEUM'S 2015 HALL OF FAME INDUCTION CEREMONY
The Atlantic Salmon Museum's Hall of Fame Induction Ceremony was held last month at the Doaktown Curling Club. This year's five inductees were:
Jason Wayne John Curtis of Keenan: One of the youngest inductees in the history of the Hall of Fame, Jason has been professionally involved with salmon and salmon conservation since the age of 18 when he began work at the Old River Lodge. Since then, he has gained a well-deserved reputation as a guide par excellence, a dedicated conservationist, and an enthusiastic educator having been one of the founders of the Fly Fishing Club at Miramichi Valley High School and a long-time volunteer with the Miramichi Salmon Association.
John William Hawkes (posthumously) of Miramichi: The word most often used to describe Johnny is "passionate" – he was passionate about his devotion to the River, passionate about the sport of salmon fishing, and passionate in his quest to make others (especially youngsters) as dedicated as he was to the love of fly fishing. An educator in all aspects of his life, John was one of the organizers of the Miramichi Youth Fly Fishing Program and through the challenges he faced in his last years, an inspiration to everyone he met.
Douglas Raymond MacDonald of Moncton: 2015 has been a good year for Doug MacDonald. On May 21, he was honoured for his long-term commitment to the Miramichi Salmon Association and his financial support of its many initiatives. The Atlantic Salmon Museum acknowledges not only Doug's dedication to the MSA, but also his devotion to salmon fishing, salmon conservation and most of all, the importance of leaving a lasting legacy for the next generation. As a successful businessman and an experienced angler, Doug recognizes the importance of conservation and the impacts it will have on our economy and on our way of life.
William Robert MacKay of Hayesville: Bill MacKay is referred to as one of Canada's top river guides, and with a career that began in 1950 when he was only 18, he perfected his craft at an impressive number of fishing camps up and down the Miramichi. Deadman, Salmon Brook, Hinchey Pond Lodge, Clearwater, Pond's, KenMore Camps, the Griff-Inns, Rocky Brook . . . the list provides only a glimmer of Bill's widespread reputation as a guide very much in demand. Not satisfied with his many hours on the water searching for salmon, he also took up canoeing and has won many canoe races on both the Miramichi and the Saint John Rivers.
Everett Alexander Moir (posthumously) of Bloomfield Ridge: The River did it all for Everett Moir – from nearly drowning him in a spring freshet when he was only six to providing him with steady employment in his adult life, first as a cook on the log drives of the 20s and 30s, then working with the Griff-Inns making countless trips by canoe to transport "sports" and their gear from the rail road station to their camps, to working as a guide at the Kenmore Camps, a thriving outfitting business owned by his uncle which Everett later purchased and successfully operated until 1970.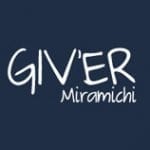 Giv'er Miramichi is about "What's up, what's new, what's happening". We are focused on building people up, supporting one another and celebrating our successes.