Historic Evening for Northumberland Masonic Lodge
On Wednesday September 30th, members of the Northumberland Free & Accepted Masons Lodge organized a last supper to be held in their old Lodge building at 175 Newcastle Boulevard. A fine Roast Beef Dinner was enjoyed by Masons, Eastern Star, Shriners and the Widows of our departed Brothers.
A rainy and stormy night kept just a few from attending, but almost 80 seats were filled. Several meals were packed and delivered to those unable to attend, creating a great evening for everyone despite the rain.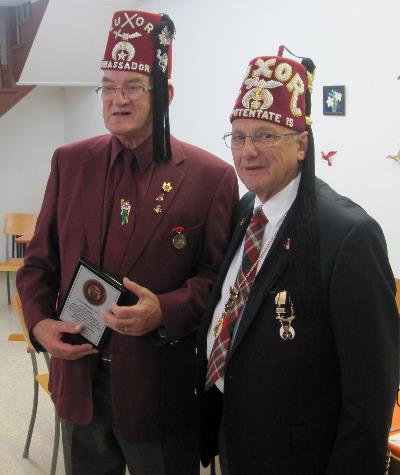 Two presentation were made during the evening. The James Pike Award was presented by our Potentate III, Sir Rene Cormier, a special guest with his wife Lady Ginette, to Noble Kenneth Manderville. The other was presented by Worshipful Master Frank Mullin to Masonic Widow Jean Ullock. There were a couple of short speeches, then the clean up and the Last Supper was over.
Having obtained ownership of the building in 1932, it has been in continuous use as the Lodge Hall for Northumberland F & AM #17. That's 83 years of continual use by Brother Masons, Sisters of the Order of the Eastern Star, and the Nobles of the Miramichi Shrine Club. Many meetings, suppers, social events large and small were held there. History will now close this chapter on the activities in this building, and a new chapter will begin at the Associated Lodges in Douglastown.
This historic building that started life as a United Church around 175 years ago, is one of the oldest buildings left in the downtown area of Newcastle. It is in the process of being taken over by a new owner, and we hope to see it made use of for many more years to come.
Many of the Brothers and Sisters are sad at heart to be moving from what is said to be one of the best Lodge Halls in New Brunswick, but with our move to join our Brothers and Sisters all ready at the Associated Lodges, we have hope this too will become one of the best Lodge Halls in New Brunswick, as we believe the Members make the Lodge, not the Lodge makes the Members.
The Associated Lodges Hall also has an interesting history, being built by a Brother Mason, Ernest Hutchinson W.M. in 1915, making this year its Centennial year. It's still a strong and well kept building, and the Hutchinson homestead can be seen just a little further up the road, the stone built house set back a little off the King George Hwy.
Maybe we will see you there at one of the many lunch activities, or on the Golf Course, at the Bowling Alley, or just out and about with our fundraising activities. All of our activities are for the benefit of our next generation, our children, be it the Shriner's Hospital for Children, Camp Goodtime for children with Cancer, Camp Rubela for the Deaf and Blind or bursaries for our School/ College Children. Remember, the best part of giving to any of the Groups connected to the Ancient Order of Free & Accepted Masons is that ALL the funds raised go to the recipients. All our work is voluntary, no one receives a salary or wage.
If you have thoughts of becoming a Member, give me, Dave Bucklow, a call at 622-7124. Alone we can do so little, together we can do so much.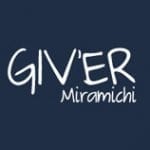 Giv'er Miramichi is about "What's up, what's new, what's happening". We are focused on building people up, supporting one another and celebrating our successes.