Mr. Mistletoe Shares the Love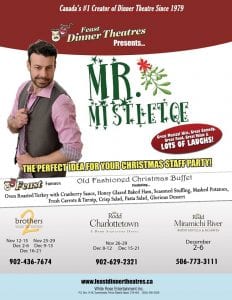 If you want the secret to true love, ask Mr. Mistletoe. He's the real-live cupid who will divulge exactly how to attract your Christmas crush – and just in time for the holidays.
This latest production from Feast Dinner Theatres brings audiences to an exclusive announcement by an inventor who claims to have unlocked the perennial mystery of matchmaking. Feast-goers not only get to hear the revolutionary details: they also get to dine on a traditional Christmas buffet, clap along to holiday and pop music favourites, and laugh at the comedic antics of performers in the Mr. Mistletoe entourage.
"People come away from these shows and say things like, 'That was the most fun I've had all year,'" says musical director Adam MacGregor.
The Feast became a holiday favourite after launching its first Christmas production in 1991, but MacGregor says everyone involved with the show works to keep the storylines and music fresh and innovative.
This year's script was penned by Mike Allison, a Feast veteran and now head writer for This Hour Has 22 Minutes. The humour and surprise-filled storyline convinced cast member Heather McIsaac that she needed to take part.
"When I sat in my living room alone and read through, I was laughing out loud," McIsaac explains, "but I also had moments of 'What? I didn't see that coming.'"
Artistic director Sherri-Lee Darrach says the show provides people with the perfect chance to relax and enjoy time with family and friends during the hustle and bustle of the holidays.
"What's better than going to an event where you know they're going to feed you, they're going to make you laugh, and you're going to go away happy?"
Mr. Mistletoe is produced by Don Groom of White Rose Entertainment. The dinner theatre menu features an old-fashioned Christmas buffet complete with roasted turkey, baked honey-glazed ham, seasoned stuffing, vegetables, salads, and dessert.
The show runs December 2nd to 6th at the Rodd Miramichi River. For tickets and information, call 773-3111.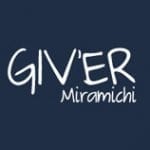 Giv'er Miramichi is about "What's up, what's new, what's happening". We are focused on building people up, supporting one another and celebrating our successes.