November/ December Update from City Councillor Walsh
My how a year goes by!
Several of my fellow Councillors and myself travelled to our capital city of New Brunswick, Fredericton, for two days of strategic planning sessions. This proved to be my most educational experience thus far. Topics that were discussed ranged from cities group buying equipment, supplies etc. to get a better deal as well as to obtain Federal grants that would benefit the entire province.
I had the honour of being the MC for our Remembrance Day Program as Peter Murphy was unavailable due to a death in his family. The event was well attended with what appeared to be a full house. It was heartwarming to see so many people of all ages participating in such an important event.
The City of Miramichi hosted the Development of Regions Summit on November 13-14 at the Rodd.
The majority of the November and December months were taken up with finalizing the City of Miramichi`s 2016 Budget.
I attended the tree lighting ceremony at Queen Elizabeth Park and it was well attended by our citizens. There was hot chocolate, sleigh rides and caroling by our very own MVHS Choir. I also attended the Chatham Parade of Lights, and what a huge crowd turned out for this wonderful event, I had the honour of driving our Deputy Mayor John Foran to lead the Parade.
There was a vigil held for violence against women on December 6th which was also well attended.
The City held their annual Retirement and Christmas Party which honoured four retirees: Joe Pineau, Gilbert Larocque, Derek Carnahan and Joe Ross. Congratulations to all.
The Chatham Library held a draw for their Harry Potter quilt and the winner was Monique Despres. We thank everyone for their support.
The Mayor`s Christmas Concert was held December 13th and hosted by our very own Susan Butler. Unfortunately due to health issues our Mayor, Gerry Cormier, was unable to attend. This year's event successfully raised $3057 for local charities. Thank you, once again, Miramichiers!
As I write this, we have voted on our budget and I am very happy to say there will be no tax increase for Miramichiers in the year 2016. The budget was a learning experience, as it was long and arduous but we finally came up with a budget that could possibly include many improvements for Miramichi. Such as new infrastructure, improvements to our water systems and operations.
In closing, I would like to take this opportunity to wish all our citizens and visitors in our great city a very Merry Christmas and a Joyous New year from Tony (Bucket) Walsh and my lovely wife Anne-Marie. Feel free to contact with any questions, comments or concerns at 622-4612.
The Night Before Christmas in Miramichi 2015
by Councillor Adam Lordon
'Twas the night before Christmas, when all through the 'Chi,
not a creature was stirring, not even those protesting P3.
The stockings were hung by Treasurer Darlene with care,
in hopes that provincial transfers and gas tax funding soon would be there.
The councillors were nestled all snug in their desks,
while visions of revitalized parks danced in their heads.
And Cathy taking notes, and Mike with his heedings,
had just settled us in for some long budget meetings.
When down on Richie Wharf there arose such a clatter,
I sprang from the Council chambers to see what was the matter.
Was it a bass tournament, or musical performance that had people so taken?
Why no; it turns out it was Councillor Williams giving tours aboard the Max Aiken.
The shine of the moon on the new-fallen snow,
gave the promise of renewal to the river below,
When what to my wondering eyes should appear,
but a miniature sleigh and eight tiny reindeer.
With a little old driver, so chatty and eager,
I knew in a moment it must be Billy Fleiger.
Sensing a story, more rapid than eagles, the media they came,
and councillors whistled and shouted and called them by name:
"Now Darcy! Now Kris! Now, Anne and Ray!
On, Larry! On, Shannon! On, Rogers Cable today!
My quotes to the top of the story! To the top of your facebook wall!
Now post away! Share away! Hashtag away all!"
And then, at the Civic Centre I heard on the roof,
the prancing and pawing of each little Timberwolf hoof.
As I drew in my head and was turning around,
down the Loggie House chimney Councillor Cripps came with a bound.
She was dressed all in fur, from her head to her knees,
and she couldn't wait to host another Victorian Tea.
Deputy Mayor Foran arrived with a bundle of toys he had flung on his back,
but he wouldn't get to work giving them out until Mike had fed him a snack.
Councillor Walsh arrived last December looking quite merry!
His cheeks look like roses when he's fighting for people who aren't treated fairly!
Though his face might turn red when delivering a blow, the go-tee on his chin stays as white as the snow.
Councillor King always greets me with a smile, a right jolly old elf,
and I laugh when I see him, in spite of myself.
Here at City Hall despite all the power he wields,
I sometimes get the feeling he'd rather be back over on Ironmen Field.
And as Santa sprang to his sleigh, I heard Councillor MacLean retort,
"Hey Santa why not fly out of the Miramichi Airport?"
With lots of hard work at City Hall, I believe our future looks Bright,
but for now "Happy Christmas to all, and to all a good night!"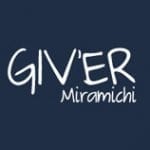 Giv'er Miramichi is about "What's up, what's new, what's happening". We are focused on building people up, supporting one another and celebrating our successes.