Miramichi Sports Wall of Fame
The annual City of Miramichi Sports Wall of Fame dinner and ceremony was held on Friday, February 19th at the Rodd Miramichi River Hotel in the Historic Chatham Business District.
The following were recognized for their dedication to their sport as a athlete, team, Pioneer and builder:
Maurice "Maurie" Alfred Bell – Athlete
Bell was a defenceman whose hockey career spanned from 1950 to 1979 One of the highlights of his career was playing the New York Rangers. He joined the St. Thomas Tommies in the North Shore League coached by Vance Toner. When the North Shore League folded in 1959, he played for the newly-formed Chatham Ironmen, a team which won the Provincial Intermediate A championship following an undefeated regular season. Bell played in Moncton and Edmundston for the next 10 years. After returning to the Miramichi in 1970, Bell finished his career in 1979 as a member of the Veterans Canada Oldtimers, which won the Atlantic Canada Championship.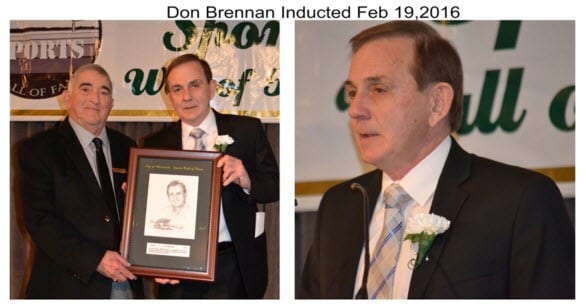 Don Brennan – Athlete
Brennan is an elite athlete whose career has spanned 57 years. He's excelled in multiple sports including softball, football, basketball, squash, track, hockey and badminton; most at an elite level. He has competed at all levels of competition from local, provincial, national, international and worlds in both military and civilian milieu. He remains as one of the top squash players in North America over the age of 70.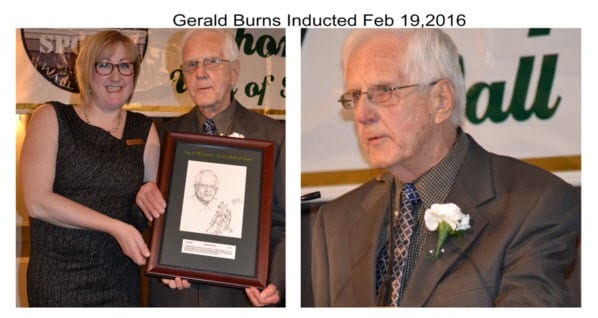 Gerald Burns – Builder
Burns was a key contributor to minor sports in the former Town of Newcastle. His involvement in minor basketball and baseball helped to set the foundation for future generations to come. An excellent basketball player, he captained the 1953 Harkins team, the last Miramichi team to capture a New Brunswick high school championship. He was a key member of the Newcastle Recreation Council for a number of years and umpired in the Miramichi Intermediate Baseball League from 1954-61.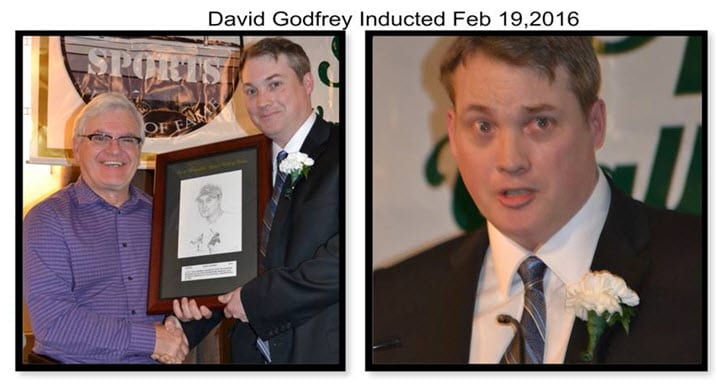 David Godfrey – Athlete
Once described as an ideal third baseman – big, strong, quick, sure-handed, intuitive and fearless – he was a middle-of-the-order slugger with a penchant for coming through in the clutch, as well as a dominant right-handed power pitcher. With the Chatham Senior Ironmen in the New Brunswick Senior Baseball League, he was an eight-time all star, and was named MVP and best pitcher in 1996. He was a member of the 1995 Ironmen teams who won the National Senior title in 1995 and the bronze medal in Kamloops in 2005. Godfrey was inducted to the Chatham Ironmen Honor Roll in 2013.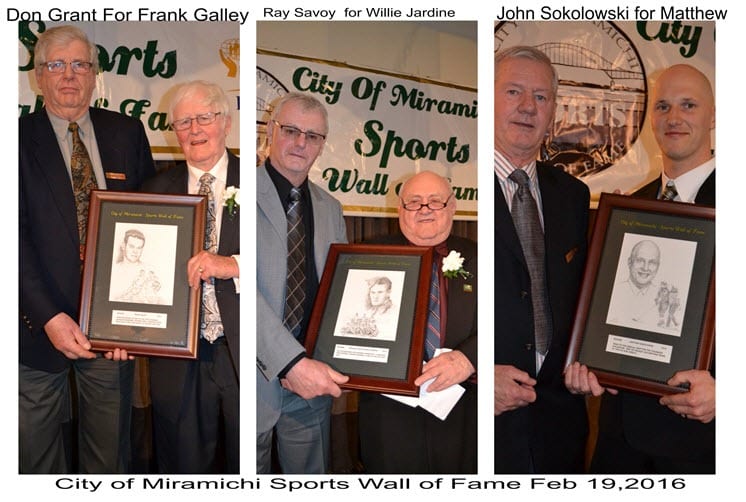 Frank Galley – Athlete
One of the best Miramichi basketball players to ever play the game, Galley was not only a prolific scorer and rebounder, but a leader. He captained the Newcastle Midget All Stars who captured the provincial title in 1947 and the Maritime tile in 1948. In 1952 his Saint John Atlantics captured New Brunswick and Maritime championships and were runners-up in the Canadian intermediate Championships. As a member of the Newcastle Legionaires, he led them to the provincial senior title in 1958 and the Maritime senior title in 1959.
William Eugene Oriville Jardine – Pioneer
Jardine was primarily a left-handed shortstop, although capable of playing any position with excellence. He served as a mainstay with several Chatham baseball clubs through the 1930s and 1940s. Teams outside of Chatham often borrowed his talents and skills in their quest for championship laurels. In 1936, Willie led the Loggieville Bisons when they won the Maritime Intermediate "A" title. Willie played with the North Shore Regiment team in England, when they won the All Division Championship with a 2-0 victory over an American team in 1942.
Matthew Sokolowski – Builder
Sokolowski has won a Stanley Cup twice as a member of the Colorado Avalanche. Sokolowski landed a job as head athletic trainer for the Halifax Citadels, the American Hockey League's affiliate of the Quebec Nordiques. After serving in this role in Halifax and with the Cornwall Aces for three years, he was promoted to the Quebec Nordiques in 1994 as assistant athletic trainer. In 1995, the club was transferred to Denver, Colorado and became the Avalanche. Sokolowski became head of the team's medical staff, and continues in that role to this day. He got his first Stanley Cup ring in the 1995-96 season and then again in 2000-01.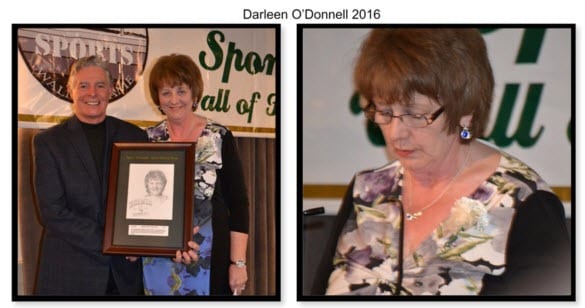 Darlene Mary O'Donnell – Builder
She has been invaluable part of the Miramichi sports and athletics community for more than 40 years from behind the scenes. O'Donnell performed secretarial work for the Chatham Minor Hockey Association from 1975 to 1995 while also serving as secretary for a number of provincial and Atlantic championships in Miramichi. She has been an indispensable asset to the Chatham Senior Ironmen, serving as secretary from 1991-present. She has served as secretary for the National Baseball Tournament Boards in 1995, 1999, 2011 and 2015 and performed countless other tasks during her 25-year tenure.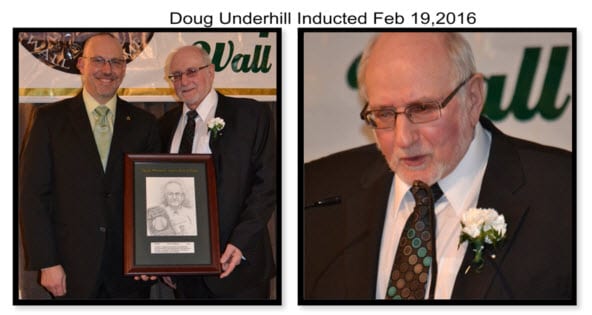 Doug Underhill – Builder
Underhill has been a major supporter and promoter of Miramichi sports and recreation for more than 40 years. He was a sports journalist for the Moncton Times & Transcript and the Miramichi Leader for upwards of 25 years. He has been a local hockey and softball coach and was on the founding executive of the Newcastle Senior Cardinals baseball team and helped plan and construct Cardinal Field.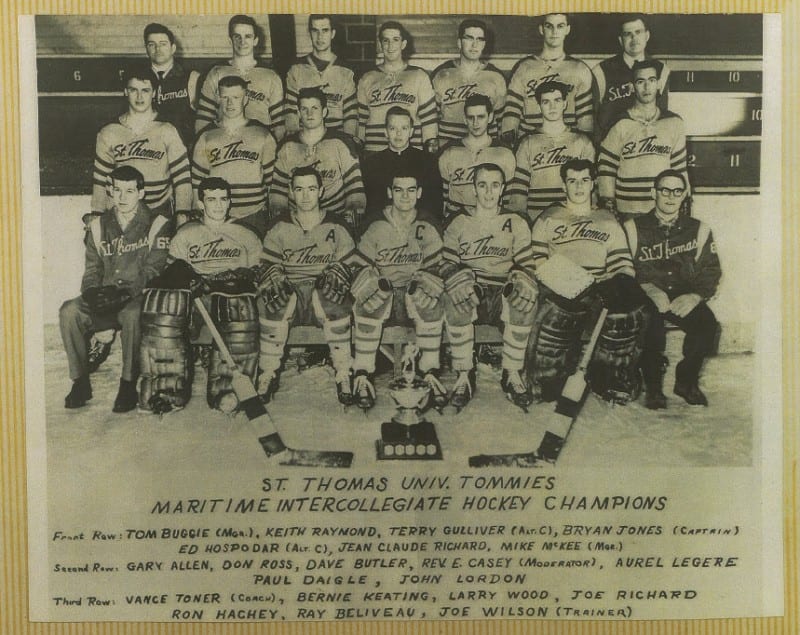 1961 St. Thomas University Hockey – Team
The Saint Thomas University hockey team, with about half its roster made up of Miramichiers, won the New Brunswick-Prince Edward Island championship against the St. Francis Xavier X-Men. Team members included: Tom Buggie, Keith Raymond, Terry Gulliver (deceased), Bryan Jones, Ed Hospodar, Jean Claude Richard (deceased), Mike McKee, Gary Allen, Don Ross, Dave Butler (deceased), Rev. E. Casey (deceased), Aurelle Legere, Paul Daigle, John Lordon, Vance Toner (deceased), Bernie Keating, Larry Wood, Joe Richard, Ron Hachey (deceased), Ray Beliveau (deceased), and Joe Wilson.
Click to enlarge any of the photos below. To view even more photos from this event, visit the Mighty Miramichi Photo Gallery.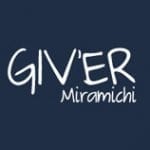 Giv'er Miramichi is about "What's up, what's new, what's happening". We are focused on building people up, supporting one another and celebrating our successes.