MRTA Tourism Rallies scheduled for February 22nd

The Miramichi River Tourism Association (MRTA) says that more tourists will be coming to visit Miramichi. If you want to find out the details and learn how your business can benefit, the organization invites you to join them on Monday February 22nd at one of two Tourism Rallies they are hosting.
"Come join us on Monday, February 22 for the unveiling of the Miramichi River Tourism Association's new strategic plan for tourism marketing," says Cindy Trevors, Manager MRTA. "Created as a collaborative effort with both the City of Miramichi and Tourism Heritage & Culture (THC), this plan addresses our region's positioning, marketing strategy, training and development programs, and tourism markets. The MRTA board officially approved the strategy last week, and on February 22, you can learn about all the exciting things that will happen beginning March 1st."
The 60 minute Tourism Rally will be held in two locations so as many interested participants as possible will have the opportunity to attend. A morning Rally will take place from 10:30 to 11:30 am at the Howard Johnson hotel, 1 Jane Street, in Newcastle. An evening Rally will take place from 6:30 to 7:30 pm at the Central New Brunswick Woodmen's Museum, 6324 Hwy 8, in Boiestown, Upper Miramichi.
"Our marketing partners in this endeavour – NYC-based Redpoint Marketing PR – will be presenting the plan directly to the community, so you can ask questions and get to know them. They are well-known throughout Atlantic Canada, and they've immersed themselves deeply in Miramichi to assist us in developing a strategic marketing path," Trevors says.
Anyone who is interested in bringing more tourists to the Miramichi is urged to attend. For more information email , telephone (506)773-4414, or visit www.DiscoverMiramichi.com.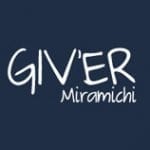 Giv'er Miramichi is about "What's up, what's new, what's happening". We are focused on building people up, supporting one another and celebrating our successes.