Free Tuition for Low-income & Middle-class Families
Premier Brian Gallant and Post-Secondary Education, Training, and Labour Minister Francine Landry have announced that through the Education and New Economy Fund, tuition will be free for New Brunswick students from low-income and many middle-class families.
The new Tuition Access Bursary was established to provide upfront financial assistance to students from families with an annual income of $60,000 or less and who attend a publicly funded university or college in New Brunswick.
"We are doing this so university and college tuition can be free for low income and many middle class New Brunswick families," said Gallant. "As New Brunswickers, this is what we do: we help those who need it most."
The federal government provides grants for students with low and middle income who want to obtain a post-secondary education. Through the bursary, the provincial government will pay the difference between the federal grant provided to an eligible student and the amount owing for that student's tuition.
Increasing access to post-secondary education has been a goal of Gallant even before entering public life.
"Education is the key to New Brunswick's economic future," said Gallant. "It has been said that a job is the best social program. I believe that the best social program is a job coupled with the opportunity to be educated and trained for that job. Making post-secondary education more accessible and affordable will help us develop a skilled workforce for our businesses, all the while strengthening the social fabric of our province."
In recent years, enrollment in the province's public institutions has dropped, while tuition and public funding has increased. In addition to helping students who need it most, the bursary will encourage students to study in their home province at either the University of New Brunswick, the Université de Moncton, St. Thomas University, Mount Allison University, or the New Brunswick Community College, the Collège communautaire du Nouveau-Brunswick or the New Brunswick College of Craft and Design.
"We have significant demographic challenges that will continue to affect enrollment at our universities and colleges," said Landry. "This program will incentivize New Brunswickers to study here at home thus helping our publicly funded universities and colleges."
In addition to the announcement today, Landry reiterated the many steps government has taken to increase the access and affordability of post-secondary education – including the removal of parental and spousal contributions from the student loan calculation. Additionally, the Timely Completion Benefit will still be available to students who have already begun their program of study.
The provincial government has also created or enhanced a suite of employment programs to help students gain work experience and develop skills during and after their studies, including the Youth Employment Fund and the Student Employment Experience Development program, wherein more placements were added while taking the politics out of the selection process.
"For several years, student groups have advocated for upfront non-repayable grants as a means to increase access to post-secondary education," said Landry. "They spoke and we listened by delivering full tuition funding for those who need it most."
The new bursary will be available to students for the timeline established for their program. For example, an undergraduate university student enrolled in a program with an established timeline of five years would be eligible for the bursary each of those five years.
The program will start at the beginning of the 2016-17 academic year.
Under the Education and New Economy Fund, nearly $25 million will be invested in the bursary during the first year alone. The $25 million is comprised of $14.5 million for strategic initiatives like the Tuition Access Bursary, alongside additional monies raised by discontinuing the education and tuition amounts on the income tax return. This follows similar decisions by the federal and Ontario governments this year.
It is anticipated that 7,100 students will be eligible to immediately benefit from the bursary which represents about 23 per cent of New Brunswick students in the province's public post-secondary institutions. Among students who apply for student financial assistance, more than 50 per cent will qualify for the bursary.
The establishment of the bursary is in keeping with the government's commitment to make higher education more accessible for students with the greatest financial need.
"This is a historic moment for our province," said Landry. "And we are just getting started. Free tuition for those who need it most is the first step of a multi-phase plan to ensure that every New Brunswicker has an opportunity to reach their potential and contribute to the economic and social fabric of our province."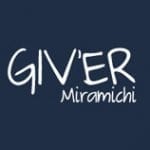 Giv'er Miramichi is about "What's up, what's new, what's happening". We are focused on building people up, supporting one another and celebrating our successes.