Miramichi Fishing Report for Thursday, April 7, 2016
It was nice to see many familiar faces at the Dieppe Fly Fishing/Boat & Outdoors Show last weekend in Moncton. With that over, attention this week is turned to the annual Miramichi Valley High Fly Tying Club's show.
On Friday, April 8th, the MVHS Fly Fishing Club will host 150 elementary students in the morning and 150 middle/high school students in the afternoon. During this time, students will rotate through information displays from: NB Big Game Club, Miramichi Striper Cup, Atlantic Salmon Federation, Miramichi Salmon Association, Department of Natural Resources, Department of Fisheries & Oceans, Miramichi Ground Searh & Rescue, NBCC Miramichi, APEGNB, Our Miramichi Heritage, MVHS Fly Fishing Club, MVHS Environmental Science & MVHS MakerSpace. There will also be local volunteers on hand to instruct students on fly casting, fly tying, knot tying and bass fishing techniques. The MGSAR will also be presenting the 'Hug a Tree' survival guide and NBCC Miramichi/APEGNB will be demonstrating drones, trebuchets and 3D printing.
The show opens to the public on Saturday, April 9th at 10 am at Miramichi Valley High School and runs until 5 pm. Lots to see and do…Big Games Club will be scoring deer/moose/bear so bring them along, Miramichi Striper Cup will be doing on-site registrations, information groups will be promoting their roles, local vendors selling gear, silent auction, raffles and door prizes. Admission is $5.00.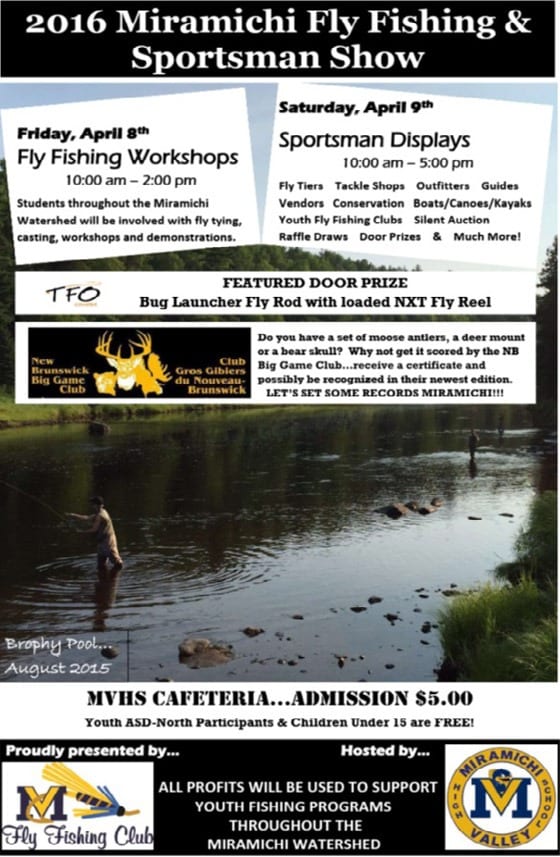 Students & staff from Miramichi Valley High School are also involved with a project called 'Atlantic Salmon Conservation Schools Network'. This video was created to introduce participating schools to MVHS and the Miramichi River…school, history, heritage, tourism, recreation, economy, issues, statistics, and conservation of a common species on both sides of the Atlantic Ocean – Atlantic Salmon.
Here is a link to the video… https://www.youtube.com/watch?v=hc0AD4v3n3Q
Here is the link to the Atlantic Salmon Conservation Schools Network Homepage… http://www.atlanticsalmonconservationschoolsnetwork.org/home-page
If you are weren't in the fishing mode before watching any or all of these videos, I guarantee you are now, and with a little over a week to opening day, it is time to be ready to go.
At present, the ice has run in many places along the Main Southwest Miramichi, with the river more or less open to below Quarryville. The Northwest and Little Southwest Miramichi Rivers are still iced in, but rain and warmer weather scheduled for the end of the week should get things open there as well. By next week, barring no great change, we should be ready for Opening Day, April 15.
First, buy a license. You don't need to be getting ready the night before and suddenly realize "I don't have my license".
With some time before opening day, it's nice to get into the mood with a hands-on look at equipment. George Routledge of George's Fly Shop in Renous had the following suggestions.
First check the reel. Most probably have forgotten to look after it last fall when angling was over. Routledge suggested giving it a good cleaning and dusting, along with a coat of light oil. He prefers light heat resistant oil like 3-in1, Singer sewing machine oil or a gun-oil rather than grease, as grease tends to harden. This oiling should take place several times throughout the season for best results.
Next the fly line. For those new to angling for black salmon, a sinking line is recommended, as opposed to the floating line used during summer. Unlike bright salmon, blacks tend to rest in deeper water as they drop down, choosing slack water, eddies, and deeper holes out of the current.
For shore-fishing, Routledge suggested a fast sinking (no. 5 sink) for early fishing, and later in the season a no. 2 or 3.
Old lines must be checked for cuts and cracks, and cleaned and greased with silicone. Check where it is tied to the backing to see if all is in good shape. Lacquer covering the joint must be smooth and uncracked. Backing should also be checked for rot from oil or fly dope. Failure could ruin a day on the river if it breaks on the first fish.
Routledge suggests 12 to 15 pound-test leader, averaging three to five feet in length. He recommends new leader each year, especially if one prefers no. 6 or 8.
"For the price of a new leader, losing a big fish is not worth it. Not only the fish, but the story also gets away," said Routledge.
The rod should be examined, paying attention to the guides. Make sure they're tight and the lashing isn't frayed. If so, repair them or take them to a tackle shop. Before putting a rod together, add oil or silicone so sections will come apart easily. A crude method is to rub the male end along the side of your nose. This will often be enough. Check the reel seat to make sure it is functioning and tight. You do not want it to plop into the water with a fish on. Waders should be examined for cracks and leaks with some goop applied where necessary.
Now's the time to do some re-organizing. Put streamer flies into one box, hairwings in another, dryflies and bombers in another and maybe, if you're like me, carrying more flies than I'll ever use, the few most often used in another box.
Sharpen hooks. A dull hook may slip and gouge a fish you're planning to release anyway. A whetstone or special sharpener will put hooks into top form. Pinching the barb or barbless is required by law. It causes less harm to fish.
Check to see if new streamers are needed. Then buy them, or head for the tying bench. A few nights with a friend, a few stories (never lies, of course!) will certainly set the mood. Get or tie big streamers in the 5/0 and 3/0 ranges. Then make sure the streamer box goes back into the vest.
Some of the most popular spring flies are Mickey Finns, Golden Eagles, Christmas Trees, Renous River Specials, Blue Smelt, Miramichi Smelt and Black Ghosts. The most used during the first week are Golden Eagles and Black Ghosts.
So get ready to be "on the water".
Don't forget to show your support for our sponsors, because without them, this column would not be possible.  
[wp_bannerize group="doug1″]
[wp_bannerize group="doug8″]
*** Closing the Season is also available at Syd Matchett's shop, Curtis Outfitters, WW Doak and Fredericton Outfitters. ***
ANY FINANCIAL CONTRIBUTIONS TOWARD HELPING WITH THIS COLUMN ARE GREATLY APPRECIATED. Click here to donate now. A SPECIAL THANKS to all who made contributions last season.
If you would like to sponsor this column, give us a call at (506) 352-7668 or email .
Thought for the Week: "As no man is born an artist, so no man is born an angler." ― Izaak Walton,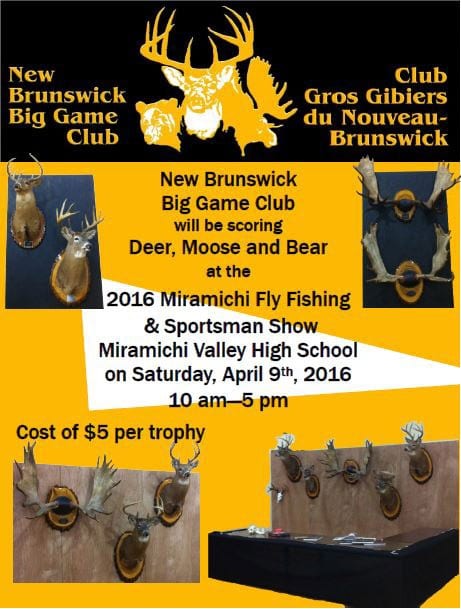 Atlantic Salmon Federation News
Thurs., Mar. 31, 2016
Call for Comments on New Maine Salmon Recovery Plan
~~~~~~~~~~~~~~~~~~~~~~~~~~~~~~~~~~~~~~~~~~~~~~~~
The Federal Register today had details of the new recovery plan for Atlantic salmon in Maine, including a call for public comment until May 31, and a schedule for public information meetings.
http://asf.ca/call-for-comments-on-draft-maine-salmon-recovery-plan.html
Maine Farmed Salmon Upgraded to "Good Alternative"
~~~~~~~~~~~~~~~~~~~~~~~~~~~~~~~~~~~~~~~~~~~~~~~~
Maine tracks its farmed salmon through the food chain and together with other best practices, has taken it out of the "red" list and on to the "yellow" list of the Monterey Bay Aquarium's Food Watch.
http://asf.ca/maine-farmed-salmon-upgraded-to-good-alternative.html
Ocean Changes Affect Atlantic Salmon Prey
~~~~~~~~~~~~~~~~~~~~~~~~~~~~~~~~~~~~~~~~~~~~~~~~
Changes in the conditions in the northwest Atlantic Ocean are affecting prey species of wild Atlantic salmon. An article highlights a very interesting scientific paper published last fall.
http://asf.ca/ocean-condition-changes-affect-salmon-prey.html
Canadian MP Offers Petition On Ending Open Net-pen Salmon Farming
~~~~~~~~~~~~~~~~~~~~~~~~~~~~~~~~~~~~~~~~~~~~~~~~
Nova Scotia MP Bernadette Jordan has set up a petition to move all Canadian salmon farming to land. For more details and links:
http://asf.ca/sign-on-to-a-petition-to-end-open-net-pen-salmon-farming-in.html
~~~~~~~~~~~~~~~~~~~~~~~~~~~~~~~~~~~~~~~~~~~~~~~~
Until next week
TIGHT LINES
DOUG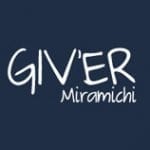 Giv'er Miramichi is about "What's up, what's new, what's happening". We are focused on building people up, supporting one another and celebrating our successes.