Ask A Farmer: We're Eager to Start Planting!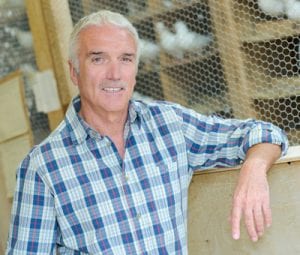 Locally owned and locally operated since 1982, the folks at Miramichi Feeds know what they're talking about when it comes to any kind of farming. Whether you're raising chickens or planting vegetables, they have everything to see you through your project, start to finish. If you have a question to "Ask a Farmer" email it to with "Ask a Farmer" in the subject line. This month we are eager to start planting!
Beets and carrots never grow right for me, they are always too small or bunched together.
The best way to grow beets and carrots is to buy a pre-seeded tape. Seed tapes are especially useful for small light seeds that need to be sown thinly. The seeds are pre-sown onto a biodegradable fabric, and are evenly spaced to prevent the need for thinning. The main problem people have with growing carrots and beets is that they plant the seeds too deep and too close together.
Another technique for carrot seed is you can put them in a salt or pepper shaker, shake on the ground and then pat them down. You don't even need to cover them in soil, just pat them down in the earth so they don't blow away. Be sure to thin them out when they start to grow — this is important or they'll choke each other out.
Gardening Tips
• Get your lawn ready by raking up dead leaves, twigs and other debris. When the grass turns green apply a slow release nitrogen fertilizer.
• Start plants like green peppers in the house 8-10 weeks before last spring frost date.
• Lay tomato plants on their side and cover with soil, leaving a little bit of the leafy top uncovered. All the fine hairs on the stem will turn into roots, and the end of the plant will turn up toward the sun.
• If you want to enjoy more yellow beans, plant a new batch every couple of weeks so you'll always have new ones ready to harvest.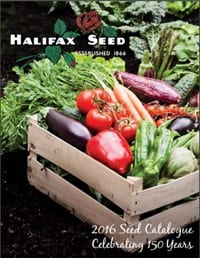 Vegetable Seeds
Buy your seeds early for greatest selection and variety. New varieties tend to sell out quickly, last year the cucamelon and lemon cucumbers were popular new varieties. Miramichi Feeds carry fresh seeds each year, everything from small packets to 5 kg bags of yellow beans. The germination rate of seeds drops every year and depends on the storage conditions. Always be sure to store unused seeds in a cool, dry environment. If seeds are being sold in a discount bin, be sure to check the expiration dates. Miramichi Feeds carry vegetable plants, vegetable seeds, fertilizer, lime, potato bags, starter trays, everything you need for a successful garden.
Order from the Halifax Seed Catalogue.
Anything Halifax Seed sells you can order directly through Miramichi Feeds. If they don't have it in stock they'll order it in for you with no shipping fee and no minimum order required.
For all your farming needs visit Miramichi Feeds at 145 Dan Cripps Street in the Chatham Industrial Park or online at www.miramichifeeds.ca.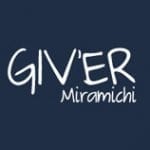 Giv'er Miramichi is about "What's up, what's new, what's happening". We are focused on building people up, supporting one another and celebrating our successes.