Miramichi Railway Artefacts on Display at NB Railway Museum
Find more photos of the NB Railway Museum, where the Miramichi Railway Artefacts are on display, in the Mighty Miramichi photo gallery. Click Here 
Artefacts belonging to Mr. John Leonard Comeau, a CNR Lineman, have been donated to the NB Railway Museum, in his memory by Mr. And Mrs. Larry and Laura Lea Comeau of Derby, NB.
When he was 18 years old, John Comeau started working as a lineman in Quebec for Canadian National Railways in its telegraph arm, the Canadian National Telegraph Company.
As a lineman he would travel the tracks each day on a motor car (also called a trolley car) installing and repairing the lines which were used for different means of communications, telephone, telegraph, Morse code and time signal lines for the railroad. In Canada, telegraph lines ran next to the rail lines. Thousands of kilometres of wire was strung next to the tracks, helping to keep the railway running and establishing crucial links between communities in the new country.
After World War II, John went to work in Alaska where he joined thousands of people who were recruited and transported to the polar regions to set up intelligence towers and lines. The Distant Early Warning Line, also known as the DEW Line, was a system of radar stations set up to provide early warning of any sea or land invasion.
In 1958, John was transferred and moved his family to Miramichi to a house on Railway Avenue. Every time they were transferred to a new location their furniture and belongings were packed into a railway car and sent to the new town for them. Jimmy Comeau of Miramichi has many fond memories of his dad and of growing up around the railroad with his brother Larry, who is now deceased.
"We spent a lot of time on the railroad," says Jimmy, "travelling with Dad in the motor car and riding on the train." The family had a pass to travel wherever they wanted on the train at no charge; one of the perks afforded to employees. When they got older they received their own student passes. Jimmy remembers him and Larry often going to find the nearby section gang to have lunch with the workers and get cupcakes from the cook.
Working for the railway ran through three generations of their family. In addition to their father, both grandfathers also worked for CNR. John's father, William Comeau was also a Lineman and their mother's father, Henry Keays was a Station Master. Also one of Larry's first jobs was checking box cars at night at age 16, and he later worked in the freight shed.
Being a lineman could often be a dangerous job. Jimmy remembers stories of his father having an accident while working in Quebec City. "Dad was going about 40 miles per hour on the track when the trolley flipped." He hit a railway anchor that they believed someone had intentionally placed on the track to cause mischief. At the time his brother Larry was a toddler and was sent to live with a relative because their mother, Marie "Jessy" Comeau, was pregnant and overwhelmed with caring for their father. "It was a serious accident which left him unconscious for 30 days and they weren't sure if he would live."
Their father collected many items from his job over the years, old lanterns, work tools, documents and telecommunications devices which were passed down through the family. Larry was particularly proud of the items he had from his father's collection, his wife, Laura Lea Comeau remembers. After he passed away she wanted to make sure the artefacts would continue to be cared for and enjoyed by others and contacted the NB Railway Museum who were very pleased to receive the donation.
The New Brunswick Railway Museum is a project of the Canadian Railroad Historical Association (NB Division), a charitable organization of volunteers dedicated to educating the public about New Brunswick's railway history. The museum is located in Hillsborough, NB and houses an extensive collection of railway artefacts including a steam locomotive built in 1912 and Canada's only remaining double-ended snow plough built in 1939 by CNR. Several of their railway cars including a caboose, coaches and locomotives are available for wandering through, viewing, and inspecting their interiors.
Drop by the museum and visit the Comeau Miramichi Railway artefacts and all the other interesting displays. The museum is open daily from the end of June to Labour Day. For more information visit their website www.nbrm.ca.
Find more photos of the NB Railway Museum where the Miramichi Railway artefacts are on display, in the Mighty Miramichi photo gallery. Click Here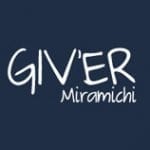 Giv'er Miramichi is about "What's up, what's new, what's happening". We are focused on building people up, supporting one another and celebrating our successes.