Memories of the Old Store
This story was originally published in Bread 'n Molasses and recently appeared in our June edition of Giv'er Miramichi.
By Franklin & Lorraine Lebans, Barnettville
In the early years when Mr. & Mrs. British Nathaniel Underhill were running the store, they would order a puncheon of molasses, a barrel of vinegar, one of salt pork, one of corned beef and salt herring.
There would be kendals of cod fish, wooden boxes of smoked digbies (digby cod), raisins and dates as well as dried apples and prunes. They also ordered 50 lb. Bags of coarse salt, 100 lb. Bags of white sugar and brown sugar, bags of oatmeal, corn meal, beans and oats (for horses).
They had practically everything in their store. Mrs. B.N. had a glass showcase with needles, thread, yarn, etc. She also carried yards of pretty cotton print for making aprons. In the showcase also were straight pins, hairpins and hairnets. She said no woman had the right to cook or make butter without having a hair net over her hair. She had all the items necessary for daily living in those days including yeast cakes, oil lamps, toilet soap and talcum powder.
Each family could get their supplies and pay for them at the end of the month. She kept a record of each item in a big "Bear" scribbler and it was always 100% correct. Included among their supplies were scribblers, pencils and slates as the school was close by.
An exciting thing for the children were big red suckers that sold for 1¢ each, also chewing gum which was often referred to as "boughten gum" (as opposed to spruce gum from the trees). All the various varieties of tobacco were available also as well as nails and rabbit wire at 5¢ a roll.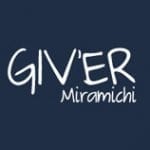 Giv'er Miramichi is about "What's up, what's new, what's happening". We are focused on building people up, supporting one another and celebrating our successes.