Poem – Northumberland County
Northumberland County
Northumberland County there's a River
Its waters run deep and wide
The many tributaries that feed it
Where friendly people do abide
Fish its waters at your leisure
I am sure that you'll agree
If you leave it will be with memories
Of time you've spent on the Miramichi
Boat tours, landmarks, and tall stories
Of the happenings of days gone by
Some you'll slap your knee in laughter
Others might even make you cry
Try Paddling through its mighty waters
In kayak, canoe, tube, or boat
Set your sail upon its waters
Just make sure you stay afloat
Festivals? Oh! We have them
I encourage you to take your pick
Your taste buds will not be neglected
Down to the plate that you'll like to lick
Fun goes on throughout the winter
Enjoy the sports on ice and snow
Just make sure you dress up warmly
As the winter land puts on a show
A summer shower and now it's over
There's a rainbow for all to see
If you're looking for the treasure
The pot of gold is the Miramichi!
By "Bunny" Dempsey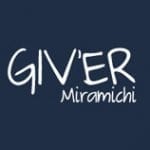 Giv'er Miramichi is about "What's up, what's new, what's happening". We are focused on building people up, supporting one another and celebrating our successes.