Miramichi Fishing Report for Thursday, July 7, 2016
There continues to be little bumps of fish through the system, but no big run as of yet.  For example, the Millerton put through a good splash of fish on Monday, but low numbers Tuesday.  The Cassilis Trap on the Northwest is recording a few each day.  They have also been seeing a lot of shad in their nets, which lead to the following conjectures.
Normally, the shad appear before the salmon and grilse runs, so are the runs late?  Other experienced rivermen have noticed that salmon and grilse are more reluctant to take when there are numbers of shad around.  Is this the case?  Just some food for thought if the catching is poor!
[wp_bannerize group="doug13″]
Doug White's Tammerack Sports Fly Shop in Juniper said not much was happening there, but there'd been a couple of salmon and grilse caught and there's still a few sea-trout around. Water seems to be good pitch but few people are fishing.
There seems several factors here for the lack of fishing, in no particular order: Poor access to fishing, the Napadogan Portage is nearly impassible in places, lack of fish, price of fuel to go fishing, economy and of course the lack of salmon retention are enough to keep most away.
Flies of choice for the few hardy souls out: Bombers, Bugs and assorted wets.
W. W. Doak and Sons in Doaktown said angling had been moderate on Tuesday with mixed reports.  There had been some fish caught in the Dungarvon and in the Doaktown areas, particularly in the cold water pools.  There were fish dispersed throughout the system.  However, Wednesday produced a significant up-swing in reports of fish being caught.
Conditions were fair with cooler temperatures and some rain last weekend and a few showers early in the week.  With rain forecast for Today and early next week, along with cooler temperatures, conditions should be great.
Flies of choice were wets such as Same-Thing-Murrays, White-tailed Green Machines, Butterflies and Undertakers on nos. 6 & * hooks.  There were also a few Bombers being used.
Derek Munn of Ledges Inn in Doaktown and Mountain Channel in the Rapids area said angling had been a little slow on Tuesday, although last weekend had been good with a nice bump of fish moving through.  Mountain Channel reported good numbers of fish been seen and hooked on Monday.  There were fish around, but not taking well.  Water conditions were good, and forecast to remain that way.
Flies of choice were Bombers (brown & orange and blue & white), Undertakers, Smurfs White-tailed Green Machines and Belly Dancers on no. 6 hooks.
Herb Barry Sr. of Herb's Fly Shop on the Station Road in Blackville said there were some fish being caught, but not many.  The fish seemed scattered about with good fishing here and there, while poor in other spots.  Water conditions were a tad low, but very fishable.
Flies of choice were Preachers, Undertakers, White-tailed Green Machines, Blue Charms and Rusty Rats on no. 6 hooks along with some Bombers.
Curtis Miramichi River Outfitting in Blackville said there were some fish around and anglers were hooking into a good mix of salmon and grilse.  Numbers were not plentiful, but better than last week.  Water conditions were decent with recent rain and cooler temperatures.
Flies of choice were White-tailed Green Machines, None-of-your businesses (black body with silver ribbing and Krystal Flash mixed with blue for the wing), Rat-Faced McDougalls, Same-Thing-Murrays, and Green Butt Bear Hairs.
Jim Laws of Miramichi Hunting and Fishing in Newcastle, Miramichi reported the odd scattered large trout being caught and a few salmon and grilse, but in no great numbers.  Water conditions were decent with some rain and cooler and cloudy days.
Flies of choice were White-tailed Green Machines, Black Ghosts, Shady Ladies, Buck Bugs, Muddlers (for trout) and some dry flies.
Syd Matchett of Trout Brook Fly Shop on the Northwest Miramichi said angling had been quiet between Miners' Bridge and Wayerton Bridge with only an odd fish being hooked.  However, they were a few more takers in the lower part but generally, catching was spotty.  Keith Sealey did hook a nice 30-inch salmon.  One Crown Reserve party hooked eight at the Depot Stretch.  Water conditions were decent.
Flies of choice were Shady Ladies, White-tailed Green Machines and Undertakers.
Debbie Norton of Upper Oxbow Outdoor Adventures on the Little Southwest Miramichi said they were catching some fish, but no great numbers.  There had been a ladies group "Elles Perchent" at her lace and several of the ladies had hook-ups.  As well, a Rhode Island angler hooked into a nice grilse and a Maine Angler was into a salmon Monday.  Generally, fish seemed to be taking short.  Water conditions were decent.
Flies of choice were Shady Ladies, White-tailed Green Machines and Blue Charms
[wp_bannerize group="doug1″]
So with some rain in the forecast and cooler temperatures predicted for next week, it is time to be out and "on the water".
Don't forget to show your support for our sponsors, because without them, this column would not be possible.  
Deals 4 U and MacCallum Building Supplies

ANY FINANCIAL CONTRIBUTIONS TOWARD HELPING WITH THIS COLUMN ARE GREATLY APPRECIATED. Click here to donate now. Or to donate by mail, send to:
Doug Underhill
438 McKinnon Road
Miramichi, NB, Canada, E1V 6G2
A SPECIAL THANKS to all who made contributions last season.
If you would like to sponsor this column, give us a call at (506) 352-7668 or email .
Thought for the Week: "Fish stories told here…. some true!"  Anonymous
————————————
E-MAIL:
Hi Doug,
I just want to tell you how much I appreciate your column with all the latest Miramichi fishing news and great photos. We were lucky enough to have crown water on the Norwest in June and we landed and released 6 salmon and hooked and lost several others. We did not see a grilse but had not expected to anyway.
Thanks a lot and keep up the good work.
Phil Hallman
————————————
Until next week
TIGHT LINES
DOUG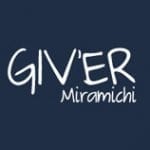 Giv'er Miramichi is about "What's up, what's new, what's happening". We are focused on building people up, supporting one another and celebrating our successes.