The CIBC Run for the Cure is a 5K or 1K walk or run that raises funds for the Canadian Breast Cancer Foundation (CBCF). It is the largest single-day, volunteer-led event in Canada in support of breast cancer research. The CIBC Run for the Cure will take place on Sunday, October 2, 2016 in more than 60 communities across Canada.
We invite you to run or walk with us on Sunday, October 2, 2016 for the Canadian Breast Cancer Foundation CIBC Run for the Cure in Miramichi. Whether it's your first time, or you've participated for years, we look forward to having you join the movement and make this year's event inspirational, memorable, and bring us closer to a future without breast cancer. Registration begins at 11 am at the Kin Centre, 100 Newcastle Blvd, around the square in Downtown Newcastle. The Opening Ceremonies will take place at 12:15 pm with the 5K and 1K runs starting at 1 pm. The Awards and Closing Ceremonies will follow at 2 pm. For more information contact .
One in nine women will be diagnosed with breast cancer in her lifetime. It is the most common cancer diagnosis in Canadian women.
Thanks to events like CIBC Run for the Cure, the CBCF has been able to fund progress in breast cancer prevention, detection, diagnosis, treatment and care. As a result, fewer Canadian women are dying from breast cancer today than ever before – since their peak in the mid-1980s, mortality rates for breast cancer are 44 percent lower, and the five-year survival rate has increased to 88 per cent.
For more information or to register for the CIBC Run for the Cure, visit: www.cibcrunforthecure.com and find your local run to register yourself or a team online.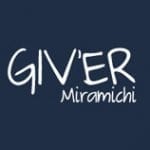 Giv'er Miramichi is about "What's up, what's new, what's happening". We are focused on building people up, supporting one another and celebrating our successes.