Book Review: "Just Jen: Thriving Through Multiple Sclerosis" by Jen Powley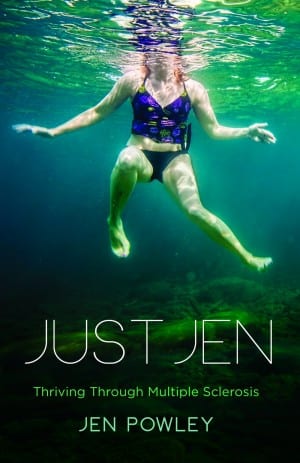 by James M. Fisher, The Miramichi Reader
Canada has the highest rate of multiple sclerosis (MS) in the world, with an estimated 100,000 Canadians living with the disease. While it is most often diagnosed in young adults aged 15 to 40, younger children and older adults are also diagnosed with the disease. MS can occur at any age but is usually diagnosed between the ages of 15 to 40, peak years for education, career- and family-building. MS has been diagnosed in children as young as two years old – and in far older adults. It has some peculiarities: MS is three times as likely to occur in women as in men and is more common in people of northern European background. (Source: https://mssociety.ca)
"Having multiple sclerosis was depressing – I knew my physical disability would only get worse."
Unfortunately, Jen Powley of Vegreville, Alberta (she now resides in Halifax) fit the demographics for MS: Ukrainian background, female, 15 years old. While she was diagnosed early, there was little that could be done (at the time anyway) to slow or halt the progression of this debilitating disease. By her high school graduation, she had trouble with her gait but was determined to wear modest heels with her dress. She practised walking up and down her stairs at home for weeks before, and she didn't stumble at all when the ceremony came. Such determination can be found throughout Just Jen (2017, Roseway Publishing), as she takes us, memoir-style, through her time with MS and the challenges she has faced and continues to face. Some, like "Forking" and "A Little Drywall" are downright humorous, while others are more depictive of her plight such as "Heat Intolerance" and "Round and Round".
Working as an MRI technologist, I often scan patients to rule out MS or to track the progression of the disease in known MS sufferers.  To date, I have never encountered someone as crippled by MS as Jen Powley is. Nevertheless, it is sad to see young men and women afflicted by it. Somehow, Ms Powley manages to thrive despite (or in spite of) her limitations. She refuses to compromise until she actually has to do something, such as trading in her cane for a wheelchair, making the switch to wearing diapers or getting an Intrathecal Baclofen Pump surgically implanted in order to relax her rigid muscle tone.
Just Jen was written by Ms Powley with the aid of assistants since she has lost the use of her hands and can barely speak. The text is very frank, and she holds nothing back, although she is never angry, simply determined to function as well as a healthy human; writing, mouth painting, helping fellow sufferers and heading up other causes in the Halifax Nova Scotia area.
"I avoid reflecting on the person I am. Instead, I work more or add another volunteer duty to my agenda."
Just Jen would have been more satisfying to read if Ms Powley had employed a co-author to make it 'flow' a little better; I feel there would be more substance to her story if she had been drawn out by an experienced author. In the end, this would have resulted in Just Jen being more of an autobiography than a memoir, I suppose. Nonetheless, the book's true strength lies in documenting the challenges of the disabled: inaccessibility to public places, the need for around-the-clock assistance (Ms Powley required regular turning in bed throughout the night), and most revelatory, the requirement for love, gratification and an enduring relationship. Just Jen will definitely be of encouragement to MS sufferers and their friends and families. Well done, Jen!
Just Jen will be available in March 2017 but can be preordered from Amazon or through the Fernwood site. This review was based on an advance reading copy (ARC).
Born and raised in a small farming community in Alberta, Jen Powley now lives in Halifax, Nova Scotia.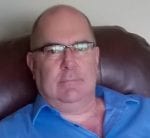 James M. Fisher lives in Miramichi. James is an ardent reader whose aim is to highlight New Brunswick authors and publishers, as well as cover subjects of interest to New Brunswickers in particular and Maritimers in general. For more visit his website or like his page on Facebook.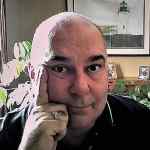 James M. Fisher is a Miramichi resident who enjoys reading and reviewing books both local and international. You can read more book reviews and author interviews on his site, www.miramichireader.ca