Camaro Sue Explores Miramichi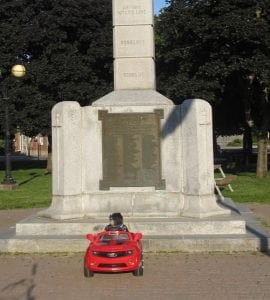 by Jean Joudry
"A Boy Named Sue" (named after the Johnny Cash song) aka "Camaro Sue" was born in Ontario on November 4th, 2006. We brought him home on December 23rd. My work had a Christmas party, and if you sang karaoke, you could choose a gift from the table. Knowing we were getting the dog soon, I chose this remote-control Hummer.
My hubby Len took a Kleenex box and duct-taped it to the top of the Hummer. He put Sue in the car and drove him around the house. They both loved it right from the start.
When the weather got warmer, Len would drive him on the sidewalk in front of our house, while he sat on the front step. A fairly busy residential street, it was hilarious seeing people doing a second-take as they saw this little dog flying down the sidewalk, ears flapping out behind him, with no one in sight operating the vehicle.
Eventually he got too big for the little car. So since Len was off with a work-related injury and found it hard to walk, he bought a motorized cooler. Len would sit on it to get around outside, and the dog would sit on his lap. We went to a lot of classic car shows, and Sue would sit on his lap as they would go up and down the rows looking at the old cars. As soon as he would see the cooler, Sue would jump up and look at Len as if to say, "Come on Dad, whatcha waiting for? Let's go!"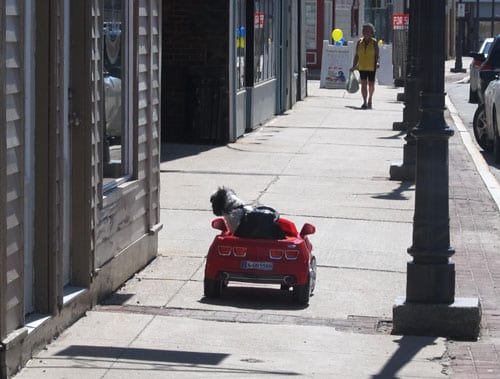 In 2008, we moved here. The cooler died so we searched for cars big enough to hold him. We found the little red Camaro in the States and ordered it. With the exchange and shipping, it wasn't cheap! But we've had fun with it ever since!
He's toured Water Street in front of Tim Horton's. People ran to the window and out the door taking pics and videos! At the mall, he went for a drive from Jean Coutu to SuperValu and back. In the park by Station Wharf, he met Mr. Peabody! He's also visited the Mount where Len's niece works. She called and asked Len to bring him with the car for the residents to see, and boy did they enjoy that!
He's been around the square in Newcastle and people circle two or three times just to get a second look and take pictures. He made an appearance at the Irish Festival and at the SPCA dog walk too. One day there were two ladies sitting on a bench, we stopped to visit and as we continued on, we heard one say, "Well that certainly made it worth coming out today didn't it!" Sue is guaranteed to bring a smile and Len has just as much fun seeing the happiness he brings to others!
Camaro Sue is retired for the winter now but will return next year for more adventures!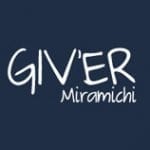 Giv'er Miramichi is about "What's up, what's new, what's happening". We are focused on building people up, supporting one another and celebrating our successes.