Home Sweet Home… Big City Designer meets Little Town Design
by Jamie Alexander
Seemingly, we assume the big city has it all to offer when it comes to interior design, furniture and goods for our homes. We look to design magazines, Pinterest and blogs for our inspiration wishing we could achieve the same look in our humble small town abode. Well I am here to tell you that you can get the design you desire right here in the Miramichi area.
Here are my tips and tricks:
Shop with a simple plan, not a complicated vision.
Often clients come to us with seven visions to create one look when simply it can't be done, or I should say "done well". To simplify your plan, look to the architecture of your home. Is it a modern space, country home or transitional house? The inspiration photos should align with the architecture, then following that, your hopes, goals and aspirations for the space. As I like to say to my clients, "When you go the grocery store with a list, you have much better success than randomly shopping the aisles." Once you've come up with your inspiration, start a binder filing them into sections labelled with the rooms of your home. From there take a permanent black marker or sticky note and note what it is you like about the space. Is it the light? The rug? Door hardware? Or sofa? That's not to say that you need to follow your inspirations to a "T" but you do need to know what you want and allow the professionals to help you figure out how to get there.
Stop shopping online, it's not always the cheapest or best way to get the designer look you want.
Some folks run to online shopping thinking it's the only way to get the cool items for your space when you live in a small town. Well friends the truth is, it's not. A good home decor or furniture store, will have all the resources you need, you may just have to ask. Yes, there is this feeling of instant gratification you get when you whip out a credit card and complete the transaction, but it may not be best solution for your space or your wallet. We often forget to factor in the shipping charges, damaged items, or if it really fits in my space? Shopping local may have an advantage of having it in the showroom. If they don't, chances are a really active design/ decorating team will have sat on that sofa you like or seen that light fixture you saw in the catalogue and be able to give you a one-on-one honest review of the product. Further to the advantage of knowing the product, a design-based showroom will also be able to give you the best advice for the look and feel of your space. After all, they are the professionals. I don't know a single decorator or designer that will just sell you a sofa. They are not about short-term gains. They are thinking about their reputation, they would like to have you refer them and they want you to come back to them knowing they helped you in your space. My advice is to trust a design professional's advice. Like I say, "You wouldn't go to your accountant to do the job or give you the advice of your dentist."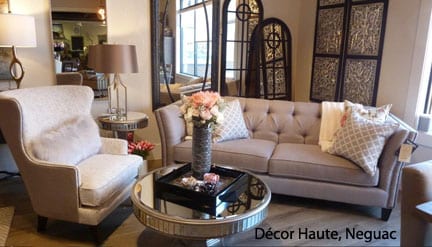 Think outside the Box … The Big box store that is.
"Cheap and cheerful" is an endearing expression but remember … you get what you pay for. I recognize that not every person has the same budget, but that doesn't mean that the big box store is really doing you a favour by telling you or convincing you that buying cheap is a good thing. Yes, you may get a chair today for $299 in a big box store, but it lasts one quarter of the time that a Canadian made chair that may cost $599 will last. Come up with your recipe for design. You may not be able to afford to buy all the pieces or elements of your design all at once when you are buying quality, but when you know what your design recipe is, you can purchase the pieces as you can afford by simply following it. When it comes to furniture, it hasn't gotten more expensive, they have just learned how make it cheaper and that's not always a good thing. My tip is to shop small, small businesses have the edge and advantage to help you one-on-one to know exactly what you're buying and where it comes from.
Having worked as a designer in cities like New York, Vancouver, Las Vegas and Phoenix, I'll be the first to say small town shopping has benefits you may not see or realize. Having lived and worked in Toronto for many years, I can tell you small towns usually have better pricing, service and are always willing to work with any budget. It is with great pride that I have decided to work in a small town once more. When deciding where to live, that was an easy choice, live close to family. When choosing where to work when I am on the east coast, I chose to work in a place that values people, customers and clients alike, with the same small town values that I have come to miss and cherish. Decor Haute Look in Neguac was the perfect fit. Julie, Johanne and Lucie have served you all so well for 20 plus years, I knew if I was going to work in the region three days a week, this would be a perfect fit.
Returning to New Brunswick was a big decision having lived in the big city for so long, but I am looking forward to all the new clients and customers I get to share my design education, experience and expertise with in the Miramichi Region, my new home sweet home.
Jamie Alexander is an award winning designer, home decor writer and TV personality that has been named one of the Top 10 Designers in Canada. Hailing originally from Moncton, Jamie maintains clients across the country and can be found from time to time working in the design studio with Julie and Joanne at Decor Haute Look in the scenic town of Neguac. For more information please visit: www.decorhautelook.com | 506.776.0200 | Twitter @JamieLAlexander | Instagram: @JamieAlexanderDesign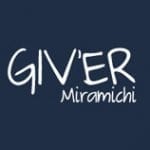 Giv'er Miramichi is about "What's up, what's new, what's happening". We are focused on building people up, supporting one another and celebrating our successes.