Churches of the Miramichi Region
By Anthony W.J. McLean, Contributing Reporter 
In my spare time away from being a Contributing Reporter for MCG Media/ Giv'er Miramichi, I love doing digital photography.
Out of the many hobbies and interests I have, this is and will always be my favourite.
I love to take pictures of a variety of things, and one of the things is our churches along our beautiful region and beyond.
"If you see something that moves you, and then snap it, you keep a moment" – Linda McCartney
Saint Margaret's Roman Catholic Church, Saint Margaret's
Terrance Cook and his wife, Bridget Flanagan graciously donated land, originally owned by Ward MacDonald to construct a church at Saint Margaret's. Terrance's large barns once stood where the present church stands. Around 1900, the church's twin towers were erected. They were not built directly onto the church, but on the ground. They were then lifted into their present position.
Saint James and Saint John United Church, Newcastle
Built between 1829 and 1830, the building replaced the original church destroyed during the Great Miramichi Fire in 1825. Much of the old stone foundation was used in the reconstruction, as were many of the foundation sills. New sills were constructed with lumber harvested from the scorched remains of local forests. These sills have burn marks that are still visible today, a reminder of the devastation wrought by the great fire.
All Saint's Roman Catholic Church, Millbank
Construction of the church began in 1907, under the direction of Reverend William Morrissey of Bartibogue Bridge. It serves as a mission to Saint Samuel's Roman Catholic Church in Douglastown, and previous to Saint Peter and Paul Roman Catholic Church in Bartibogue Bridge.
To view a full photo gallery of Churches from the region visit Mighty Miramichi at mightymiramichi.com/Community/Gallery.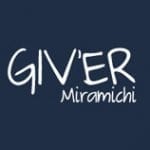 Giv'er Miramichi is about "What's up, what's new, what's happening". We are focused on building people up, supporting one another and celebrating our successes.