Playoffs Round 1: Timberwolves VS Saint Stephen Aces this Weekend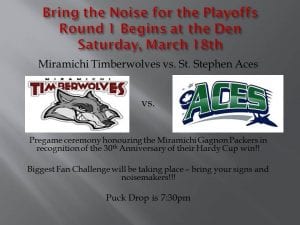 Bring the noise for the Playoffs Round 1 beginning at the Wolf Den this Saturday, March 18th, 2017!
Our Miramichi Timberwolves will host the Saint Stephen Aces at the Miramichi Civic Centre, 487 King George Highway, in Newcastle.
There will be a special pre-game ceremony honouring the Miramichi Gagnon Packers in recognition of the 30th Anniversary of their Hardy Cup Win!
A Biggest Fan Challenge will be taking place – bring your signs and noisemakers!
Puck Drop is 7:30 pm! Go T-Wolves! This is our year!