Slow Food Miramichi River – Long Table Series II
Chef Brian Matheson is hosting Slow Food Miramichi River's second Long Table Series dinner at historic Governor's Mansion in Nelson-Miramichi!
It will be held at Tuesday, March 21st, at 6:30 pm – celebrate the Spring Equinox in delicious style!
We don't want to give away the menu in advance, but please note:
THIS IS A SEAFOOD-CENTRIC DINNER!
Tickets are $30 for Slow Food members, $40 for non-members.
Applicable taxes are not included.
Limited seating – to reserve your spot , please contact:
Stephanie Clark Fowler, Matthew Trevors, Kayla Marie Acorn, Brian Matheson, or Jesse MacDonald through Facebook before Monday, March 20th.
Keep up with Slow Food Miramichi River on Facebook at @slowfoodmiramichiriver, or visit their website at slowfoodmiramichiriver.wordpress.com
About Slow Food Miramichi….
Slow Food Miramichi River is the newest Slow Food convivium in New Brunswick, formed in November, 2016.
Slow Food Miramichi River meets on the second Monday of each month at various locations throughout the Miramichi Region.
Monthly get-togethers are a fun, inclusive, casual-yet-informative hangouts, with guest speakers and/or featured topics to be discussed over food & drink. New & prospective members are always welcome!
Stay tuned for details of other Slow Food Miramichi River appearances & events throughout the Miramichi Region in the near-future!
About Slow Food….
Slow Food is a global, grassroots organization, founded in 1989 to prevent the disappearance of local food cultures and traditions, counteract the rise of fast life and combat people's dwindling interest in the food they eat, where it comes from and how our food choices affect the world around us.
Since its beginnings, Slow Food has grown into a global movement involving millions of people in over 160 countries, working to ensure everyone has access to good, clean and fair food.
Slow Food believes food is tied to many other aspects of life, including culture, politics, agriculture and the environment. Through our food choices we can collectively influence how food is cultivated, produced and distributed, and as a result bring about great change.
Slow Food Miramichi River celebrates the pleasures of the table in an inclusive, fun and welcoming manner.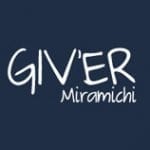 Giv'er Miramichi is about "What's up, what's new, what's happening". We are focused on building people up, supporting one another and celebrating our successes.