150 Things to Do In The Miramichi Region (1-25)
In honour of Canada 150 Discover Miramichi put together a list of 150 fun things to do in Miramichi this year! Here is the first 25: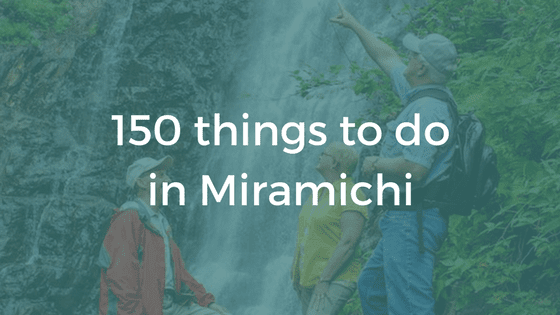 We'll get the most exciting one out of the way, experience tight lines with our fantastic salmon fishing.
Feel your heart race as you cross New Brunswick's longest suspension foot bridge across the South West Miramichi River.
Have you ordered your Parks Canada free park entry pass yet?
April 28-30 hear the harrowing tale of Canada's Forgotten Father, Peter Mitchell at Giles Leblanc Theatre (Carrefour Beausoleil)
Ride the rails on the Whooper Passenger train replica

Enjoy a leisurely hike to Fall Brook Falls
You won't want to miss A Taste of Miramichi from May 15 – June 11 as local chefs highlight the grub that they feel best represents our region.
Give Stand Up Paddle Boarding a try.
Pack a few extra napkins to prepare for the Rotary Rib Fest! Coming to Miramichi May 26-28.
Have a need for speed? The first points meet will be held at the Miramichi Dragway Park from May 27-28!

Taste Pond's Resort's signature drink – the smoked salmon martini.
Are you all about that Bass? You'll definitely want to participate in the Striper Cup from May 26-28.
See history come to life at the Doak House where you learn skills from days gone by such as butter churning!
Cruise in style with a Country Haven ATV tour along the Miramichi river.
Take in a song or a show at the Miramichi Folk Lore Park.
Enjoy a tour through time as you learn about Miramichi's rich Acadian and ship building history.
Help prepare a traditional aboriginal meal at an outdoor cooking shelter. Linger by the campfire to hear more about aboriginal tradition and culture with a Taste of Metepenagiag – Ookdotaan
Wake up early to see off the fishing boats in a magnificent display as they head off for a day of lobster fishing.
Speaking of boats, you'll want to be river front from July 7-9 as the Tall Ships anchor in Miramichi.
Pack a picnic lunch to enjoy on the shore of the Tabusintac light house!
Why go camping when you can go Glamping? Enjoy a night in the Kouchibouguac National Park o'TENTiks
The kids will love "Come Play on Our River" a camp that teaches fly tying, fishing, canoe & wilderness skills.
Looking for a unique dining experience? Enjoy a taste of the Caribbean in Miramichi with Jerk Chicken night at the Jane Street Grill.
Learn about the life cycle of the Atlantic Salmon while exploring our hatchery.
From July 10-12 learn the art of salmon fishing with Upper Oxbow Adventures & MROC Lodges. Package includes lodging, guides, instruction, meals & top of the line equipment!