Isabella in Concert at Vogue Theatre
The Saint Michael's Basilica Capital Fundraising Campaign will be hosting a fundraising concert on April 30th at 7 pm. The feature performer will be Isabella Imperatori. Better known by her stage name, Isabella, is a native of France where she has sang professionally for 15 years before relocating to Canada 17 years ago. She now resides in Rogersville, NB with her husband and their 12 year old daughter.
Isabella is the Coordinator for the Community Inclusion Network of Northumberland County where she works to reduce poverty and promote social and economic inclusion among our local communities. Outside her working career, singing has remained an integral part of her life where she has thrilled audiences throughout France and her adoptive nation of Canada. Her assortment of music ranges from American and French musical Standards, Jazz, Pop Music, Motown Compositions mingled with some Rhythm & Blues.
Isabella is an experienced entertainer and has performed in front of Miramichi audiences in the past. Her amazing talent and incredible voice have won the hearts of all previous listeners. Her charm and insatiable appetite to entertain is sure not to disappoint.
The Saint Michael's Basilica Capital Fundraising Campaign officially kicked off in June 2012 for the primary purpose of raising one million dollars over a five year period to strengthen the financial and structural future of the basilica. To date, the campaign has raised $510,000 thanks to the generosity of many current and former parishioners along with a few interested citizens who have no direct affiliation with the parish.
The fundraising concert takes places Sunday, April 30th at the Vogue Theatre in Chatham. The performance starts at 7 pm and doors open at 6 pm. Tickets are $20 per person and tickets will be sold at the door. Advance tickets are available at the St. Michael's parish office in Chatham (778-5150), Brookdale Flower Shop at 488 King George Highway in Newcastle, Family Convenience Store at 231 Wellington Street in Chatham, Creative Grounds Café at 55 Cunard Street in Chatham, Pronature on Highway 11, Esso Service Station in Rogersville and from committee members.
The Saint Michael's Basilica Capital Fundraising Campaign Committee invites the people of Miramichi to a quality performance. Come and experience the beautiful music of Isabella as she will treat you to a fabulous night of entertainment.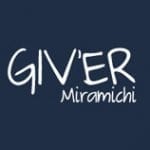 Giv'er Miramichi is about "What's up, what's new, what's happening". We are focused on building people up, supporting one another and celebrating our successes.